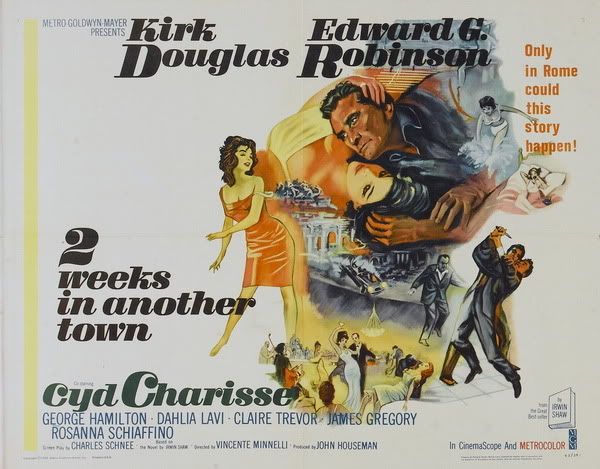 Two Weeks in Another Town
(1962) is to producer John Houseman, director Vincente Minnelli and actor Kirk Douglas' earlier film,
The Bad and the Beautiful
(1952) what a hot dog with everything is to a cordon bleu meal, and it is being aired on TCM at 4 AM (ET) on Sunday, Dec. 16th.
I really like this movie, based on one of Irwin Shaw's many novels about Americans amid the Eurotrash in the decade after the immediate postwar period when things really started to spin out of control ethically, artistically, and literally, based on several whirling scenes in this flick. At the height of his post-Spartacus power,
Kirk Douglas
plays "Jack Andrus" a former big movie star in the biz. We know he was on the A list once since
Minnelli
inserts an actual clip from the earlier gem,
The Bad and the Beautiful
into the action, giving this movie one of those metatexts that film theorists swoon for. There's only one problem: Jack is only just coming out of his shell after a whale of a nervous collapse caused him to tumble from the top of the heap. Now, the doctors think his touch of manic-depression, murderous rages, alcoholism and occasional hallucinations have all been ironed out, along with the kinks in his famous ego. He's ready for the world again. But is the world ready for him? The answer seems to be "maybe not."
His ol' pal director Maurice Kruger (
Edward G. Robinson
) throws him a bone from Rome, asking him to join him there for a possible job on his most recent international epic. That movie, it turns out, is in trouble, thanks to hissy fits among the cast, foul-ups among a non-English speaking crew, a shady producer, and an understandably tired director (
Robinson
). Waiting for his flight toward a fresh start, Jack is accosted by a former business associate (
George McCready
), who rebuffs the actor's greeting with the news that Jack was an arrogant crud when he was on top, except now he can tell him what he thinks.
Slap!
 After a flight that allowed him to brood about his past once more, Jack arrives on the Roman film set to see two stars feigning passion during a scene--only to end it with more hearty slaps. Oh, so it's going to be
that
kind of picture.