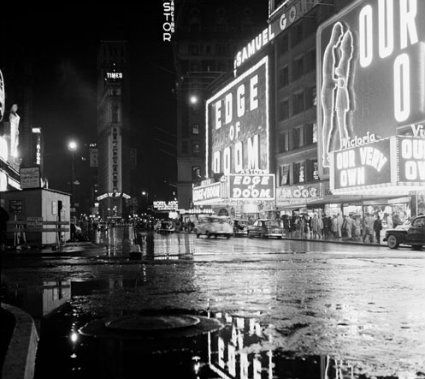 Yes, the French have a word for it alright--several in fact, such as...
le désespoir, le cercle des ténèbres
,
le mécontentement, le
sensation de malaise...it's all étrange, et une atmosphère lugubre et sinistre...but for those of us who study the language of film, it is just delightful to know that darkness is falling again and more noir has been unearthed this fine Spring of 2012.  
Elliot Lavine, the f
ilm programmer and curator of the more intriguing arcane corners of the cinema, has dug into the archives once again for another edition of 
I Wake Up Dreaming 2012--The French Have a Name For It!
This event begins on Friday at San Francisco's
Roxie Theater
, offering up 14 days and 30 films reveling in life on the shady side of the street from May 11-24. Several of the films slated for the event are Film Noir classics that are only rarely screened in revival, (
The Big Combo, In a Lonely Place, Detour
,
He Walked By Night
) and others deserve to be much more widely known (
Hollow Triumph, aka The Scar, Une Si Jolie Petite Plage, The Pretender, The Underworld Story
)
.
Many of the scheduled movies are also being shown as 35mm studio archive prints and
The Big Combo
is being shown from a restored 35mm print from the UCLA Film Archives
.
Still other movies are so obscure (and so amusing-sounding) that they arouse my curiosity, particularly
Highway 13
(1948), with a poster that seems to promise the sight of beloved, elderly character actors
Clem Bevans
and
Mary Gordon
going rogue! The
I Wouldn't Be in Your Shoes
(1948), based on a Cornell Woolrich tale, comes along with a legendary pedigree as one of the more memorable poverty row noirs, along with
When Strangers Marry
(1944), offering Dean Jagger as a mysterious bridegroom. There is even one of director Ed Wood's even more obscure efforts Mamie Van Doren wreaking havoc and Pat O'Brien looking bleary-eyed but talking tough. All in all, I wish I could offer all readers a flight to SF for this event, but if you are like me, and enjoy sometimes being an armchair explorer of compelling movies, you can add several of these movies to your future wish list. In the mean time, you might enjoy these two recent pieces on Elliot's role in unearthing new celluloid worlds to explore.
Below is the Full Schedule with descriptions provided by the Roxie
(Click on dates for tickets)