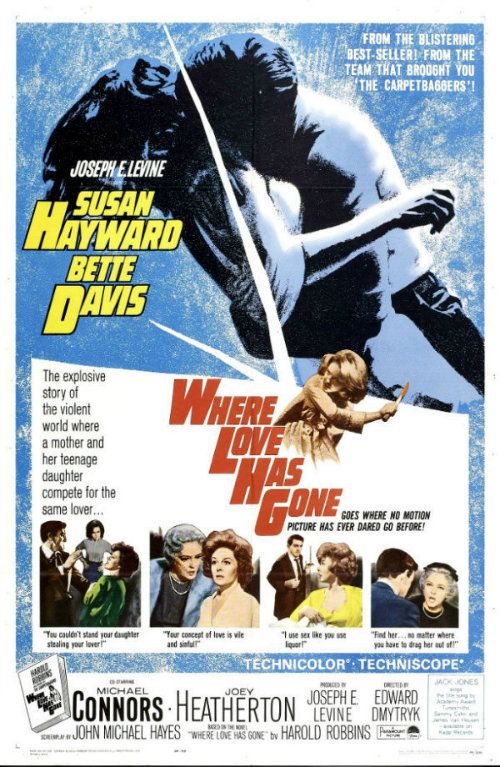 TCM is featuring a slew of good movies directed by the under-rated
Edward Dmytryk
tomorrow on his birthday, Sept. 4th, as you can see
here
, but one of them must be seen to be believed.
Where Love Has Gone
(1964), scheduled for broadcast at 3:30pm (ET), was described by the man who made it as "a dismal failure, both from the critics' point of view and mine."
Eddie, Eddie, how can you say such things about this glittering tale? It has all the hallmarks of a really big, bad movie:
Above: Michael Connors, Joey Heatherton, Susan Hayward, Bette Davis in Where Love Has Gone 1964).
A Large Budget:
Publicity maintained that this movie was budgeted at the then huge amount of $3million, but with wardrobe and hair eating up at least 65% of the cost, another 20% for lavish but often strangely ugly sets, that leaves at least 15% for the cast and crew, right? However, with
Joseph E. Levine
as the exec on this movie, who knows how much moolah was really spent on anything? About those sets--the neurotic borderline Nympho-Sculptor heroine (
Susan Hayward
) lives in a modern apartment that looks like a cocktail lounge in a small rural airport, circa 1960.
Bette Davis
, who plays Hayward's frosty grande dame Mom, lives in a cavernous Telegraph Hill mansion that probably came with a moat (though Bette is the only crocodile who would swim in it).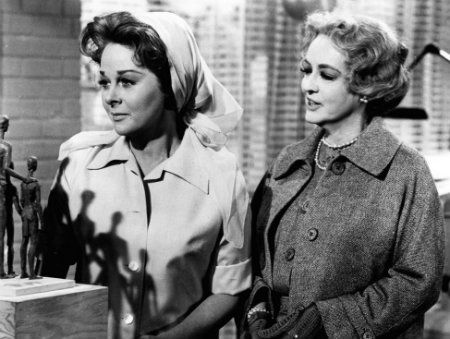 Above: Susan Hayward and Bette Davis played daughter and mother, respectively. They were only separated by ten years in age. They did not--reportedly--bond well during this production.
An Important...(or do I mean Self-Important?) Cast:
The cast is led by
Bette Davis, Susan Hayward, Mike Connors
(how did
he
get in here?),
Jane Greer
(sorry, gang, Jane was not so very
fatale
in this one), the indispensable
George McCready
(he was ubiquitous in this era), and
DeForest Kelley
(pre-Trek days & glad of the work, even if his effete character does little more than wear ascots and raise an eyebrow). All of the adults swirl around the pouting, simpering, and prematurely trashy--
Joey Heatherton
, an actress I used to confuse with Tuesday Weld, but now that I realize that Joey's the one with the go-go boots and lack of self-awareness, she has become one of my favorite bad girls.
A Talented Bunch Behind the Camera Taking Home a Nice Chunk of Change: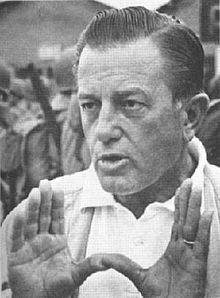 Edward Dmytryk (seen at left), of course, but John Michael Hayes as screenwriter had his work cut out for him. After tackling Grace Metalious' impossible to adapt
Peyton Place
and making it into a cinematic silk purse (well, okay, a synthetic silk purse), the man must have been regarded as a miracle worker. His background included working with Hitchcock for several years on such classic films as
The Trouble with Harry, Rear Window
, and
To Catch a Thief
, but by the early '60s, Hayes found himself tailoring his skills to the more open (and sordid) times, teaming up with Dmytryk twice: once on the hugely successful adaptation of a previous Harold Robbins novel,
The Carpetbaggers
(1964) and this movie in the same year. The movie also has Edith Head's costumes (lots of mink, sable, pill box hats and chiffon scarves), Joseph MacDonald's cinematography with beautiful scenes in San Francisco, and the production design of Hal Pereira and Walter Tyler--though I think that Hal was warming up for
The Oscar
's orgy of bad taste a couple of years later when he worked on this movie. There are no ubiquitous round beds or Rembrandt reproductions everywhere in this flick, but everything looks completely and carefully artificial in this film, just like the later epic.
A Lurid Connection to a Real World Scandal that tiptoes thisclose to libel:
The Cheryl Crane murder case in which Lana Turner's daughter killed Turner's mob-connected lover--though in this version no one is involved in the hurly-burly of the silver screen. Bette Davis plays a grande dame of San Francisco society whose goal in life is manipulating Susan Hayward as her driven, sculptor-daughter. Mike Connors plays a struggling architect-war hero who almost loses his soul during his marriage to the overbearing Hayward, (he actually made me long for the more cuddly blandness of George Brent) and Joey Heatherton is their trampy, screwed-up but needy kid whom they have each used as an emotional football. Joey has uncharacteristically brown tresses in this movie, her second film, a follow-up to her delightfully amusing work in
Twilight of Honor
, only a year before this film. As you can see, Joey, as all actresses in this film did, had her crowning glory encased in enough hair spray to punch a hole in the ozone, and blown up with a bicycle pump. If only that package that Mike Connors' is wielding contained a gift certificate for acting lessons...but what am I saying? That might spoil the naturalism: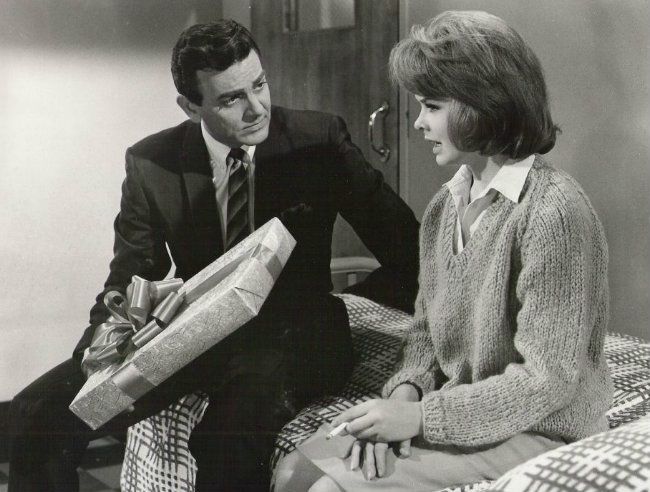 A Really Bad Novel by a Legendarily Awful Writer as Inspiration:
Harold Robbins, who prompted critics to pull their skirts aside at the time but who kept cranking them out successfully for many years. He didn't start as a hack (
A Stone for Danny Fisher
isn't really a bad book--but once Harold hit upon the money-making formula that began with
The Carpetbaggers,
he continued writing in that crushed velvet vein). One critic writing in
Time Magazine
(and probably envious of Robbins' sales, if not his prose) carped that the author was "the new lord of the garbage heap...He picks a public personage who has figured in lurid headlines, changes his name and a few unimportant details, and writes the novel around him...leaving [the person] as difficult to identify as Liz Taylor in a false beard." And then sell a kajillion copies. And then sell the movie rights for another kajillion dollars ($275k, actually, but the dollar was worth more in the sixties).
A Producer Who Never Went Broke Underestimating the Public's Desire to See Gorgeous but Emotionally Conflicted Dames Suffer: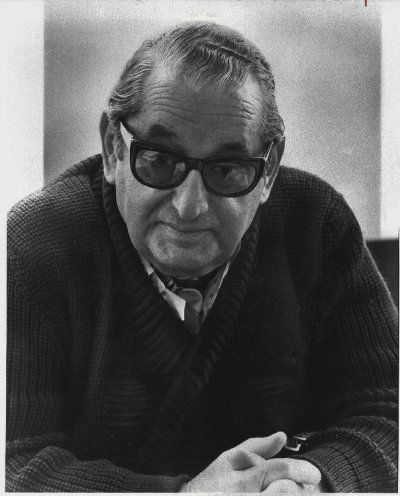 Joseph E. Levine (above), an interesting and very colorful guy seems to have been part-hustler, part-adventurer, with a touch of the poet. He built his initial fortune with names like "Godzilla," "Hercules" and "Attila" in the titles, giving audiences ''musclemen, broads and a shipwreck and a dragon for the kids,'' but also occasionally fine films such as
Two Women
and
A Lion in Winter
. As he described his feelings about what he did for a living once: ''I love this business which is not really a business. The film industry is composed of an indescribable collection of dreamers and schemers, geniuses and phonies, sharpshooters and lunatics. It's action on the screen and off. I hope that when my time is up, it'll happen not in bed, but in that suite in Rome, or on a plane, or on the back lot of a studio in Hollywood, Paris or London.'' If only we still had his ilk around now.
Things to Enjoy in this Movie:
1.) The fact that they went to the trouble of doing some location shooting in a gloriously Technicolor San Francisco, but somehow found a way to still make sure that there are oodles of poorly executed process shots scattered throughout the picture, as you can see fairly clearly below.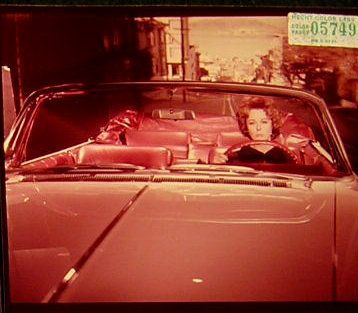 2.) The film's idea of how modern artists live and work, which leads Susan H. to don goggles and make with the blow torch. The implication, of course, is that she herself is a blow torch
...inside
. Hayward's artistic bent means that she is also prone to pursuits of fleshier type. She loves 'em and leaves 'em, in part because she feels that her hubby's alcoholism has emasculated him, (um, have you looked in the mirror lately, Susan?) but also in revenge for his neglecting her. As she phrases it so neatly at one point, "So, it's already been decided. I'm an unfit mother, an ungrateful daughter and an irresponsible wife" ...Passive-aggressive, thy name is Valerie Hayden Miller (Susan Hayward).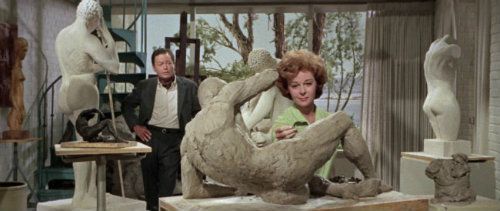 3.) The way that Bette Davis jumps a good line like a starving cougar on a rabbit. She may have looked back in anger on her years at Warner Brothers, but man, they gave her more to chew on there too. As the actress says in character at one point: "Somewhere along the line the world has lost all its standards and all its tastes!" I couldn't help but wonder--was she thinking of her former co-workers Gale Sondergaard or Fay Bainter as she played this character? Or was she really thinking about the way that Gladys Cooper would have played such a role, as a friend pointed out. She certainly had a good performance to draw on remembering Dame Glad in
Now, Voyager
?: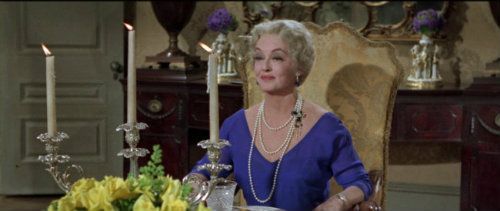 4.) The way that you welcome supporting cast members' appearances like a spring rain in the desert, bringing to life their few brief scenes with a certain amount of skill and humanity that is in stark contrast to the central cast members. Look for familiar reliables Anthony Caruso, Ann Doran, Whit Bissell, Lisa Seagram, and Jay Adler among others in the cast, though my favorite was the little-known
Anne Seymour
as a court-appointed shrink. Seymour is one of those faces we all know, but her name, her performances, and her quiet intelligence are always deserving of note.
Above: Anne Seymour
5.) The ending of this film, ironically, was changed from the novel, which emphasized the cleansing effect that a burst of violence and sexually charged catharsis might have on the protagonists. Unfortunately, Harold Robbins' masterpiece was tampered with artistically due to the persistent, though waning influence of the Production Code in the early '60s. The good Freudians and the Bluenoses united behind the scenes and chose to have Ms. Hayward's character "pay" for her transgressions. At least Hayward, who seemed to specialize in rage scenes, had a chance to pop her cork and take her frustrations out on a portrait of Mummy (Bette Davis), as seen below. Btw, Bette Davis apparently made this film primarily to pay for the wedding of her daughter, B.D., which went off swimmingly...at least until B.D. felt obliged to share her critique of her mother's parenting skills with the world at large. Poor Bette!:
6.) As with many films of this era, there is a theme song, bleated this go-round by
Jack Jone
s (I actually like his voice,
sometimes
). This tune, with music by Jimmy Van Heusen and (ghastly) lyrics by Sammy Cahn
may interest some musical archeologists.
Sources:
Chandler, Charlotte
,
The Girl Who Walked Home Alone
:
Bette Davis, A Personal Biography
, Hal Leonard Corp., 2007.
Dmytryk, Edward
,
Odd Man Out: A Memoir of the Hollywood Ten
, SIU Press, 1996.
Robertson, Nan
,
"Joseph E. Levine, A Towering Figure in Movie Making, Is Dead,"
The New York Times, August 1, 1987.
Wilson, Andrew
,
Harold Robbins: The Man Who Invented Sex
, Bloomsbury Publishing, 2011.