June is more than teen idols and huddled masses on TCM--a Skeins fave
Ida Lupino
is popping up several times on the schedule, [You can see earlier posts on this blog devoted to this actress
here
]. The times and dates of the Lupino films scheduled to appear on Turner Classic Movies are posted below, but there's news on several fronts about Ida.
Woman in Hiding
(1950) is now on DVD as part of the four disc set labeled
Women in Danger: The 1950s
. Other films in this set are
Female on the Beach
(1955) with Joan Crawford and Jeff Chandler,
The Ungaurded Moment
(1956) with Esther Williams, and
The Price of Fear
(1956) with Merle Oberon. I've seen and enjoyed all but the Lupino film and the Merle Oberon movie. Sometimes these less well known films are among the more surprisingly good ones.
Woman in Hiding
intrigues me because it is directed by Michael Gordon, whose other films, especially
An Act of Murder
,
The Lady Gambles
and
The Secret of Convict Lake
are often quite well done, tackling controversial subjects and familiar circumstances from fresh angles. Gordon, whose career was thwarted by the McCarthy era blacklists, never regarded
Woman in Hiding
as particularly distinguished, though his fond memories of Lupino were quite evident when he spoke to Ronald L. Davis for his
Just Making Movies: Company Directors on the Studio System
. While Gordon felt that the movie, which also featured
Howard Duff
and
Stephen McNally
, was one that he "enjoyed less than many I've made." Working with Ida was clearly a satisfying experience, and he was able to help her prepare for her first direction of a feature film when they were making this melodrama. Giving her the benefit of his experience,
Gordon
helped her break down the shooting preparations, consulting on editing and even visiting with her on location during the filming.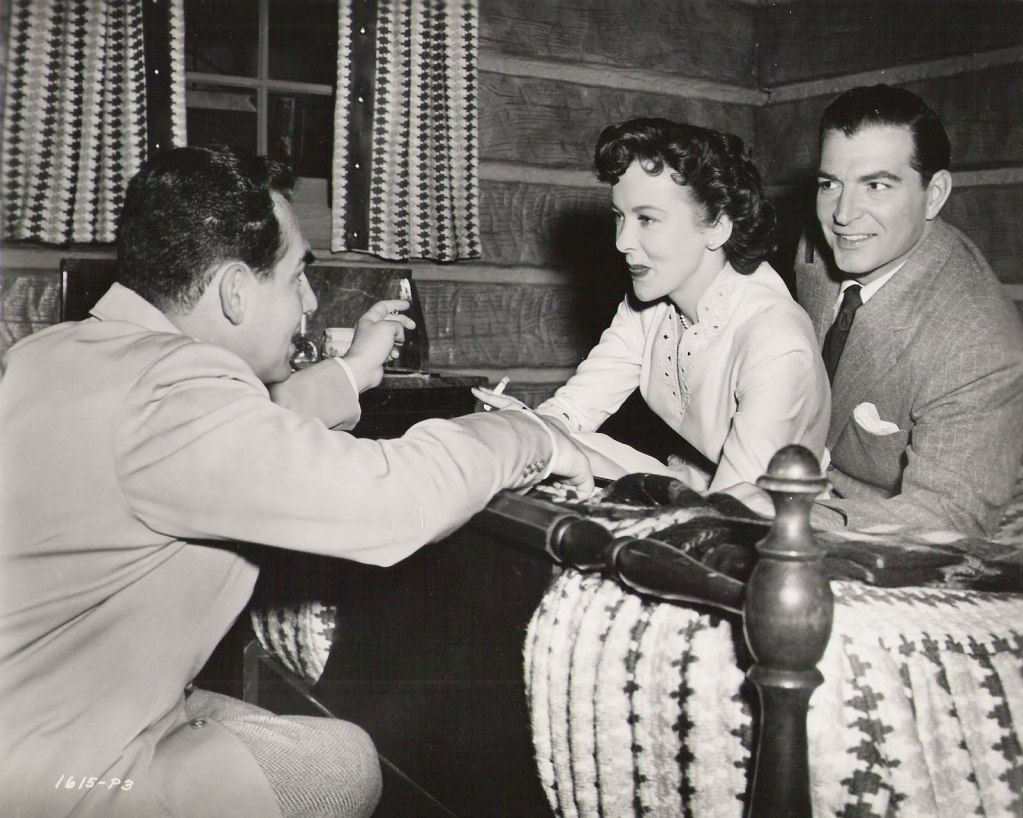 Above: Director Michael Gordon working with Ida Lupino and Stephen McNally on the set of Woman in Hiding (1950) [photo courtesy of filmnoirphotos.blogspot.com]
Making Woman in Hiding--despite any reservations that the director may have had about the script, proved to be very pleasant, with Gordon finding the caliber of Lupino's acting made up for everything. The director simply "gave her a start and let her go." This was also the first film that Lupino made with Howard Duff, an actor whom she found conceited and egotistical when she had met him previously. However, cast in a role as a stranger who comes to the aid of a bride threatened by her spouse, Duff charmed the actress, causing Ida to melt when he left a bouquet of white orchids in her dressing room with a note reportedly reading: "From Howard Duff to Ida Lupino--whether you hate me or not." What followed changed the lives of everyone involved and opening another chapter in their marital histories.
Life Begins at 8:30
(1942), with
Monty Woolle
y
and
Ida Lupino
as a former great actor and his introverted daughter in a theatrical setting, is being issued through
the newly established MOD program, The Fox Cinema Archives
, beginning in June. Most titles in this series are expected to go for $19.95. You can see more details about this and other new releases
here
. Btw, posters who have not seen this movie are categorizing it as a comedy.
Having seen this movie several times as a girl, I recall liking it and being moved by some of the story's points about where the line of responsibility for those we love begins and ends. I would like to view it as an adult to see how cotton-headed I may have been as a lass. Memories of the film tell me that it certainly has light-hearted moments, but the movie is more of a domestic drama under actor-turned-director
Irving Pichel
, giving
Monty Woolley
one of his best roles and
Ida
an opportunity to display her quicksilver way of expressing bitterness and vulnerability in her role as his deeply loyal daughter. The film also gave a disappointed Olympic fencer,
Cornel Wilde
, one of his early screen roles
as well.
The film, produced at 20th Century Fox, a studio that may have allowed
Lupino
to relax a bit more than the chronically tense atmosphere at Warner Brothers, brought out the best in both leading actors. Establishing an excellent rapport with
Monty Woolley
, which enhanced the conspiratorial air of their bond on screen as two against the world, struggling to keep a roof over their heads and a modicum of dignity and good humor--even when the dyspeptic
Woolley
's boozing character is compelled to play Santa Claus to make a few shekels. For those who knew her well,
Lupino
's absorption in her part was intense.
Those who saw her script realized how meticulously she prepared for her roles, building her characterization of the club-footed character from within. In her script,
Lupino
friend, the actress-dancer
Diane Meredith
, reportedly saw that
Ida
had written the notes that "This girl is crippled. She had been crippled since birth; however, she wold walk in a way that does not indicate she is aware of it. It has become part of her daily life. Her limp is therefore ignored." During the month of production, the tiny
Ida
wore an orthopedic boot to enhance the onscreen impression of a halting gait for her character, leaving the delicate actress chronically sore. Coming from a legendary theatrical family in Britain, the actress understood the transitory glory of the theatrical arts, with insecurity, seedy digs, and a very tough hide required to survive. I suspect my anticipation of this movie will be justified after seeing this movie.
Later this summer we can all see director Don Siegel's
Private Hell 36
(1954) with Ida appearing with
Steve Cochran
and
Howard Duff
in a slightly rancid cops-gone-bad film noir. This movie is being brought out on regular DVD and Blu-Ray by Olive Films on 8/21/12. Currently
Private Hell 36
can also be seen streaming online at Netflix as well.
Cochran
goes from everyday cop to damn fool and
Duff
from a caring family man to a desperate thief in the course of this movie, which
Siegel
dismissed in his autobiography since he found the cast pretty much uncontrollable and the story incomprehensible (just between you and me, he had a point). I won't say that anyone is at their best in this movie, but for those of us who like the way that
Lupino
croaks out a song, it's a must-see. Fans might want to check out
Road House
(1948) and
The Man I Love
(1946) for other instances of her style as a chanteuse of sorts--which is unique, even when she is being dubbed by someone else. As
Celeste Holm
's character comments in
Road House
, "She does more without a voice than anybody I've ever heard...If you like the sound of gravel..."] Note: You can see
Bridget Duff,
Ida's only child with her then-husband
Howard Duff
in this movie. The baby plays the toddler daughter of
Duff
and
Dorothy Malone
in the film.
The following films are scheduled for Thursday, June 21st and Friday, June 29th on TCM (all times shown are ET):
6:00 AM
THANK YOUR LUCKY STARS
(1943)
An Eddie Cantor look-alike organizes an all-star show to help the war effort.
Dir: David Butler Cast: Humphrey Bogart , Eddie Cantor , Bette Davis.
BW-127 mins, TV-G, CC,
8:15 AM
PILLOW TO POST
(1945)
A girl pretends to be a war bride to get a hotel room in Washington.
Dir: Vincent Sherman Cast: Ida Lupino , Sydney Greenstreet , William Prince.
BW-92 mins, TV-G, CC,
10:00 AM
THE MAN I LOVE
(1947)
A night-club singer gets involved with a mobster.
Dir: Raoul Walsh Cast: Ida Lupino , Robert Alda , Andrea King.
BW-90 mins, TV-G, CC,
11:45 AM
DEEP VALLEY
(1947)
A farmer's daughter helps an escaped convict.
Dir: Jean Negulesco Cast: Ida Lupino , Dane Clark , Wayne Morris.
BW-106 mins, TV-PG, CC
1:30 PM
ESCAPE ME NEVER
(1947)
A composer forsakes his innocent bride to romance his brother's fiancee.
Dir: Peter Godfrey Cast: Errol Flynn , Ida Lupino , Eleanor Parker.
BW-104 mins, TV-G, CC,
3:15 PM
ON DANGEROUS GROUND
(1951)
A tough cop sent to help in a mountain manhunt falls for the quarry's blind sister.
Dir: Nicholas Ray Cast: Ida Lupino , Robert Ryan , Ward Bond.
BW-82 mins, TV-PG, CC,
4:45 PM
THE BIGAMIST
(1953)
A woman discovers her husband has another family in another city.
Dir: Ida Lupino Cast: Joan Fontaine , Ida Lupino , Edmund Gwenn.
BW-79 mins, TV-PG,
6:15 PM
WHILE THE CITY SLEEPS
(1956)
Reporters compete to catch a serial killer.
Dir: Fritz Lang Cast: Dana Andrews , Rhonda Fleming , George Sanders.
BW-100 mins, TV-PG, CC,
Friday June 29, 2012
7:45 AM
HIGH SIERRA
(1941)
An aging ex-con sets out to pull one more big heist.
Dir: Raoul Walsh Cast: Ida Lupino , Humphrey Bogart , Alan Curtis.
BW-100 mins, TV-G, CC,
8:00 PM
WOMAN IN HIDING
(1950)
Dir: Michael Gordon Cast: Ida Lupino , Stephen McNally , Howard Duff.
BW-92 mins,
It is especially great to see
The Man I Love
(1947-Raoul Walsh) on the schedule again.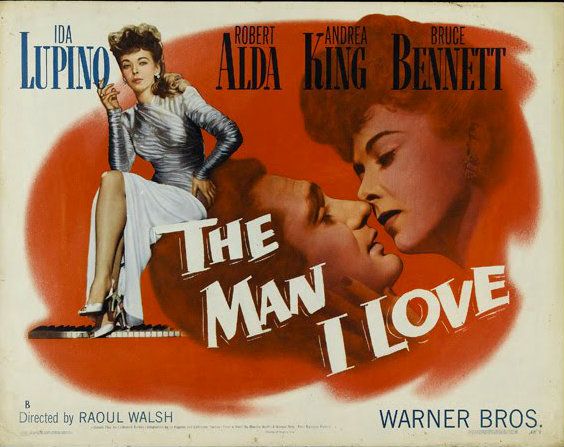 This movie has been described as a "film noir musical," a postwar splash of cold water on the face of film noir with a tart feminist twist. If you have never seen
Ida Lupino
in full flower, this is the movie you ought to see. Adapting
Martita Wolff'
s controversial novel
Night Shift
to the movies, Warner Brothers found itself making several compromises to placate the Production Code office, removing allegedly "unacceptable" references to slot machines, locker rooms in seamy settings, and references to infidelity among blue collar defense workers.
The script, ascribed to Jo Pagano, Catherine Turney and an uncredited W.R. Burnett surprises people with its sentimentality--but if you know Raoul Walsh's rambunctious films of the '30s such as Me and My Gal (1932) and The Bowery (1933), the raffish milieu and the impulsive figures who people the movie will seem familiar. On the set, Walsh and his leading lady reminded one eyewitness, Andrea King (who played Ida's sister) of father and daughter. As described by Lupino biographer William Donati, "Walsh was all business on the set, but after the day's last scene, he relaxed. 'Cut! Print!' he would shout. 'Now it's time for some cooking sherry.' [As Andrea King recalled] 'I didn't know what that meant until I was invited for a glass,'...[and] King was amazed by Ida's artistry and felt she had 'a magic glow.'"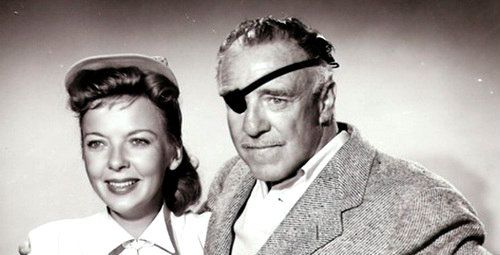 Above: Ida Lupino with her friend, mentor and director, Raoul Walsh.
In the opening scenes of the movie, the high life is humming along as Ida appears to be grooving on the flashy atmosphere and jazzy music in a night club--though her tendency to pull away from the hands of her companion (an oily Robert Alda, who really should have played more slick bad guys), Her ambivalence about the life she lives and the one she longs for is clear from this moment, as she has arrived in this time and place for a holiday visit with her relatives.
Coming home to see how her family is faring, the wandering chanteuse Lupino plays "Petey" Brown, a glamorous, pragmatic, and secretly tender-hearted Miss Fix-It who knows that everything changes, even if we want to hang on to the past for just a moment longer. It's Christmas, the war is winding down, and the social upheaval of the last few years has left its mark on everyone, even the hard scrabble siblings of Ida's character, who live in a part of Los Angeles without the manicured lawns and dazzling exteriors. There is dirty linen to be aired and dishes in the sink that need scrubbing and Ida is all over it.
Above: Ida Lupino and Bruce Bennett in The Man I Love (1947).
Sure, the movie is partly a domestic drama, but it has a bracing dose of real life occasionally, as
Ida
tries to help her troubled family (
Andrea King
plays her sister) around Christmas while also holding down a job at the overbearing
Robert Alda
's crummy nightclub. She has a romance on the side with a piano-playing tumbleweed played by
Bruce Bennett
. The latter actor may be playing a role that
John Garfield
was born to play, (in Garfield's wounded idealist, world-weary mode), but
the soft-spoken
Bennett
's casting in this movie allows the viewer to see his natural diffidence in a new light--as an inarticulate artist who can only express himself adequately through music. One of the ways that this movie avoided the expected conclusion is Petey's stoic acceptance of his personality, something that she understands well, since wanderlust and swimming upstream against life's tide is also part of her own steely code.
With all this turmoil and no man by her side, does Ida sing too? Yeah, but it's actually
Peg LaCentra
, who sounds just like the actress. On-screen it is Ida who puts across Gershwin's title tune, while evergreen numbers like Kern's
Why Was I Born?
,
Bill
, and
Body and Soul
all pop up on that evocative sound track. I'm not really saying that this is a great movie, but it is one of Raoul Walsh's better later flicks. Any time Ida gets a chance to be a strong and tender, wounded warrior who takes no guff and no pity on screen is worth my time. She also gets to look great too in some
Milo Anderso
n duds that shine in this movie, as you can see in the above image.
The Man I Love
is
on DVD
via the Warner Archive. Look for some fine musicians in this film, including jazz guitarist
Tony Romano
singing and strumming and the drummer
Nick Fatool
in these first few minutes of the movie--and just
try
to resist the swelling music over the credits:
Sources:
Just Making Movies: Company Directors on the Studio System
by Ronald B. Davis, (University Press of MS, 2005),
Ida Lupino: A Biography
by William Donati, (The University Press of KY, 1996).