Thanks to an alert friend I recently had a chance to see a rarely aired
Claude Rains
movie,
This Love of Ours
(1945), which I really enjoyed more than I expected. Even though
Rains,
(one of my favorite actors) has a smaller than usual but key role, he appeared to be having a wonderful time. His character seemed to blend a quietly bittersweet charm with Mr. Jordan's other-worldly wisdom, Dr. Jacquith's monumental patience and just a dark hint of Hollenius' possessiveness as he strove to help
Merle Oberon
come to terms with her past. I particularly liked seeing
Rains
interact with the children in the brightest scenes in the movie at the cathartic birthday party that climaxed the film. While watching it, I repeatedly thought of the actor's own warm relationship with his only child, his daughter, the actress and author,
Jessica
(née Jennifer)
Rains
.
*Mild Spoiler Alert*Mild Spoiler Alert*Mild Spoiler Alert*
Rains
and
Carl Esmond
bolster an exceptional cast led by
Merle Oberon
and
Charles Korvin
very well. The supporting players gave the film's plot a needed goose with their good-natured presence and a dose of common sense whenever the movie threatens to bog down in bathos. The plot line that includes more than one medical miracle, attempted murder and suicide, an unnatural and morbid fixation on the dead, too much quality time between father and daughter to the detriment of the girl's social skills, and more. These proceedings sorely needed the lighter touch provided by Rains and Esmond, along with veteran character actors
Harry Davenport
and
Helen Thimig
(aka Mrs.
Max Reinhardt
, and a fine actress in her own right).
The movie was also greatly enhanced by an Oscar-nominated score Universal's house composer, Hans J. Salter, who conveyed the eeriness and the lyrical qualities of the story through his orchestral music, giving it a cohesion and polish in several scenes when characters are not helped by the script, which was derived from a play by
Pirandello
(!), and was credited to screenwriters
Bruce Manning, John Klorer
, and
Leonard Lee
.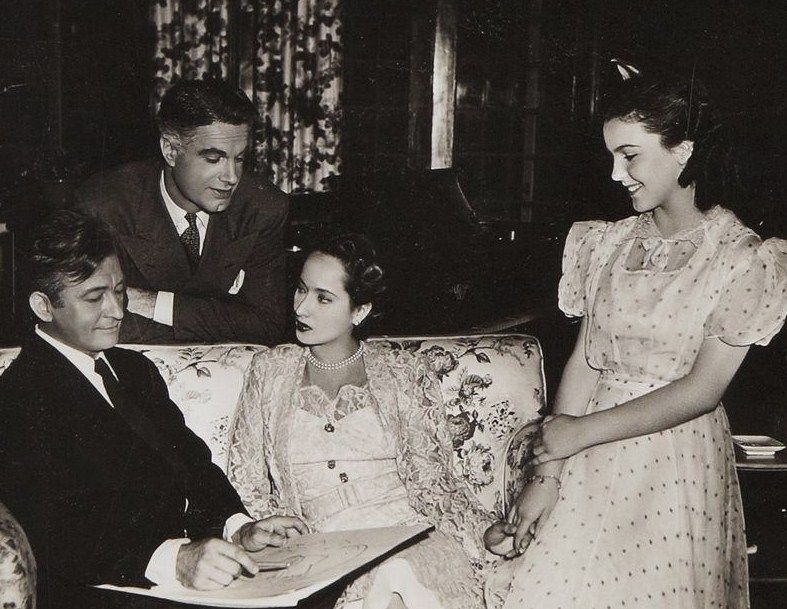 Claude Rains, Charles Korvin, Merle Oberon and Sue England on the set of This Love of Ours (1945).
The romantic drama had some contrived plot points, but thanks largely to the truly outstanding work of
Oberon
and
Claude Rains
under
Dieterle
's direction, the film becomes credible and moving by the finale.
Rains
plays a genteelly bohemian artist who works with a pianist (played by a sultry-looking
Oberon
) in a nightclub with the uninspiring name of "Hinky Joe's." Wandering from table to table,
Claude
flatters, deflates, and soothes the egos of the people he meets and caricatures, adopting a veiled air of superiority (a
Rains
specialty, don't you think?) and a kind of philosophical shrug toward his audience, while hovering a bit too protectively over the fragile
Oberon
's shopworn angel.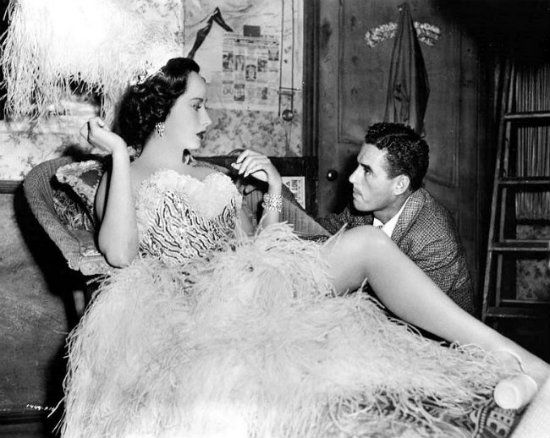 Right: Merle Oberon with her second husband, cinematographer Lucien Ballard on the set of This Love of Ours (1945). [Source: A Certain Cinema]
We learn in flashback that
Oberon
, who was photographed exquisitely by her second husband, cinematographer
Lucien Ballard
in this movie, plays an itinerant musical performer whose twisted ankle prompts a visit backstage from a handsome French doctor (this was the Hungarian-born
Korvin
's second American film). After becoming transfixed while wrapping the ankle in a bandage,
Korvin
's Doctor Michel Touzac finds himself laughing along with
Oberon
's Karin at the distracted way that he has continued to swaddle her beautiful leg in the cloth up to her thigh! 'Soon the pair are married, with
Oberon
giving birth to a child that seals their almost-too-perfect happiness. In order to finance the good doctor's continued research, Karin proves herself a competent money manager as well as an angelic companion and affectionate mother. A misunderstanding and out-of-the-blue suggestion of infidelity leads to a sudden (and frankly, weird) break between the couple, prompting the doctor to throw over his practice, pack up his little girl and decamp for America, where he becomes a big wheel in medical research circles.
Oberon
, who is rarely given credit for much expressiveness as an actress, brings some indefinable quality of elegant sadness and real regret to this role, which transcends her somewhat stiff image as she conveys more than usual with her dark eyes and half-smile, particularly in the nightclub scene when we first meet her character. Upon reflection, it occurs to me that the films in which I liked this actress best (T
he Dark Angel, Wuthering Heights, 'Til We Meet Again, Night Song)
all share something of this essential quality. In them, she often played characters who are haunted by some longed-for ideal of happiness, and whose shared moments of affinity with another person in the past approaches a spiritual level of romance that few actresses could convey convincingly.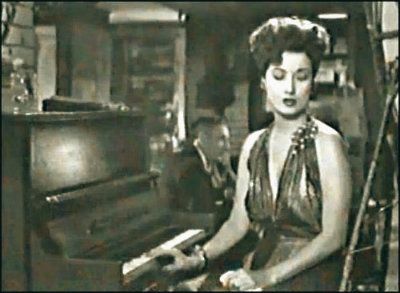 Merle Oberon as Karin, during the years when her character is separated from her husband and child.
Perhaps this is the result of her porcelain doll appearance, typecasting or the times when she ascended to stardom, but I do think Oberon expressed this well, as she did her character's despair. I wonder if it was considered "daring" for the 34-year-old leading lady to play the mother of a teenage girl?
Sue England
as Suzette conveys the intensity of her adolescent character's roiling emotions, though there are moments when a viewer might want to slap the girl, but one can't help feeling some pang for her situation--none of which was really of her own making thanks to her father's own psychological quirks and highly emotional reaction to his separation from his wife.
England
, who was only about 16 or 17 when this movie was made went on to have a career in movies and television until the 1970s.
After Suzette's father returns suddenly from a Chicago business trip toting a "new" wife, the adolescent young woman is understandably confused and resentful yet
Oberon
's handling of her scenes with the girl express both the mother's heartache and her own sense of guilt, especially in one scene when, longing to touch the bristling girl, the mother curls her hair, almost surreptitiously, trying to avoid confrontation but satisfying her desire for closeness to her offspring. If the actress were not so adept at expressing these mixed emotions, such moments would be laughable instead of touching.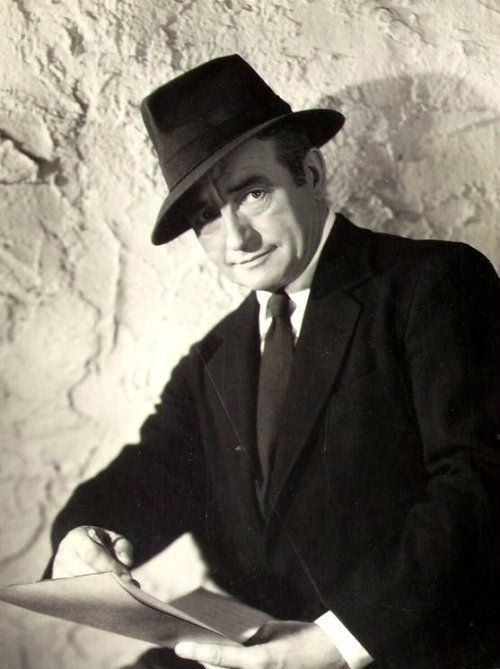 Left: Claude Rains as Joseph Targel in This Love of Ours (1945).
Rains
hovers in the background for much of the movie, imbuing "Joseph Targel" with a philosophical warmth that often makes him the brightest character in the movie. If this is a soap opera as many reviewers on IMDb have asserted, it is delicately played by the displaced
Oberon
and
Rains
, whose performance prompted a contemporary reviewer at
The New York Time
s in 1945 to write that "
Claude Rains
as a philosophizing cafe caricaturist is altogether delightful and contributes some mildly amusing moments to an otherwise doggedly tragic drama."
Director
William Dieterle
, despite his skilled work on such classics of romance as
Love Letters, Portrait of Jennie
and
September Affair
in the 1940s, almost never appears to receive credit for his handling of intimate and delicate scenes conveying an emotional affinity between characters. In this film, he weaves a colorful but believable tapestry out of some outlandish elements, allowing a viewer to accept the reconciliation of a couple with some serious communication problems. He even lets us believe that the dawning realization of her mother's true existence (thanks to
Claude
's gifted artist) could heal the psychologically traumatized teenager enough to banish the girl's confusion, resentment and justifiable fear of a woman she barely knows. Despite the fact that I have always found
Charles Korvin
's over-ripe looks and manner a bit off-putting, he is also believably pompous, hurt and chastened here expressing his characters' emotions in a sincere manner in this movie.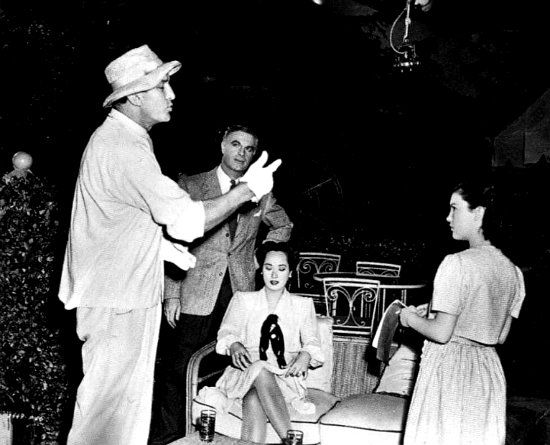 Director William Dieterle (wearing his signature white gloves) directing Charles Korvin, Merle Oberon and Sue England on the set of This Love of Ours (1945).
Btw, if the basic plot of this movie sounds familiar, it may be because it was remade in 1956 as
Never Say Goodbye
by director
Jerry Hopper
. That version starred
Rock Hudson
and
Cornell Borchers
(remember her?) and had an Iron Curtain backdrop. I believe that
George Sanders
played a role similar to that filled by
Rains
in the earlier movie. I suspect that Universal may have put this earlier version on the shelf when they produced that potboiler in the fifties, hoping it would help audiences embrace the more "modern and colorful" edition of the story. Too bad the cast was not nearly as skilled as they were in the
Claude Rains
one, as you can see for yourself beginning below:
Sources:
Claude Rains: A Comprehensive Illustrated Reference
by John T. Soister & JoAnna Wioskowski (McFarland, 1999),
Claude Rains: An Actor's Voice
by David Skal with Jessica Rains (Univ. of KY, 2008),
Past blog postings on this site featuring
Claude Rains
:
Claude Rains: The Virtuoso
The Appreciation of Claude: Jessica Rains and Richard Chamberlain
Claude Rains Appearances on Alfred Hitchcock Presents