Tonight, May 29th, 2012, Turner Classic Movies is broadcasting a a night devoted to the feature films of the talented, beautiful and tragic
Dorothy Dandridge
, which include
Carmen Jones, Bright Road, The Decks Ran Red
, and
Tarzan's Peril
. You can see more about those films
here
.
The purpose of this post is to draw your attention to a brief, rarely screened little movie scheduled between
Bright Road
(1953) and
The Harlem Globetrotters
(1951) at 11:12 PM (ET).
Shoe Shine Boy
(1943) is the name of the musical featurette, which gives us a peek at some dark social history and the presence of a real talent who came along at a tough time in movies--despite everything. I think it deserves to be seen.
Shoe Shine Boy
(1943) is a wartime period film made at MGM with some flag-waving and painfully unconscious but inescapable racism that was all too common at the time, but it
is
notable for the earnestness of the leading man,
Melvin C. Bryant
(1924–2001), whose apparently remarkable talent on the trumpet kicks this little movie into a class by itself.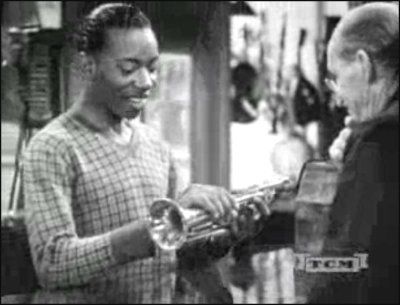 Above: Mel Bryant in his brief moment in the spotlight.
This short is ostensibly about an African-American youth seeking $2 so that he can get a horn out of a pawn shop. In the course of working for the money he shines shoes for character actors
Walter Catlett
&
Sam Levene
, who play two competitive, but down-on-their-luck show biz agents. Once this pair hears him play, they--and everyone else--stop to hear him. Even the chef and dishwashers come out to join the throng who hear him play in the dive where he first proves his mettle, prompting the vaudeville-era sharpies to recognize his talent and offer him a contract. After hearing him play veteran songsmith Phil Moore's "Trumpet Lament," they duel verbally over which of them has the right to describe the polite and unpretentious "boy" as "my property," as they envision a $1million future for the phenomenal musician.
In the end--thank heavens, since we all know how well musicians are often treated by management--the youth only wants that horn for the pleasure it brings him to play it and a chance to serve his country in the service during the war. In some ways this is a simple-minded curio from a time well past. It may be worth seeing for the strangeness of it and for Mr. Bryant's jaw-dropping musical expressiveness on the trumpet. I might also watch it again to note the musician's quietly expressed sense of self, which neither of the characters who saw him as a money-maker could ever fully understand.
I have tried to do some research on
Mel Bryant
since first seeing this, but I have learned only a little. Most of all, I wanted to know if that young man was actually playing the trumpet or was he dubbed? From the info I've discovered so far, I think the answer is that he did play that well and he was probably the trumpeter in that short.
Apparently, his career went no where--though the war may have interfered with that. IMDb shows that he appeared in only one other movie, an uncredited role in RKO's
Riverboat Rhythm
(1946), which also had
Walter Catlett
in a supporting role. Between 1973-1980,
Bryant
also appeared on some television shows such as
Sanford and Son, Archie Bunker's Place
and
Cannon
, but his credits ended after 1980 and the end of his life in 2001. Film historian
Donald Bogle
's history of African-Americans in show biz in LA,
Bright Boulevards, Bold Dreams: The Story of Black Hollywood
revealed that
Mel Bryant
was an actor-singer-musician in Los Angeles in the 1940s. Other sources indicate that his family, including an older brother, Frederick and a younger sister, Clora, grew up in Denison, Texas in the '20s-'40s under the nurturing guidance of a single father, who was a very intelligent man despite his own lack of a formal education. Their father, Charles Bryant, "always thought [his children] were talented."
Clora Bryant in her musical prime
Mr. Bryant's sister,
Clora Bryant
, became a major talent as a jazz trumpeter who had to contend with racial as well as gender discrimination throughout her career.
Clora Bryant
, who is still active today, developed into an influential musician, helping other female jazz artists, and holding her own with contemporaries such as
Dizzy Gillespie
and
Charlie Parker
. Now 84, Ms.
Bryant
has written a bit about her remarkable family's journey from Denison, Texas to LA in a book she edited,
Central Avenue Sounds: Jazz in Los Angeles
and in an interview she did with Stephen L. Isoardi entitled
Central Avenue Sounds: Clora Bryant
, which is part of the Dept. of Special Collections at UCLA online and can be seen
here
.
Clora Bryant, Mel Bryant's sister, in her prime.
In these published accounts,
Clora
recalled her awe at the exciting urban world that unfolded before her when she arrived in LA at Union Station with her father in 1944, a year after her brother
Mel
made
Shoeshine Boy
. Her brothers and father all encouraged her to study the trumpet seriously, and
Mel
even signed his paycheck over to his sister in 1944 when he was serving in the Marines to enable her to continue her musical studies in college. I have not been able to find out more about
Mel Bryant
's later career on stage or [perhaps uncredited] screen appearances, though in the course of a 50 year career, it seems that the impetus behind his and his sister's interest in show business and music began early.
His sister recalled that as children, "We'd go to see the movies, mostly musicals, come home and imitate the singing and dancing. Then, you had the black movies and black theaters, and you couldn't go to the white theaters. They would always have good black movies to show."
"...At the movies," [
Clora
and her brother
Mel
] would fantasize about the movies that we'd see in the afternoon on a Saturday or cowboy movies, Buck Rogers, space serials, etc., Tom Mix, Ken Maynard, Hoot Gibson. During the summer, Dad would let us go to the movies during the week. But there were always a lot of good musicals on, especially when the war came on. MGM [Metro-Goldwyn-Mayer] had some fantastic musicals...My brother
Mel
...and I would always go, and we'd sit there until we'd absorbed it like osmosis, everything that they were doing. My brother and I and another girl [Ollie Mae Bailey] at school were the Andrews Sisters. [sings] "I'll be with you in apple blossom time" or "Bei mir bist du schön, please let me explain." And those stupid songs they had— Harry Babbit was on— Whose show was that? "Down in the meadow, in an itty-bitty pool, fam fee itty-bitty fishes and the mudder fitty too," you know, all those stupid songs! [she laughed as she described these songs that she and her brother used to sing with their friend]."
If anyone knows more about
Mel Bryant
and his later career, I'd be very grateful if you would share it here. Thanks.
If you miss tonight's short, you can see a grainy copy of it at the link below--though the original one usually aired by TCM is in near pristine condition:
Shoe Shine Boy-1943
by redhotjazz
Sources:
Bright Boulevards, Bold Dreams
:
The Story of Black Hollywood by Donald Bogle, (
Random House, 2006), Jazzwomen:
Conversations With Twenty-One Musicians

, Volume 1 by
Wayne Enstice &
Janis Stockhouse, (Inidiana Univ. Press, 2004), Central Avenue Sounds: Jazz in Los Angeles edited by
Clora Bryant, Buddy Collette, William Green, Steve Isoardi and Marl Young (
Univ. of California Press, 1999
).