Carleton Carpenter
Double Feature on July 10th in celebration of the actor's 85th birthday.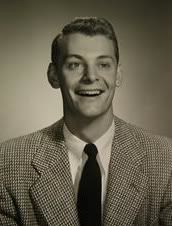 In his early years in Hollywood,
Carpenter
, a 6'3" string bean with experience in drama and musicals on stage, made his mark as an actor who sang "Abba Dabba Honeymoon" with Debbie Reynolds in
Two Weeks With Love
(1950) and for asking Spencer Tracy's frustrated mixologist in
Father of the Bride
(1950) for a coke. The films being shown this Sunday on TCM featured him in the lead. Only 24 years old when he arrived as a contract player at MGM, 
Carleton
Carpenter
never quite became the second
Robert Walker
that the studio seemed to be grooming him as during his years there, but he had his own quirky appeal that transcended some of his lesser films. His professional skills also  enabled him to be an effective supporting cast member in dramatic films such as
Vengeance Valley
(1951),
Take the High Ground
(1953) and
The Whistle at Eaton Falls
(1951), (the latter under the direction of Robert Siodmak in one of his last American films). It was unfortunate that his arrival in Hollywood coincided with the decline of the studio system and as the greatest era of movie musicals was waning, since his talent never quite received an ideal showcase despite his evident talent. The B movies being shown tomorrow were the only two chances the rail thin talent had to take center stage, though he remained active in Hollywood for much of the decade, appearing in such memorable programs as
The Shirley Temple Theatre
(as "Tom, the Piper's Son"!) and
The Rifleman
.