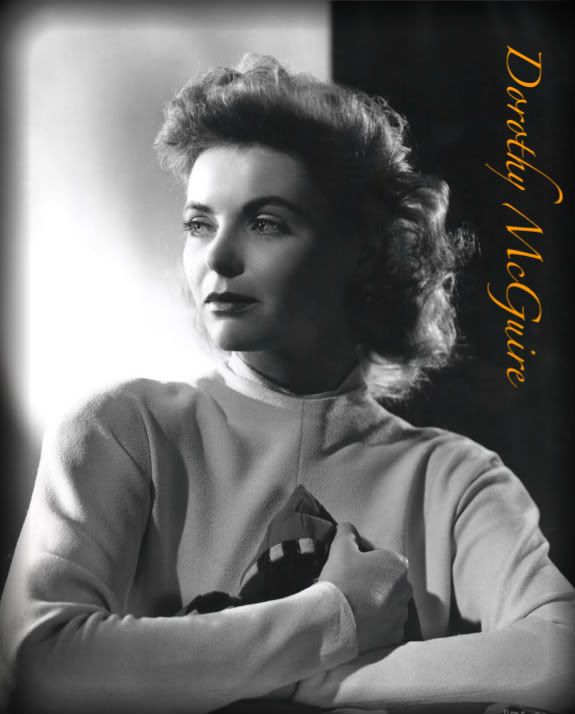 The birth of actress
Dorothy McGuire
on June 14th, 1916 in Omaha, Nebraska is being celebrated with the lineup below on TCM this Tuesday.
If I had to pick only one film out of these to see, I might recommend
Till the End of Time
(1946), since it remains a largely unsung gem, is only available on VHS and a Region 2 DVD, and is overshadowed by the more polished
The Best Years of Our Lives
released in the same year. This drama, capturing the painful transition from war to peace among a trio of servicemen, played by Guy Madison, Robert Mitchum and Bill Williams, features an excellent performance from
McGuire
, who plays a restless and wary war widow with a refreshing honesty. Her intelligent characterization of the older Pat Ruscomb simmers with tender longing, a dash of desire, and some understandable anger. Few other actresses could have conveyed such a blend of contradictory emotions with more skill.
You can see previous posts on this blog related to
Dorothy McGuire
and her films
here
.
Tuesday, June 14th Schedule of Dorothy McGuire Movies on TCM:
6:30 AM
The Enchanted Cottage
(1945)
A scarred veteran and a homely woman are transformed by love.
Dir: John Cromwell Cast: Dorothy McGuire, Robert Young, Herbert Marshall.
BW-92 mins, TV-G, CC,
8:30 AM
Till The End Of Time
(1946)
A returning World War II veteran falls for a troubled war widow.
Dir: Edward Dmytryk Cast: Dorothy McGuire, Guy Madison, Robert Mitchum.
BW-105 mins, TV-G, CC,
10:30 AM
Friendly Persuasion
(1956)
A peaceful Quaker family's sanctity is tested during the Civil War.
Dir: William Wyler Cast: Gary Cooper, Dorothy McGuire, Marjorie Main.
BW-138 mins, TV-G, CC, Letterbox Format
1:00 PM
A Summer Place
(1959)
An adulterous couple discovers that their children are sexually involved.
Dir: Delmer Daves Cast: Richard Egan, Dorothy McGuire, Sandra Dee.
C-130 mins, TV-PG, CC, Letterbox Format
3:15 PM
Susan Slade
(1961)
A pregnant teen allows her mother to pass the baby off as her own.
Dir: Delmer Daves Cast: Troy Donahue, Connie Stevens, Dorothy McGuire.
C-116 mins, TV-PG, CC, Letterbox Format