Next week a blogathon sponsored by
The Classic Movie Blog Association
kicks off on Sunday, May 15th and will run through Tuesday, May 17th. This event will celebrate the exceptionally interesting classic movies that premiered in 1939 as the studio system reached its zenith. These flicks blended the highest technical achievements with considerable artistry and storytelling skill, (and an undeniable amount of show biz pizzazz)--and those chosen by participating bloggers are not
all
American-made! The complete list of the movies that will be featured in the blogathon can be seen
here
.
I chose the less well known
We Are Not Alone
(1939) to examine next week. Directed by
Edmund Goulding
and based on a
James Hilton
novel, the movie starred
Paul Muni, Flora Robson
, and
Jane Bryan.
This nearly forgotten film received good reviews such as critic Frank Nugent's description of the movie as "a film of rare tenderness and beauty, compassionate and grave, possessed above all of the quality of serenity" in
The New York Times
. Unfortunately, the movie's contemplative tone was overwhelmed by the plethora of larger-scale films in that exceptional year, and it did not find a larger audience. I hope that you will enjoy rediscovering
We Are Not Alone
with me.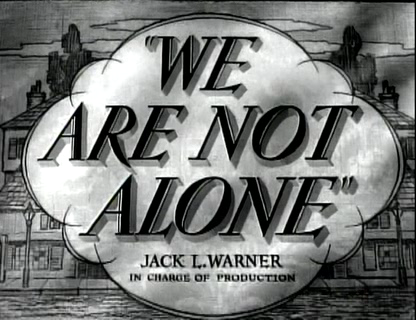 I look forward to reading the posts of all my fellow bloggers!