Diving into the social whirl to begin our 2011 tour through Christmas Past, Hollywood-style, we find ourselves sharing a moment with a courtly monster and a glowing chorine in December, 1932. Perhaps it was a contrivance of some publicity agent, but Boris Karloff and Ginger Rogers actually seem a bit enthralled with each other's company at this party in one of the darkest years of the Great Depression. Despite the grim economic news, things looked fairly rosy for these two hardworking if very different thespians. In darkened theaters for the next decades, both would bring their own unique comfort and joy to audiences longing to elude reality's blues.
A potent blend of common kewpie doll and bewitching fallen angel, Ginger, at 21, was already a veteran on stage and screen, after officially entering show biz when she won a Charleston contest at a mere 14. Texas-born Rogers, dressed above in a satin number with the curious gap in the sleeves, had sparkled in 1929's Top Speed, a musical confection that was first served to Broadway audiences on Christmas Day, when people still thought the stock market slump would turn around any day now. The following year in Girl Crazy, the warmth in Rogers' bubbly young voice was a balm for the listeners' soul, when the Gershwins chose her to introduce the achingly lovely But Not For Me, among other, now classic tunes. Appearing to critical and popular acclaim within the first ten minutes of the show, Rogers left the chorus behind for good, and even held her own onstage with that formidable musical steamroller, Ethel Merman. By 1929 Ginger began appearing in shorts and films and had already performed in 16 movies prior to being named one of WAMPAS Baby Stars of Tomorrow at the end of 1932.*
As I write this, I am watching Rogers and Astaire "dancing cheek to cheek" in Top Hat (1935) proving, once again, that they were a transcendent combination. On the December night of this party that brought her together with Boris for a moment or two, perhaps, no one quite expected Ginger, who was the wisecracking girl who made "Cigarette me, big boy" a catch phrase of the early '30s, to ever partner so elegantly with Fred Astaire, with whom she would glide through ten musicals, beginning with Flying Down to Rio in 1933. Then-film critic Graham Greene, in a back-handed compliment in his review of Follow the Fleet (1936), compared Fred Astaire to Mickey Mouse, since he believed that Fred and the antic Disney creation shared a "touch of pathos, the sense of a courageous and impromptu intelligence, [and] a capacity for getting into awkward situations..." However, when examining Rogers as a fitting partner to Astaire in Greene's cartoonish simile, he concluded that "...Miss Ginger Rogers will never quite attain Minnie's significance (she is too brazen and self-sufficing for the part)." The novelist-turned-film critic's impish remark missed something important in Ginger's often sharply drawn characters. When she stopped speaking--and rejecting Fred repeatedly in their films until the last reel--her pining romantic heart was unfurled on the dance floor--where movement and grace, in tandem with her partner, made all the world's trivial surroundings fall away, as the artificial and material world faded from view.
However, those justly celebrated films were complemented by some
Ginger
's more expressive and accomplished non-musical films including the justly famous ones:
Stage Door
(1937),
Kitty Foyle
(1940),
The Major and the Minor
(1942), as well as the less well known smaller films, (my favorites) such as
The Primrose Path
(1940),
Storm Warning
(1951), and
I'll Be Seeing You
(1944). I'd especially recommend the latter, which features one of the most touching depictions of a poignant Christmas season this side of
It's A Wonderful Life
--and a non-saccharine story line that still seems relevant today. Life away from the camera may have been a bit complicated for Rogers in part thanks to a stagemother--her greatest supporter, but one wonders how often Ginger's ties to her complicated five marriages. The generations that have followed neither know nor care about these details. These things of the moment all fall away when every few years, people seem to rediscover the graceful form, sassy humor, and real talent of
Ginger Rogers
all over again.
Looking back from the perspective of 1975, Rogers, who had kept working as long as she could, made a remark that might have been a reflection of this December event.
"The '30s were such a pretty time. I know it was a bad time for an awful lot of people, but not for me. I remember the whole atmosphere, the ambiance of the '30s with a glow because success was knocking at my door. I got to California in '32, just in time to do Gold Diggers of 1933, where I sang We're In the Money. It was a whole new life for me. I was excited about it. It was happy and beautiful and gay and interesting. I was surrounded by marvelous people, all the top people of our industry."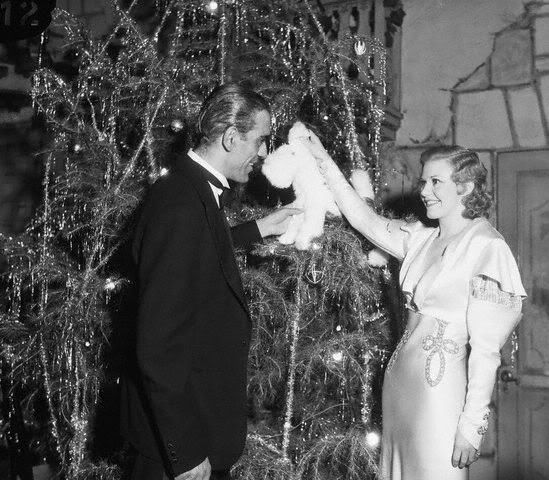 Today, the thought of
Boris Karloff
at Yuletide usually brings forth memories of
How the Grinch Stole Christmas
, but in 1932, the forty-five year old actor may have been cherishing the moment after a decades-long struggle to find a spot in show business. Just a year before,
Karloff
had signed a contract with Universal and by December, 1932 was earning a princely $750 a week. The international success garnered after playing
Frankenstein
(1931) may be the reason most people knew his name, but
The Criminal Code
(1931), the Howard Hawks film starring Walter Huston, marked the struggling actor's real step out of the shadows--after 81 movies and almost a quarter century as an actor.
A man whose friends fondly remembered him awash in tears at the sound of a Christmas carol, the season was always something special to
Boris
. In another holiday season in another century, a nine-year-old better known as William Henry Pratt, the youngest of seven brothers and one stepsister, began his theatrical journey. In December of 1896 in a drafty parish hall in the London Borough of Enfield, the actor who became
Boris Karloff
portrayed his first role, a Demon King, wearing a black skull cap and tights for a Christmas pageant based on the Cinderella fairy tale.
This debut "launched" him, according to the actor, "on a long and happy life of being a monster" giving him, he said, "the fire" to pursue his lifework. The youngest of seven brothers and one stepsister who had planned a life in the foreign service for their baby brother left England for Canada shortly after leaving the University of London at about 24 years of age. He would not see his family again for 25 years, but returned to visit them as a world famous star. There he worked at manual labor whenever he was between jobs in touring stock companies, one of which eventually landed him on the West Coast. Beginning as an extra,
Karloff
is estimated to have appeared in 81 movies between 1919 and 1931, beginning as part of a crowd scene in a Pearl White film,
The Lightning Raider
.
In 1932 alone, the former
William Henry Pratt
had 8 films released, including
The Mummy, Scarface,
The Mask of Fu Manchu
and
The Old Dark House
and the previous breakthrough year Perhaps that seemed like a lighter work load to him, since in 1931, he had appeared on screens in 12 movies, including two excellent character roles in
The Criminal Code
(a part that he had also played on stage) and in
Five Star Final
as well as that movie about the guys with the bolts in his neck.
Many of these roles avoided the macabre and supernatural, but utilized his tall, beetle-browed, sinister presence and sometimes his mellifluous speaking voice in and gifted skills as a pantomimist). Most of his film roles, however, appeared to have been the exact opposite of his truly gentle nature--though surely something inside drove him to invest his many parts with some potent blend of the unknowable and the shockingly recognizable. Modestly, he once tried to tell an interviewer that he knew better than to resent his curious success:
"You could heave a brick out of the window and hit ten actors who could play my parts. I just happened to be on the right corner at the right time.

One always hears of actors complaining of being typed - if he's young, he's typed as a juvenile; if he's handsome, he's typed as a leading man. I was lucky. Whereas bootmakers have to spend millions to establish a trademark, I was handed a trademark free of charge. When an actor gets in a position to select his own roles, he's in big trouble, for he never knows what he can do best. I'm sure I'd be damn good as little Lord Fauntleroy, but who would pay ten cents to see it?"
We look back on
Boris Karloff
and
Ginger Rogers
as incredibly electric icons of the movies in which they shared their matchless presence with the audience. At the time when they soared, sometimes stumbled (see Boris' Mr. Wong movies and Ginger's
Magnificent Doll
sometime for evidence) and persevered for decades longer than many of their contemporaries, perhaps people occasionally took their presence for granted. For Boris, most of his films were mediocre or worse, and a few were exceptionally fine stories that we now call classic. As writer Ray Bradbury once put it, "We knew [Boris] would never hurt us, but only try to instruct us to the real ways of the world that is often nightmare...we had our long conversation with the man, didn't we? Starting when most of us were nine or ten and going right on up to [the year of his last film] when he made his last call, left his neat card, bowed, put on his hat and left...We all knew him, didn't we?"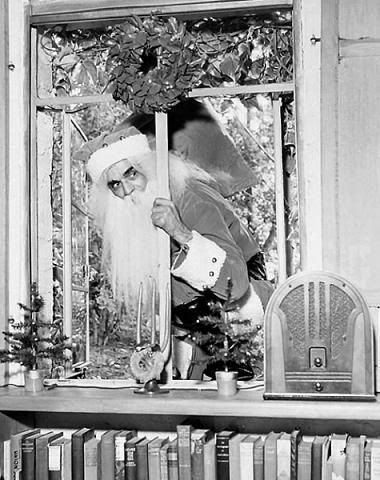 Santa Claus, as interpreted by Mr. Pratt.
For those of us who have only met these two disparate figures flickering in black and white on the television screen as they showed us something sublime, here's a holiday toast to them--and our thanks.
*WAMPAS was the acronym for the Western Associated Motion Picture Advertisers who named promising newcomers in the film community from 1922 to 1934. In the year that Rogers earned the honorific, the other young performers in her company included some forgotten young ladies, but some whose name and screen work still resonate. They were Lona Andre, Lillian Bond, Mary Carlisle, June Clyde, Patricia Ellis, Ruth Hall, Eleanor Holm, Evalyn Knapp, Dorothy Layton, Boots Mallory, Toshia Mori, Ginger Rogers, Marian Shockley, Gloria Stuart, and Dorothy Wilson. Each is introduced in this video, hosted by football great turned actor
Johnny Mack Brown
and artist
Will Pogany
. (I love the way that Johnny Mack Brown asks to see one young lady's "pro-feel" in his aw-shucks accent):
Sources:
Gottlieb, Robert, Reading Dance: A Gathering of Memoirs, Reportage, Criticism, Profiles, Interviews, and Some Uncategorizable Extras, Pantheon, 2008.
Lindsay, Cynthia, Dear Boris: The Life of William Henry Pratt a.k.a. Boris Karloff, Limelight Edition, 1995.
Nollen, Scott Allen, Boris Karloff: A Critical Account of His Screen, Stage, Radio, Television, and Recording Work, McFarland, 1991.
Rogers, Ginger
,
My Story
,
HarperCollins, 2008.
Please click here for more samples of the annual Christmas Album entries on this blog.