When he was asked about his own cinematic influences, the protean filmmaker
Orson Welles
famously replied, "I prefer the old masters; by which I mean:
John Ford
,
John Ford
and
John Ford
."
Today, if you go to your local library or a book store, you'll see an astonishing number of biographies of movie stars (a few are even worth reading), as well as some scholarly tomes and biographies devoted to the people behind the camera--especially
John Ford
, the director whose creative life spanned the silent and sound era, crafted an imaginary but powerful vision of Ireland, and shaped our idea of American history on film.* Surprisingly, as Ford devotee
April Lane
discovered, in the online world, there was no website devoted exclusively to the work, life, and ongoing events and influence generated by
John Ford
. Being a logical young woman, and one blessed (or is it vexed?) by her love of all things Fordian, she has created
www.directedbyjohnford.com,
a glorious, newborn site replete with images, info, and updates about the work and life of this filmmaker.
Who the heck is
April Lane
and what made her so enthralled with
John Ford
? I have gotten to know April over the last few years online and through her sparkling appearance as one of the thoughtful and enthusiastic
TCM Guest Hosts
in celebration of the network's 15th anniversary in 2009. She has impressed me as a strong and insightful individual, with a background in the performing arts and an eye for nuanced detail that goes far beyond the ordinary viewer.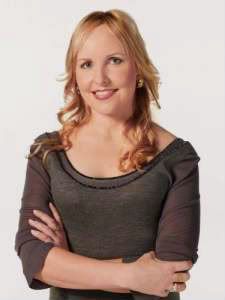 April Lane
When spying one of
April
's new posts on the internet at various classic film message boards (especially at
TCM
and the
SSO
), her words are among those I try to read first since I know that her engaging style and take on things can provoke me to look at the familiar in a new way and introduce to me to new films and filmmakers.
April
's bright, informative and beautifully written messages reflect an intelligence and passionate understanding of the studio era individuals whose storytelling grace still resonates today. Whether she is writing about quiet men such as
Gary Cooper
and
Robert Ryan
, (two favorite topics), the underrated director
Henry Hathaway
's blend of the bucolic and the gritty, or our shared admiration for filmmaker
Delmer Daves
, this sophisticated lady never fails to entertain me with her queries, comments, and insights. Prior to encountering this cineaste, I had never encountered anyone who has nurtured such an interest and encyclopedic knowledge about the American Western. Now--fortunately for us--we can revel in the films, and often contradictory life of
John Ford
via the creativity of April's website.
M: April, thank you for consenting to answer a few questions about your new website. How long have you been working on this site and what was the most challenging aspect of this process technically and aesthetically?
April Lane:
Moira, thank you for taking an interest, I'm very flattered. I've been working on the site for about two years now. The biggest challenge is the technical side, I'm no "techie" or computer-friendly person at all, so it has been like learning a foreign language. I have been going at it by trial-and-error, mostly error.
M: Could you please explain why you chose to focus on Ford?
April:
He's my favorite director and I thought since I couldn't find one single site devoted to
Ford
...why not? I feel pretty impudent to have done it. Happily, fools are given special place in
Ford
's cinematic world. :)
M: I have a feeling that far from thinking you were "impudent," Ford might have been understandably flattered--though he probably wouldn't let you know it! April, in beginning to construct your site, I noticed how much care you took to include links to other sources about Ford. Do you hope that
www.directedbyjohnford.com
becomes a kind of clearing house for information and discussion of Fordian topics?
A.:
Yes that's my hope. I would like it to be one, central source where fans and students/researchers alike can go and get the most complete and accurate information on the director.
M: Do you think that your site might help people to look more carefully at certain of his films?
A.:
I hope so. I believe you have to see his films more than once to really get the most out of them. They work on a purely entertainment level, of course, but it's with the closer look that they yield up their treasures.
M: Are there some themes that you find recur throughout Ford's long career?
A.:
Several off the top of my head: the lone person who helps mediate or save others, who sacrifices for another. Intolerance is another theme. He often shows the basic need for community and family but also how those very things can tear a person apart. Then, too, Ford seemed interested in how and why people remember what they do. Out of that comes the whole fact vs. legend tussle, etc.
M: Excellent points, April. I find Ford's acknowledgment of that duality within most of us that you described to be one of his richest themes, informing his character's nostalgia, regrets and resignation when coping with memories of love and war. Is it the universality of those themes that cause Ford's Westerns seem to outshine his other movies in most people's minds?
A.:
There are many reasons. It's convenient to slap on a label.
Hitch
was the "master of suspense", "I'm
John Ford
, I make westerns..." Maybe the director himself should takes some credit or blame for that. He defended the western as a genre at a time it was not taken as seriously as it is now by many critics. Further, there were times in his career when the only projects he could get financed were westerns. Keep in mind, there was a period from 1926 to 1939 where he made not one movie in the western genre and none of his Oscars were for westerns.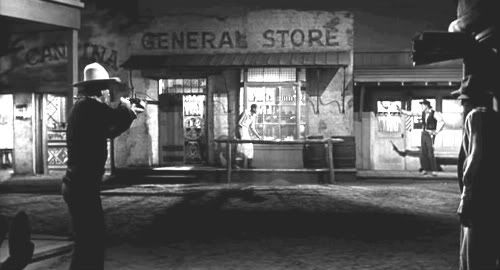 A key scene of violence in The Man Who Shot Liberty Valance
M: How do you regard Ford's approach to violence and war? Is it the force that animates all his characters?
A.:
I'd say [the depiction of violence] is fairly complex. He seemed to hold within him the not unnatural conflict of a man with a traditional sense of duty vs. a sensitive and feeling artist. His war documentaries are interesting to me purely because they're geared to promote an emotional response from the viewer, giving "the unknown soldier" a face and the value of a human identity. And while his military characters unquestionably serve and sacrifice, pictures like
They Were Expendable
or
The Horse Soldiers
reinforce the loss and emotional costs above all...not to mention they depict skirmishes that are scarcely "victorious", making them something much more interesting than simplistic battle narratives. Ford also didn't he shy from depicting a myopic commander who costs the lives of most of the men under him in
Fort Apache
, made just three years after the war. He clearly wasn't anti-war, but he wasn't a war-monger, either.
Above: The memorial scene in the decidedly elegiac They Were Expendable.
M: Does Ford's approach to violence change substantially over time?
A.:
He generally placed more emphasis on the reaction or result than on the act of violence. For instance, the source of the sniper shots that take down the men of
The Lost Patrol
are kept a mystery for the most part. It's the terror instilled that's the focus. In
The Man Who Shot Liberty Valance
, violent acts forcefully take center stage but it is in what has been built on the violence that the heart of the story lies.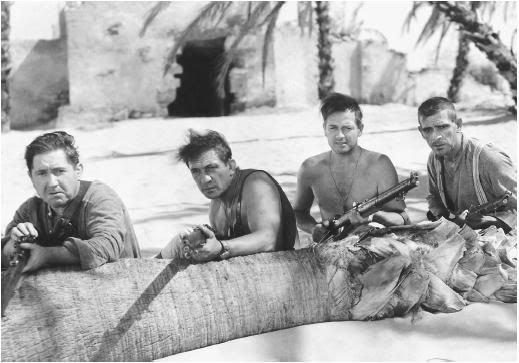 Above: The isolated soldiers in The Lost Patrol, facing an invisible enemy and their own limitations.
M: Do you remember the first John Ford movie that you were aware of consciously?
A.:
Probably
Mogambo
, a movie I've always loved and feel is unjustly relegated to "studio entertainment" fare, but I admit that for years I thought of it only as a
Gable-Gardner-Kelly
film. It took a while for me to grow up enough to become aware of what made
John Ford
movies different, including those that seemed to be mere "assignments" to keep working.
M: How do you think that Ford has influenced those who succeeded him? Has the awe in which the director is sometimes held made people more familiar with his movies in depth?
A.:
It's hard for me to answer the first part of your question, beyond acknowledging directors like
Steven Spielberg, Martin Scorsese, Coppola
and
Clint Eastwood
have talked a good deal about
Ford'
s movies and I do think that they have kept his name out there. It also seems whenever a new western gets made, they compare it to Ford. However, I think Ford also suffers to this day from over simplification, and is one of the most polarizing directors of the classic era. Many still fail to see the artistry in his work, beyond a few of the obvious titles.
M
: Which individuals do you think influenced
Ford
's POV and the development of his skills as a filmmaker?
A.:
As a filmmaker, his brother
Frank
, first and foremost. Much of what is credited to other directors was attempted by Frank, first. Travels Ford made in the 1920s, especially one to Europe and the UFA studios in Germany where he got to see
F.W. Murnau
at work were crucial. You'll see the impact of
Murnau
's influence right up until
7 Women
(Ford's last film, made in 1966).
Francis Ford and F. W. Murnau, two individual influences on John Ford's visual and storytelling style.
A.:
As for point of view, his roots as an Irish immigrant's son are probably the strongest influence of all. He started out an Irish Catholic with an instinct and understanding of common people, augmented by his travels and probing curiosity about people that lasted throughout his life. That's why you'll find an evenhandedness toward people of all cultures in Ford's films. His depiction of German village life [in
Four Sons
] is not much different from Will Rogers' small town USA [in films such as
Judge Priest
and
Doctor Bul
l].
Above: A transcendent moment from How Green Was My Valley (1941).
M: If you met someone who had never seen a John Ford movie (yeah, it is hard to believe, but we'd be surprised), are there 3-5 essential Fords you might recommend viewing? What makes each of them significant to understanding Ford?
A.:
I'd probably recommend
My Darling Clementine
,
Stagecoach
,
The Searchers
,
The Quiet Man,
How Green Was My Valley
,
The Grapes of Wrath
and if I can squeeze one more in,
Pilgrimage
.
Above: A figure in a Murnauesque landscape from Ford's Pilgrimage (1933).
M: Which movies of his are your favorites and why?
A.:
The Man Who Shot Liberty Valance (1962), My Darling Clementine (1946), The Searchers (1946), Mogambo (1953), 3 Bad Men (1926), The Horse Soldiers (1959), How Green Was My Valley (1941), and the Will Rogers films [Doctor Bull (1933), Judge Priest (1934), Steamboat Round the Bend (1935)] are all great favorites. Mostly, I respond to the emotion in the films.
,
Above: Some of the "Fordian 'fools' and innocents" who appeared in many films as good guys, bad guys and quirky characters include (clockwise from the top): Victor McLaglen, John Qualen, Thomas Mitchell, Boris Karloff, Grant Withers, Edward Brophy and James Gleason (with Spencer Tracy), Lee Marvin with Strother Martin, Hank Worden, Francis Ford (the director's brother), John Carradine, Walter Brennan, Ward Bond, Donald Meek, and Alan Mowbray. Please click on collage to see close-up version.
A.:
[I am especially drawn to Ford's] understanding for those who are marginalized, particularly via the supporting characters, the Fordian "fools" and innocents, and his amazing ability to show two opposing truths at once about family, community or any number things that are usually considered unequivocal. He was a complete artist, though his artistry is often hiding in plain sight.
Above: John Wayne, Woody Strode and James Stewart in The Man Who Shot Liberty Valance (1962).
M: What myth about John Ford would you like to dispel?
A.:
That his movies are simplistic, that they are concerned with idealizations of the past, etc. Or that he does not show any depth of understanding about women. Upon close examination, these impressions fall apart.
M: What obscure John Ford film would you most like more people to know about and what qualities have made it stand out for you?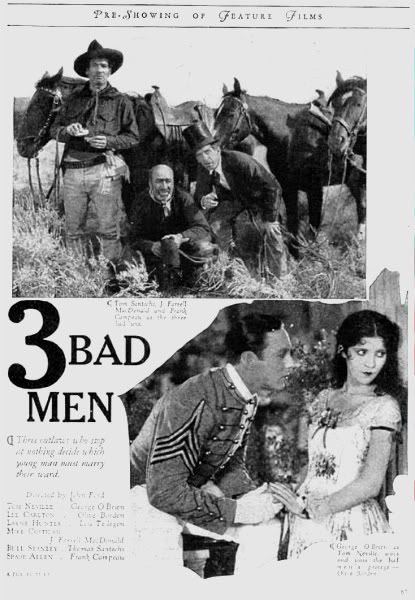 A feature from Screenland Magazine about this 1926 John Ford film ( courtesy of SilentsAreGolden.com)
A.:
While not exactly obscure, his last western before
Stagecoach
, the silent
3 Bad Men
(1926) tends to be overshadowed by his earlier epic
The Iron Horse
. Yet I think
3 Bad Men
would probably find a great many fans if it were seen more frequently. It's got scale, its pace is energetic, and the central narrative is emotionally powerful. Tom Santschi's "Bull Stanley" is like a bridge character between the
Harry Carey
good-bad man and the dominant presence of
John Wayne
to come.
M: Is there any well known John Ford film that you feel is overrated or doesn't stand up to the test of time?
A.:
Those films that get the most attention deserve it in my opinion, but as for the "test of time", I'm dubious about that test and its relevance to a world that today values transience over the timeless. Ford has often gone in and out of style. His films seemed old fashioned to many critics when they were made, for the same misapprehensions as many today suffer under.
Ford
rarely concerned himself with being in step with anyone besides himself.
M: Which screenwriters do you think were most successful in working with Ford?
A.:
His fruitful partnerships with
Dudley Nichols
(formerly of the NY Post) in the 'thirties and
Frank Nugent
(formerly with the NY Times) after the war attest to his comfort at working with skilled writers, with his input of course.
M: How would you characterize Ford's approach to storytelling?
Above: An eloquent silent moment in The Wings of Eagles (1956) as John Wayne silently watches Maureen O'Hara in the story of a troubled marriage inspired by Ford's collaborator, "Spig" Wead.
A.:
He was a master at quickly establishing the inner and outer realities of characters in little "vignettes" that allowed him to get the business of the actual story up and running quickly. Emotions revealed by action and gesture, feelings both immediate and reflective, were, I'd say, the engine that drove his narratives. His movies feel like they move to the gate of their protagonists and the actors who inhabit the spaces within his frames.
Above: John Ford working with young Roddy McDowall and screenwriter Philip Dunne on the set of How Green Was My Valley (1941).
M: Did he stick to the script, storyboard or plan shots carefully for most of his career?
A.:
He did extensive preparation before a film, working closely with the writer. For example he often instructing them to create detailed "biographies" for his characters which made them more three dimensional.
Ford
in his prime generally had the entire film in his head by the time he came to the set. It was then up to the team he worked with to know how to get what he wanted with as little explanation as possible. This is one reason why he liked working with the same technicians over and over.
M: Do you think that starting in silent films affected his sound era movies?
April Lane:
Absolutely. He was always primarily a visual director. In fact, his dialogue is characteristically "expressionistic". But the quiet, non-verbal moments in his films where people just look at one another, these are the scenes that stay with you and bespeak an abiding confidence in the power of what the eye sees.
Above: Victor McLaglen in The Informer (1935), one of Ford's most expressionistic films of the sound era.
M: Some people believe that John Ford's films are about wars, explorations, men and men's problems. A few others think that they are really grounded in his perception of women. How do you think he saw the sexes?
A.:
You can see how he felt about the primal need of men and women for each other in film after film by how he documents the impact of their loss: the most sad, lonely or damaged characters will be those without a woman, whether wife, lover or mother. And women who've lost their men are often shown in a state of suspended animation, waiting for someone who will never return. Holding onto something that belonged to their lost love or son. Again, with almost no dialogue, he could depict yearning and loss, the sharpest pangs being between men and women. I don't know but that this need of men and women for each other is more strongly depicted in Ford's films than those by any other director.
Above: Some of the women of John Ford films (clockwise, beginning at left): Anna Lee,Shirley Temple, Katharine Hepburn, Natalie Wood, Madge Bellamy (with George O'Brien), Claire Trevor and Louise Platt, Constance Towers, Olive Carey, Sara Allgood, Mildred Natwick (with John Wayne), Vera Miles, Billie Burke, Maureen O'Hara, Jane Darwell, Henrietta Crosman.
M: What was the John Ford Stock Company really like and who do you regard as members?
A.:
I'd highly recommend anyone who wants the real scoop on that to read
Harry Carey, Jr.
's candid memoir,
Company of Heroes
. My impression is that it was like one big, emotionally charged family with an admittedly difficult, contrarian and fascinating artist at its head.
M: Which member of that "stock company" do you think deserves a second look?
A.:
Of those front-and-center,
Harry Carey
, who is in many respects the kind of man
Ford
probably most wished to be like and the man Ford told
John Wayne
to emulate and not in a merely superficial way, for he told him "make people look upon you as a friend." It's a pity we have so few of their collaborations from the silent era to enjoy and study.
M: Do you think that John Wayne "learned everything he knew" from Ford, as I once heard him say in an interview?
A.:
Wayne shows just how smart and appreciative he was to say that. His movies without Ford in the 60s and 70s contain many explicit references to Ford films, like so many tips of the hat. But Wayne also worked long and hard in the business, learning every aspect of it and that's purely to his own credit.
M: How would you characterize the Ford-Wayne relationship over time?
Above: Wayne and Ford deep in conversation (perhaps during the filming of Rio Grande).
A.:
Oh, most definitely father and son. Reading correspondence between them, seeing
Wayne
in later interviews, especially those where he's in Ford's company, it's plain as day he was the "son" who sought very much to please his "dad".
Ford
's relationship with his own son not being ideal, I'm sure he needed Wayne as much as Wayne needed him.
Above: John Ford playing cards with cronies, including three actors he molded, taught and bedeviled--John Wayne, Henry Fonda, and Ward Bond. Fonda's collaboration with the mercurial director ended during the tumultuous filming of Mister Roberts (1955).
M: How do you think that the films that Ford made with
Henry Fonda
differed from those with
John Wayne
? Why was one actor more malleable than the other?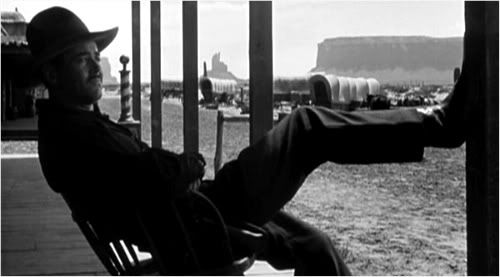 Above: Henry Fonda as Wyatt Earp in My Darling Clementine (1946). Fonda appeared in Young Mr. Lincoln (1939), Drums Along the Mohawk (1939), The Grapes of Wrath (1940), The Fugitive (1947), Fort Apache (1948), and Mister Roberts (1955) under Ford's direction.
A.: Fonda
's characters seem to reflect the humanist ideas of many of the Fox films of the period. His combination of a lithe, still frame and reflective intellect gave his films with Ford a quieter dynamic. Wayne's physical presence had raw power, conveyed authority but also warmth and a tactile responsiveness that made the films register immediately with a very tangible emotion.
Of course Wayne was much younger and inexperienced when he came into Ford's orbit, but his temperment was also quite different to Henry Fonda's. Given Fonda's own degree of pride and rigidity, it's a little surprising the rupture with Ford happened as late as 1955's
Mister Roberts
. Wayne would roll with the punches, not taking things so personal and that's key to getting along with difficult personalities anywhere.
M: In your research about Ford, what surprised you the most?
A.:
The number of really long-term relationships, professional and personal, he maintained. So much has been repeated ad nauseum of his conflicts and abusiveness…and I'm not mitigating their truth…that I expected to learn he had several marriages and died without a friend in the world. Far from the truth.
M: Is there one outstanding theme that you have noticed in all his movies?
A.:
Maybe the most common theme is the need we all have to belong to a family, for the fellowship and protection of a community, and how in time, those very institutions can become calcified, intolerant or indifferent, driving out the individual. It's a push-and-pull that goes on in life at every level and most of Ford's films seem to offer some variation on it.
M: I'm so glad that you pointed out the central role of family in the director's work. Whether biological or socially based in Ford's work, people in his movies are haunted by their memories of family, community and the past while struggling to stay together in the face of danger, economic disaster or separation. While he never turned his back on the hope he cherished for this idealized idea, Ford also seems to have painted some very realistic portraits of strained marriages, repressive relationships, and loneliness within the institutions that foster bonds of any kind without giving up on the possibility that the messy emotional ties that are forged, strained, and inevitably dissolve over time are often what make life worth living.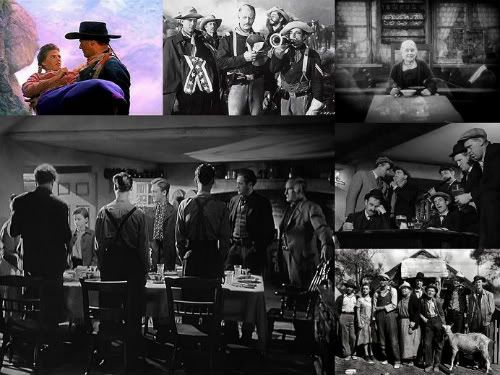 Families of all kinds in John Ford films (clockwise from top left): Debbie (Natalie Wood) is brought back home by her Uncle Ethan (John Wayne) in The Searchers, The cavalrymen of She Wore a Yellow Ribbon, The mother (Margaret Mann) surrounded by spectral children in Four Sons, The crew of the Glencairn in The Long Voyage Home, The Joads of The Grapes of Wrath, and the Morgans in How Green Was My Valley.
M: How do you regard the last few films of John Ford? Are there any that surprised you after The Searchers, which is generally regarded as the director's masterpiece?
A.:
I think his last,
7 Women
(1966) is quite remarkable especially when you consider he was 72 when he made it. Ford sketches for us woman's fear of masculine violence as well as the familiar theme of intolerance cloaked by religious fervor. Then he presents us with a mediating heroine whose skills as a doctor, collective intelligence and experience that make her fit to serve and sacrifice for the others are the qualities that ultimately make her an outsider in their spectacularly insular little world. Stylistically, the movie feels more like the carefully staged UFA-Expressionist melodramas than anything being made (at least on our shores) in Hollywood at the time.
M: Do you think that Ford's belief in God changed as he grew older?
A.:
In my reading I've found less direct insight on his religious views than any other aspect of his life, yet his beliefs, both individual and Catholic, are tangibly present in his films from the time he gained artistic control until his last completed project,
7 Women
(1966). Judging by the work, he never lost his faith in God but as for those professing faith, he would continue to show the tragedy that ensues when religious fervor causes them to cut themselves off from others, from those they claim to minister to. Compare Boris Karloff in
The
Lost Patrol
, Arthur Shields and his brethren in
How Green Was My Valley
, Henry Fonda as
The Fugitive
priest, and Margaret Leighton in
7 Women
.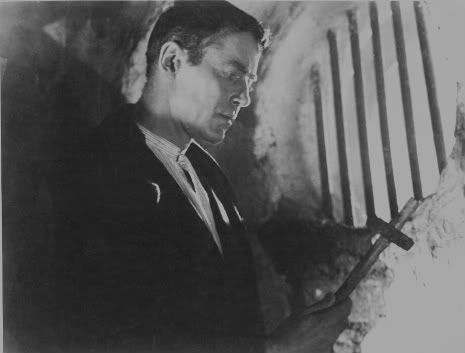 Above: Henry Fonda as a troubled priest in John Ford's adaptation of Graham Greene's novel, The Fugitive (1947), set during the Mexican Revolution. Respectfully if unenthusiastically reviewed the beautifully filmed if lugubrious drama may be Ford's most explicit testament of his Roman Catholicism. It was not financially successful in the U.S.
M: When you were examining Ford's work and life in detail, did you learn anything that touched you unexpectedly about his life and work?
A.:
In his life, it touched me to read about the many people he helped through hard times anonymously, this on top of the hundreds of people who knew they could count on him to give them work when the going was tough. In his movies, I wasn't expecting so much love for human beings, especially the most frail, in frame after frame. Why didn't I see/feel it before? I guess I was surprised by myself and my own reactions, and I like a director that can do that.
M: Thank you, April, for sharing your insights, understanding and knowledge of this daunting and engaging director's career--and for establishing a clearing house online for all things John Ford, bringing together the scholarly and the appreciative in your lively and entertaining manner. I hope that readers who are intrigued by this conversation with Ms. Lane will soon visit her website,
Directed by John Ford
and--of course--seek out the man's films
,
many of which can be seen on cable.
A list of upcoming broadcasts of Ford films on American television can be seen
here
.
And thank you, Mr. Ford!

________________
Past posts on this blog related to John Ford's world can be seen
here
.
________________
*Some of the best books on John Ford's life and craft are below:


Searching For John Ford : A Life (St. Martin's Press) by Joseph McBride

Print the Legend: The Life and Times of John Ford (The Johns Hopkins University Press) by Scott Eyman

John Ford: The Man and His Films (University of California Press) by Tag Gallagher

John Ford (University of California Press) by Peter Bogdanovich