Let's pretend.
Most of us cannot even think about taking a cruise to Europe, much less around the world. Even the upcoming cruise offered by TCM is out-of-reach for most of us. Still, we can revisit the past glories of the Golden Age of Cruising. And we won't have to worry about rough seas or grazing too long at the endless buffet tables on today's ships.
With apologies to the poetess Miss Wilcox, may I suggest that between now and this December we "go sailing away from here/To the beautiful land of the Past" to visit a brief era when taking your time to get where you were going was not looked at as an inconvenience. Let's pretend
you
are a cub reporter, dispatched to dockside to get the picture and a few words from the famous who have just docked. Hmmm, let's see who among the celebrated, the notorious and the lucky are shipping out today...Let's christen this voyage with an appropriate poem...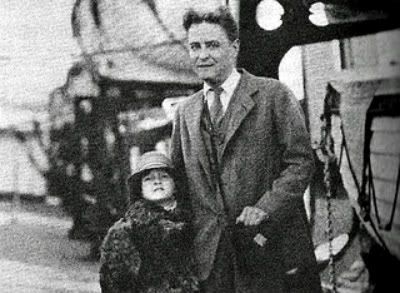 F. Scott Fitzgerald with his daughter "Scottie" during one of the Fitzgeralds many voyages across the Atlantic ocean.
Thousand-and-First-Ship
by F. Scott Fitzgerald
In the fall of sixteen
In the cool of the afternoon
I saw Helena
Under a white moon—
I heard Helena
In a haunted doze
Say: "I know a gay place
Nobody knows."
Her voice promised
She'd live with me there
She'd bring me everything—
I needn't care:
Patches to mend my clothes
When they were torn
Sunshine from Maryland,
Where I was born.
My kind of weather,
As wild as wild,
And a funny book
I wanted as a child;
Sugar and, you know,
Reason and ryhme,
And water like water
I had one time.
There'd be an orchestra
Bingo! Bango!
Playing for us
To dance the tango,
And people would clap
When we arose,
At her sweet face
And my new clothes
But more than all this
Was the promise she made
That nothing, nothing,
Ever would fade—
Nothing would fade
Winter or fall,
Nothing would fade,
Practically nothing at all.
Helena went off
And married another,
She may be dead
Or some man's mother.
I have no grief left
But I'd like to know
If she took him
Where she promised we'd go.
~~~~~~~~~~~~~~~~~~~~~~~~~~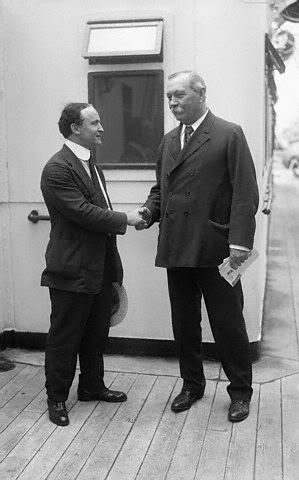 Above: Magician Harry Houdini greeting his friend Sir Arthur Conan Doyle on board the SS Adriatic in 1922 in New York harbor. The unlikely friends shared a common interest in spiritualism with Houdini the master magician and escape artist unmasking many of them in his lifetime, and Conan Doyle, creator of Sherlock Holmes, spent much of his later years trying to mend his broken heart over the son he had lost in WWI. Eager to find any glimmer of truth among the hucksters and grifters, the two men may have been friends when they met on deck. Later, in a seance at the Ambassador Hotel in Atlantic City, Houdini's late mother was invited to join Doyle and Houdini through the medium present--who happened to be the wife of the famed writer. Speaking and writing in perfect English during "the visit" with Houdini's mother, the showman later publicly rejected the words spoken on behalf of his mother's spirit, explaining, that "[M]y sainted mother could not write English and spoke broken English." His public repudiation of the séance ruptured his friendship with Doyle. Within a few years, both men died, neither having converted the other.
~~~~~~~~~~~~~~~~~~~~~~~~~~
~~~~~~~~~~~~~~~~~~~~~~~~~~
A natty Victor McLaglen striking a pose for the cameramen as he sails for Europe in 1937. At the age of 50 the year before, the former boxer had won the Academy Award as Best Actor for his work in The Informer (1935).
~~~~~~~~~~~~~~~~~~~~~~~~~~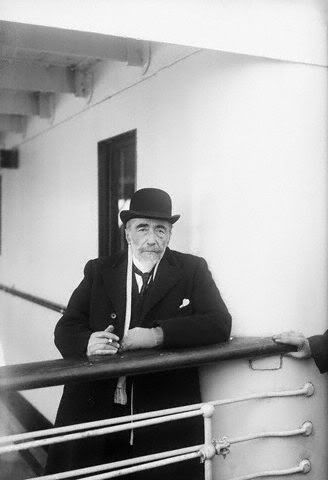 A dour Joseph Conrad on the SS Tuscania pauses for a picture as the ship steams into the port of New York in 1923. William Butler Yeats (who might have been a tad jealous) described him in this period as a 'smiling public man' when, visiting the United States in 1923, he made the cover of Time magazine, oversaw a collected edition of his work and hoped for the Nobel Prize. Perhaps Mr. Conrad is mentally composing the letter to his friend that he wrote in this period: "Life knows us not and we do not know life - we don't even know our own thoughts. Half the words we use have no meaning whatever and of the other half each man understands each word after the fashion of his own folly and conceit. Faith is a myth, and beliefs shift like mists on the shore; thoughts vanish; words, once pronounced, die; and the memory of yesterday is as shadowy as the hope of tomorrow."
~~~~~~~~~~~~~~~~~~~~~~~~~~
~~~~~~~~~~~~~~~~~~~~~~~~~~
Constance Bennett leaving for Europe with her husband, Marquis Henri de la Falaise, on board the steamer, SS Deltfdyk in February, 1932. Unemployment in the United States at the time was officially 23.2 %--unofficially it was closer to 30%. No wonder people wanted to see someone having some fun in the papers of the day.
~~~~~~~~~~~~~~~~~~~~~~~~~~
More shipping news next week...see you on the promenade deck!