To our friends here and abroad, many wishes for a joyous day of freedom on the Fourth of July.
Before we settle down with
Joe E. Brown, Fred Keating, Glenda Farrell, James Cagney
, and
Pat O'Brien
for a holiday barbecue at the O'Brien household, perhaps you'd enjoy a little game. (Say, didn't
Fred Keating
look a lot like
Jack LaRue
?)
To celebrate our classic American film roots, I offer the following thumbnail images below for your enjoyment--and occasional puzzlement, as you wonder how they came up with some of these cockamamie ideas for publicity stills and the circumstances when they were taken. (Since a few of these people on display are a wee bit obscure, I've added an asterisk next to them with info below about their background).
See if you can match the numbered image below to the names listed correctly (please click on the thumbnail to see the larger version of the images). No points for the two most obvious stars shown (hint: they were married).
I'll post the correct answers on Thursday of this week.
Have fun!:
1.)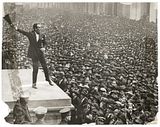 2.)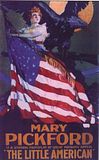 3.)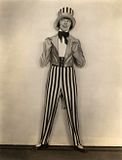 4.)
5.)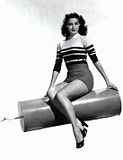 6.)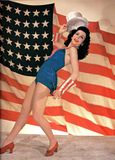 7.)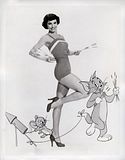 8.)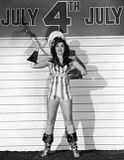 9.)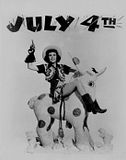 10.)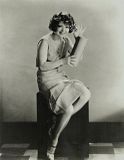 11.)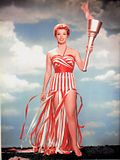 12.)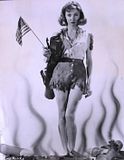 13.)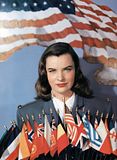 14.)
15.)
16.)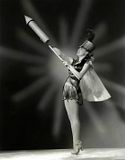 17.)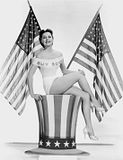 18.)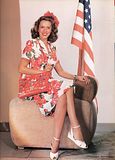 19.)
20.)
21.)
As promised, here are the answers to the above quiz:
Betty Hutton ____4______
Elizabeth Taylor ___9_______
Mary Pickford ___2_______
Adelle August* ____11______
Cyd Charisse ____7______
Cyd Chrisse (yes, she appears twice) _______17___
Ann Miller ___6_______
Ann Miller (yes, she appears twice too) ____19______
Ann Rutherford ____8______
Madge Evans ___14_______
Mary Martin ___21_______
Ava Gardner ____5______
Dorothy Arnold** ___16_______
Clara Bow ____10______
Jinx Falkenberg*** ___18_______
Ella Raines ____13______
Douglas Fairbanks, Sr. _1_________
Gloria Grahame ____12______
Joan Crawford ____20______
Virginia Dale****___15_______
Colleen Moore___3____
*
Adelle August
(1934-2004) was the former Miss Washington 1952, whose beauty took her to Hollywood, where she appeared in several Columbia movies in the '50s, (most of them uncredited). These included
Women's Prison
(1955),
My Sister Eileen
(1955), and
5 Against the House
(1955). Her decade in Hollywood ended when Ms. August wed Leonard G. Rogers, a wealthy tobacco man.
**
Dorothy Arnold
(1917-1984) was an actress for two decades in Hollywood, but her most famous performance was off-screen as Joe DiMaggio's first wife (well before Marilyn) and the mother of his son, Joseph III, which kept the lady busy for all of the '40s and most of the '50s. Ms. Arnold can be seen in
You Can't Cheat an Honest Man
(1939),
Lizzie
(1957) and
Fräulein
(1958).
***
Jinx Falkenberg
(1919-2003), who is forgotten now, was one of the most famous women in America in her day--though she was actually raised in Chile. She began her film career in the mid-'30s in that country, but came to frothy prominence in the U.S. as a Goldwyn Girl in
Strike Me Pink
(1936), appeared with Joan Davis in
Two Latins from Manhattan
(1941). Her real prominence came from her ubiquitous presence in print ads, on radio and later television, which peaked around the time that her brother Bob Falkenburg became the 1948 Wimbledon Tennis Champion.
**** Virginia Dale
(1917-1994), who appeared with Gable in
Idiot's Delight
(1939), co-starred with Fred Astaire and Bing Crosby in
Holiday Inn
(1941), was a Miss California in 1937, never quite broke through after some featured roles at Paramount. Ms. Dale appeared in many '50s television shows (Highway Patrol, Code 3, The Adventures of Kit Carson), and eventually left the business. She did return to show business in the '80s, appearing in mini-series such as
North and South
and
Bare Essence
.