Carleton Carpenter
Double Feature on July 10th in celebration of the actor's 85th birthday.
In his early years in Hollywood,
Carpenter
, a 6'3" string bean with experience in drama and musicals on stage, made his mark as an actor who sang "Abba Dabba Honeymoon" with Debbie Reynolds in
Two Weeks With Love
(1950) and for asking Spencer Tracy's frustrated mixologist in
Father of the Bride
(1950) for a coke. The films being shown this Sunday on TCM featured him in the lead. Only 24 years old when he arrived as a contract player at MGM,
Carleton
Carpenter
never quite became the second
Robert Walker
that the studio seemed to be grooming him as during his years there, but he had his own quirky appeal that transcended some of his lesser films. His professional skills also enabled him to be an effective supporting cast member in dramatic films such as
Vengeance Valley
(1951),
Take the High Ground
(1953) and
The Whistle at Eaton Falls
(1951), (the latter under the direction of Robert Siodmak in one of his last American films). It was unfortunate that his arrival in Hollywood coincided with the decline of the studio system and as the greatest era of movie musicals was waning, since his talent never quite received an ideal showcase despite his evident talent. The B movies being shown tomorrow were the only two chances the rail thin talent had to take center stage, though he remained active in Hollywood for much of the decade, appearing in such memorable programs as
The Shirley Temple Theatre
(as "Tom, the Piper's Son"!) and
The Rifleman
.
Carleton Carpenter and Jan Sterling looking at a Sky Full of Moon (1952).
Sky Full of Moon
(1952) July 10 @9:00AM (ET): This one's kind of cute, telling the story of an innocent cowboy who finds himself suddenly rich in Las Vegas, with
Jan Sterling
as a gold digger who is interested in him. Directed by
Norman Foster
, the story peters out near the end, though
Carpenter
is likable, and the setting in the less glamorous side of LV is interesting.
Usually associated with rather heavy dramas,
Jan Sterling
brings a note of realism to the story and she doesn't pull any punches in crafting her tough as leather character, who can't quite fathom how naive
Carpenter
's cowpoke appears to be.
Elaine Stewart,
the late beauty
and MGM contract player who made a splash as the dress extra temptress in
The Bad and The Beautiful
(1951),
is on hand to mock and fleece the Candide-like cowboy, along with good character actors
Keenan Wynn
and
Douglas Dumbrille.
Familiar Western figure
Sheb Woolley
appears as a balladeer and former cowboy star and politician
Rex Bell
plays himself in this B movie, part of which was filmed in Vegas, when that city's face wore less glitter and the stakes were not quite as high.
It is Carpenter's quiet charm as Kansas-born Harley "Tumbleweed" William that beguiles in this movie, as his character--who is never quite as dumb as others think--comes to terms with the people he encounters, believing girls who say they are dancers, and hoping to share his good fortune with the people he encounters.
The trailer for
Sky Full of Moon
is below:
Fearless Fagan
(1952) July 10 @10:30AM (ET) was directed by
Stanley Donen
out of a sense of contractual obligation more than enthusiasm when he was trying to get a foothold in the movies independently of
Gene Kelly
. The premise of this movie sounds like a rejected Francis the Talking Mule script, though the plot, centered on a serviceman who brings his pet lion with him into the Army, was
actually based
on a factual
Life Magazine
story.
Reportedly, neither
Janet Leigh
nor
Donen
felt enthusiastic about the movie, but it still plays as a sprightly fairy tale thanks to the cast, and the inclusion of one musical moment with a song by
Hugh Martin
and
Ralph Blane
(from the musical,
Best Foot Forward
(1943) never quite lifts the story. As
Donen
reflected years later, paraphrasing Stanley Kubrick (a much more selective director), "You can never get divorced from a picture."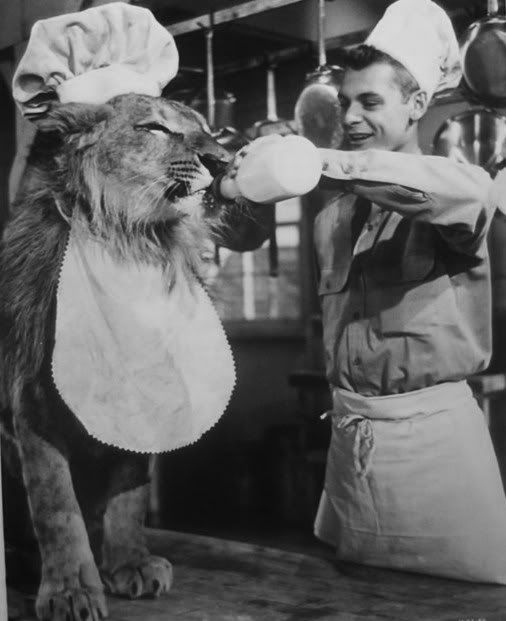 Carpenter sharing the screen with "Fagan."
Donen
's competence and cooperative attitude,
Leigh
's pert beauty, and the gently amusing Carpenter rise above the material, while the ubiquitous
Keenan Wynn
appears to be gruffly resentful of his casting in this film in each of his scenes (the man did deserve better after a decade in movies). Behind the scenes, the atmosphere on the set appears to have been a bit tense. The real-life soldier who took his lion with him when he was drafted was hired to double
Carpenter
with his lion. However, during filming, "the real Floyd Humeston" refused "to work with his own lion." The young man and his lion, the real Fagan were both released from their contract. MGM replaced the lion with another, more adolescent king of beasts. "The second one was so young,"
Carleton Carpenter
recalled, "that his mane had to be added, like a toupee. A lot of times it went askew." Post-production on Fearless Fagan was a bit more lengthy than expected since dialogue spoken by Carpenter each time he shared a scene with the lion had to be dubbed later. "As we shot," he explained, "everyone was always yelling at the lion from off-camera, waving chickens, aiming guns at him. It was terrifying. Then every time I got up and walked away, he'd sink his teeth in me." Asked if the film had left any long term impression on the actor, Carleton divulged that "I had scars on my buns for months."
Despite the problems of the movie's creators, people who have seen this seem to be genuinely fond of this comedy, based on
the comments
on the TCMb, which gave Carpenter his first leading role during his contract player years at MGM studios.
Can't get enough of a guy who seems to be the spiritual son of Jack Haley's Tin Man and Ray Bolger's Scarecrow?
Cinema Misfits
, a compendium of all things cinematic old and new, features
a two part podcast interview
with
Carleton Carpenter
, including selected samples of of the veteran actor's singing voice. He sounds like a very nice guy, choosing desert island flicks, his memories of
Flo Ziegfeld
,
Beulah Bondi, Louis de Rochemont
, his love of character actors such as
Louis Jean Heydt
, singing with
Judy Garland
, his own interest in songwriting, among other topics he touches on.
The Vermont-born actor recalled his first film, an uncharacteristically somber story that was set in New Hampshire, the groundbreaking racial drama,
Lost Boundaries
(1949). The movie, which starred Mel Ferrer and Beatrice Pearson, concerned a real life doctor who overcame "the color line" by keeping his own race to himself. After seeing himself on screen for the first time,
Carpenter
said he loathed himself on sight, and drank a half a bottle of vodka to ease the agony of his first encounter with his own image. You can see this good film, based on fact, beginning
here
.
It is only touched on briefly in the podcast, but
Carpenter
was also
a prolific novelist
, writing seven mysteries, which include one called
Dead Head
, (set in the theater),
Only Her Hairdresser Knew, Cat Got Your Tongue
, and
Games Murderers Play
. I haven't had a chance to read them but according to one reviewer, they are fun for "the bitchy humor [more] than the convoluted plots," though Carpenter also wrote for
Alfred Hitchcock
and
Ellery Queen
mystery magazines in the 1980s. He also wrote a musical with a friend, called "Dear Boy," based on
Oliver Twist
, which they hoped to have
Cyril Ritchard
star in as Fagin.
In recent years,
Carleton Carpenter
has occasionally made appearances in cabarets, and an occasional stage play but he has primarily made his home in the Hudson Valley region of New York, where he is a cherished member of the community.
UPDATE
: Actor
Carleton Carpenter
was a recent honoree at the 2012
Cinecon Film Festival
in Los Angeles, organized by film historian
Robert Birchard
.. According to Susan King at
The Los Angeles Times
, the program includes:
"Tributes to celebrity guests that include screenings, Q&As and a banquet, which this year is Sunday evening at the Loews Hollywood Hotel, are festival mainstays. Honoree Carleton Carpenter, the 86-year-old actor-singer-dancer-composer-writer, was under contract to MGM in the early 1950s but left the studio to return to Broadway.
Carleton Carpenter after receiving his

2012 Career Achievement Award at Cinecon.



Carpenter is best known for singing the hit "Aba Daba Honeymoon" with Debbie Reynolds in 1950's "Two Weeks With Love." Cinecon will also show 1952's "Fearless Fagan," a true tale about a circus clown who takes his pet lion to boot camp. It is Carpenter's first starring role.
"Fearless Fagan" was the first film directed by Stanley Donen after "Singin' in the Rain." "I loved him," said Carpenter. And he recalled he generally had a good time working with his four-legged costar. "They put heavy cardboard under my uniform and my sleeves so he could jump up and put his teeth in me," said Carpenter. "But any time I was walking away from him, he would come up and nip me on the behind."
For more information, go to http://www.cinecon.org.
(Photo of Mr. Carpenter courtesy of The Friends of Cinecon Classic Film Festival)
Sources:
Gilvey, John Anthony
,
Before the Parade Passes By
, Macmillan, 2005
Griffin, Mark
,
A Hundred or More Hidden Things: The Life and Films of Vincente Minnelli
,
Da Capo Press, 2010.
King, Susan,
Cinecon Film Festival Unearths Some Old Treasures,
The Los Angeles Times,
Aug. 26, 2012.
Silverman, Stephen M.
,
Dancing on the Ceiling: Stanley Donen and His Movies
, Alfred A. Knopf, Inc., 1996.