Odette Myrtil
(1898-1978).
Mme.
Myrtil
may not have been a star, but she showed up in over two dozen movies directed by such venerable talents as William Wyler, Preston Sturges, Alfred Hitchcock, Jules Dassin, and George Cukor. One reason that those filmmakers chose to use her was that she could lend a trace of her sophistication to American films, and provide an intriguing contrast to the heroines she so often helped, tempted, and guided through their personal dramas. Few classic movie fans probably know her name today, even if her intelligent, angular face is familiar. Based on what little I've learned about this industrious woman, she would probably have accepted her relative obscurity with equanimity. As she told a reporter in the '30s, using a once sprightly term that now seems fraught with socio-political meaning, "I have had my ups and downs, but my downs have always been so gay."
In her own time she was a favorite on stage, screen and cabaret stages on two continents for many decades. She often appeared in studio era films as the quintessential pragmatic Frenchwoman. Later an exasperated
Odette
explained to interviewers with a sigh that, contrary to American assumptions, she did not say "zis" or "zat" when speaking of "this" or "that," and she "had never heard a Frenchwoman say 'Oh, la, la' in [her] entire life," though it seemed to be news to screenwriters. Though her sometimes cliched roles in movies would often require her to sound like Pepe Le Pew's sister,
Myrtil
's English was actually very lightly accented, (and her English pronunciation was good enough to be heard on radio in Britain and the America for decades, beginning in the '20s).
On screen, she was a mature figure who usually clucked her approval or disapproval in acknowledgement of life's injustices, or when evaluating the suitability (or lack of it) of a particular hat--depending on the client--as she did when outfitting
Claudette Colbert
in
The Palm Beach Story
(1942).
Myrtil
often expressed a philosophical empathy with those she cared for, but could, when the part called for it, deliver a chilly professionalism to others. Her characters parlayed their innate sense of style and organizational talent into careers as shopkeepers, couturiers, boarding house landladies, sympathetic souls and chic, recherche ladies.
In
Dodsworth
(1936), as the Parisian sophisticate Renée De Penable,
Odette
shared
Ruth Chatterton
's disdain for her husband's warm-hearted provincialism and encouraged the American matron's budding taste in aristocratic gigolos. In
Kitty Foyle: The Natural History of a Woman
(1940),
Myrtil
played the proprietress of the House of Delphine Detaille, the efficient yet maternal designer who was there for
Ginger Rogers
when her employee had her baby all alone. In
Yankee Doodle Dandy
(1942), Myrtil's landlady tried to keep the Irish stew out of the reach of the non-paying Cohans in her theatrical boarding house--changing her tune once
Jimmy Cagney
's blustering George M. arrived with an inflated story of success. Odette was the unlucky dressmaker who tried to give ski-instructor
Greta Garbo
some hauteur in the ill-fated
Two-Faced Woman
(1941), which turned out to be Garbo's swan song.
As Madame Barthold in Yankee Doodle Dandy (1942).

In
The Last Time I Saw Paris
(1952), the veteran performer sang in the style of chanteuse Edith Piaf, giving a cafe scene a Gallic flair (even though most of it was filmed on the MGM lot). When given a chance, the actress could give her worldly characters a saltiness that implied a richer life than was explained in the script, as she did when playing Madame Heger in Warner Brothers' largely fictitious account of the Bronte sisters' lives in
Devotion
(1946). As the weary wife of the lubricious Belgian schoolmaster (
Victor Francen
) who enticed the naïve Brontes into a flirtation that was not as innocent as it seemed,
Myrtil
made me realize how tiresome the adolescent antics of her husband and his charges were to a woman who had long ago ceased to find such endless games amusing.
In the romantic drama
Reunion in France
(1942), directed by
Jules Dassin
at MGM, the story of France's fall to the Nazis in 1940 is drawn in sometimes sharply accurate detail, while at other times opting for typically glossy Hollywood derring-do, courtesy of
John Wayne
, opposite
Joan Crawford
, who was nearing the end of her long tenure at Metro. In this film
Odette Myrtil
plays a French couturier who is contemptuous of her aristocratic client, a member of the monied classes, Michele de la Becque (
Joan Crawford
). Mlle. de la Becque begins the story as a superficial and oblivious heiress who is miffed that her gentleman friend (
Philip Dorn
) is unable to leave for Biarritz with her since he is distracted by his responsibilities as chairman of the Committee of Industrial Coordination, vainly trying to marshal French industry to oppose the coming invasion from Germany.
In a scene that is meant to encapsulate the self-absorption of the French upper classes,
Crawford
arrives at her luxurious home where she has kept a designer (
Odette
), a model (
Ann Ayers
) and a seamstress (
Margaret Laurence
) waiting for hours. Wondering aloud, Myrtil is heard to mutter,"Why is it she never seems to find enough time in which to do absolutely nothing?" When the haughty socialite becomes vexed by the inferior quality of fabric available for her finery in wartime,
Myrtil
observes that "Mademoiselle seems annoyed at the war."
Above: As Mme. Montanot in Reunion in France (1942).
When
Crawford
leaves, the model asks, "Who does she think she is? Who do they all think they are?" The designer responds in one of her patented asides, "The glory that was France." As the film progressed,
Crawford
and
Myrtil
's characters become allies once Mademoiselle de la Brecque learns what the defeat of France means to her.
One reason that
Odette Myrtil
consistently played career women in the dress trade so well was that she herself was a designer off-camera as well. Apprenticed in the theater at a time when many players were responsible for providing their own costume for a show and with her native French talent for stylish dress,
Odette
began to advise and make clothes for others between engagements on stage, screen, in such tony establishments as New York's Rainbow Room and--when economy demanded it--in one night stands on the vaudeville circuit.
A chic Odette Myrtil in a modish photo from the 1920s.
To ensure a steady income not dependent on the vagaries of filmdom, the performer became a garment designer from 1930 to 1936 (when she won a plum role in William Wyler's
Dodsworth
). "Between engagements," as show folk were likely to put it, she earned her bread in Beverly Hills making glad rags for film executive's wives, mistresses and actresses, and occasionally making individual costumes for actresses in particular roles.
Her label was simply "Odette" and she eventually branched out to design clothing for films, employing 35 seamstresses in her studio, making her creations to be worn worn in stage shows and in
Tomorrow, the World
(1944),
Brewster's Millions
(1945),
Manhandled
(1949), and
711 Ocean Drive
(1950), among other movies. When you see
Odette Myrtil
in a almost any film, chances were often good that she wore a creation that she had fashioned herself--even though a studio designer was credited with the costumes for a picture.
This actress was always a worldly wise woman in her film roles, as she appears to have been in life as well, though according to interviews, her private joys were earthier than those of her fashion-conscious characters, tending toward country pleasures, involving dogs, farming and cooking in between moments in the limelight in New York, Paris, London and Hollywood.
Odette Myrtil
was a Parisian-born actress, singer, violinist whose theatrical parents (whose last name was either Belza or Quignard, according to conflicting sources). As a toddler, Odette traveled throughout Europe with her touring parents, inevitably finding her way on stage as she grew older. By the age of 13 she had appeared on the stage of the Olympia Theater in Paris, playing the violin and singing to considerable popular and critical acclaim.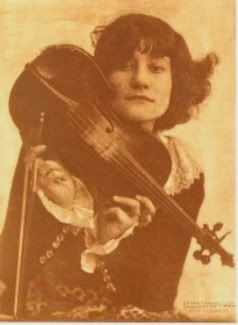 A very young Odette Myrtil with her violin
From the age of 14, the musically gifted girl studied music with the then famed "king of the violin,"
Eugène Ysaÿe
, but as a young woman in World War I, she used her talent as a performer to elicit "sympathy from the German conquerors of Belgium." When entertaining French audiences, her music hall roots emerged as she "sang and played 'La Marseillaise' so that," as she described it, "people cheered and were ready to fight the Boches."
Myrtil
's success in cabarets and theaters in France and Britain soon led her to work on both sides of the Atlantic, beginning in 1914 when the sixteen-year-old was engaged for two editions of the famed
Ziegfeld Follies
in New York. As one of the stellar attractions, she was also invited to perform for New York's social elite in Ziegfeld's Midnight Frolic on the rooftop of the New Amsterdam Theatre along with performers such as
Will Rogers
and
The Dolly Sisters
in 1915. American magazines such as
The Theatre
, which celebrated the performing arts, featured her regularly in their pages, picturing the seventeen-year-old in the image below and rhapsodizing about the intensely talented performer's adroit fingering of the violin, her robust singing voice and elegant grace as a dancer. (Strangely, other than
Fannie Brice
, who appeared in the last of the fanciful movies about the Follies, when Hollywood made three tributes to the Ziegfeld Follies tradition in the studio era,
The Great Ziegfeld
(1936),
Ziegfeld Girl
(1941), and
Ziegfeld Follies
(1945), no one seemed terribly interested in featuring those show business veterans who had been in these shows and were still active in the theater and film in these stories).
An illustration from a story in Theatre Magazine about Odette Myrtil in the Ziegfeld Follies in 1915.
Soon
Odette
returned to London where she appeared for the next decade in cabarets, and in the legendary intimate, small scale and exceptionally popular revues put together by the French-born impresario André Charlot, where she shared the stage with
Beatrice Lillie, Gertrude Lawrence
and
Jack Buchanan
, among others. During this same period,
Myrtil
met and married fellow performer
Bob Adams
(1876-1948), an American singer and songwriter who, as part of "The Two Bobs," (the other Bob was one Bob Alden) had helped to popularize ragtime music in Britain prior to 1912, scoring with music hall audiences and early recordings of such songs as "Alexander's Ragtime Band."
In 1917,
Odette
and
Bob Adams
became the parents of
Roger Adams
(d. 1999), who would go on to a successful career as a composer, music and dance arranger for fifteen Broadway musicals between 1946 and 1968, (including many
Bob Fosse
shows). Among the well-remembered musicals Myrtil's son worked on during his career were
The Pajama Game, Damn Yankees, Redhead
,
Once Upon a Mattress
and
Mame
. Though it appears that Myrtil was married to Adams for just eight years, she eventually Myrtil went on to marry again. (Bob Adams passed away in 1948).
Sometime between the teens and the forties, Odette became the wife of a busy British actor, writer and director,
Stanley Logan
. The multi-faceted
Logan
pursued an active career split between the stage and screen in America until his death in 1953, directing a few movies (notably
The Falcon's Brother
in which
Tom Conway
took over the role created on screen by
George Sanders
) and appearing in supporting parts in many roles (
Three Strangers, That Forsyte Woman, The Prisoner of Zenda
). Her film career, augmented by the money she was able to earn as a cabaret performer and as a dress designer was not really as important to her as it might have been.
When Hollywood producers came to call on her in the late 1920s with contract offers for her to appear in talkies, she had been in one hit after another in operettas and musical revues on Broadway, including one show called
White Lilacs
in which she played George Sand to a boyish Chopin to great acclaim--with one critic commenting on "the 'virility' of her enacting the part of the seductive older woman." In now forgotten stage musicals such as
The Red Mill
,
Countess Maritza
and
The Cat and the Fiddle
the performer was allowed to display her specialties, blending skilled musicianship with an engaging down-to-earth stage manner singing
Victor Herbert
and
Jerome Kern
melodies. The composer
Jerome Kern
was so enchanted with Odette that he wrote the musical
The Cat and the Fiddle
with her talents specifically in mind. During this period,
Myrtil
was also known for her devotion not to the stage--but to her twenty dogs she kept on her Long Island farm, where she invested every penny and spent as much time as possible cultivating--even though she admitted it was costly.
Odette in costume (of her own making, most likely) in The Fighting Kentuckian (1949).
Odette remained unconvinced about Hollywood's interest in her and regarded many movies as aiming too low. "It seems strange," she told a reporter at the time, "that the producers believe that the talkies should go down to the level of the least intelligent members of an audience, rather than up to the standards of a better class of patrons. Why should pictures be made for adults who have the brains of a 10-year-old child? It is insulting to the rest of us."
Odette Myrtil, knitting in her spare time in the 1940s.
By the time that she was persuaded to shift her base of operations to Hollywood,
Odette
had developed a philosophical distance from her career. When a reporter asked about her acting ambitions in 1947, she gave a shrug of her green-suited shoulders. "I took seven tests for the role of Pilar in '
For Whom the Bell Tolls
.' Let us face it--I looked like
Odette Myrtil
in every one of them, and nothing like a Spanish peasant woman named Pilar. So
Katina Paxinou
played the role and won an Academy Award for it." she isn't such a great shakes trying to subordinate her distinctive features and Gallic gestures into another character. "It takes me days to get into another role," she once explained. "And it is the triumph of the director over nature."
Eventually, after several more small triumphs on stage, including replacing
Juanita Hall
in the part of Bloody Mary in the original New York company of Rodgers and Hammerstein's
South Pacific
,
Myrtil
, was finally able to build her nest in the countryside she loved so much. In the late 1950s, the actress found a cozy berth in the country in Bucks County, Pennsylvania. In the town of New Hope,
Odette
first took over management of the Playhouse Inn, near the famous Bucks County Playhouse where Broadway shows tried out, and high quality theatrical productions had flourished since the 1930s, attracting famous actors and their well-heeled audiences to the spot, not far from Philadelphia and New York. Bringing her flair for food and fashion to play, Odette featured jazz and dancing nightly, creating a bistro atmosphere in the dining room, which was decorated with Mme. Myrtil's memorabilia from a lifetime of performing. Sometimes Odette even introduced her patrons to new and different performers, including
Nina Simone
in 1957, the unique and sometimes eccentric singer, who found herself surprisingly at home in the night spot.
By the early '60s, she felt confident enough to open a restaurant called
Chez Odette
on the banks of the Delaware river that catered to the wealthy arts community that flocked to her door in New Hope. Visitors could sit outside in the Spring and Summer at her River Road restaurant, enjoying the music and the atmosphere redolent with the aroma of escargots and onion soup. Odette became such a popular resident of New Hope that in 1965 supporters organized a campaign was launched to persuade
Odette
to run for mayor of township. According to sources, this effort was "supported by fans across the country and colleagues in the radio and television industry...until a Pennsylvania State Liquor Control Board ruling" restricted any "mayor of any borough [from holding] a liquor license" while serving in office at the same time.
Despite her preoccupation with her restaurant business, Myrtil found the energy to appear in revivals of
South Pacific
in 1960, singing "Bali Hai" once again as Bloody Mary with
Howard Keel
and
Carol Lawrence
in the leads. She even appeared off-Broadway in a theater devoted to a revival of the
Grand Guignol
production style in New York with
Sylvia Miles
and
William Windom
. As her career wound down Mme.
Myrtil
eventually donated her rare 1738 French Boirin violin to the Curtis Institute in Philadelphia.
Odette Myrtil "in retirement" at her restaurant in the 1970s
Hollywood and New York friends such as
Lauritz Melchior, Walter Slezak, Sidney Greenstreet
and
Peter Lorre
had urged her for years to share her skills with the world. With this new venture,
Myrtil
provided authentic French cuisine in a country setting at a time when such fare was only rarely found outside of large, cosmopolitan cities. Inevitably, when the spirit moved her,
Odette
herself was reported to have come out of the kitchen to sing and play her violin for audiences deep into the night.
In 1975, three years before
Odette Myrtil
's death at the age of 80, she had sold the restaurant, which reportedly still stands with her name on it, though it has been closed since a flood in 2006.* Maybe somewhere Odette is living the good life, with no more one night stands, endless runs in musicals or in films that never really fulfilled her potential as a musical performer. Maybe she's just enjoying the quiet of the country with those twenty dogs she loved so much on her farm. Below is an early recording of a song sung by Odette Myrtil in 1919 called "Chong - He Came From Hong Kong." Like her, it's a bit silly and charming, and sung with a certain off-hand artistry:
Upcoming films on Turner Classics Movie channel featuring
Odette Myrtil
may be found
here
.
A complete filmography of
Odette Myrtil
appearances can be seen
here
.
Sources:
Adams, Marjory
,
Odette Myrtil Loves Stage, But Also Likes to Design Clothes
, Daily Boston Globe, Mar 30, 1947.
Cohadas, Nadine
,
Princess Noire: The Tumultuous Reign of Nina Simone
, Random House, 2010.
Friends of the Delaware Canal
,
The Place to Be
, (PDF format)
James A. Michener Art Museum: Bucks County Artists/Odette Myrtil
Leese, Elizabeth
,
Costume Design in the Movies: An Illustrated Guide to the Work of 157 Great Designers,
Courier Dover Publications, 1991.
Stage Types Untrue to Life
, Daily Boston Globe, July 20, 1930.
The Theatre
,
Volumes 21-22,
Meyer Bros. & Co., 1915.
Odette Myrtil at the top of her stylish form.
---------------------------------
* Sold by Odette Myrtil and her son Roger Adams in 1973, and closed since a flood in 2006, in the years after their family association with the restaurant had ended, Chez Odette became the site in 1983
of a tragic accident
when newscaster Jessica Savitch, Martin Fischbein, a vice-president of the New York Post, and Savitch's dog were all killed near the eatery when their car went into a nearby canal.