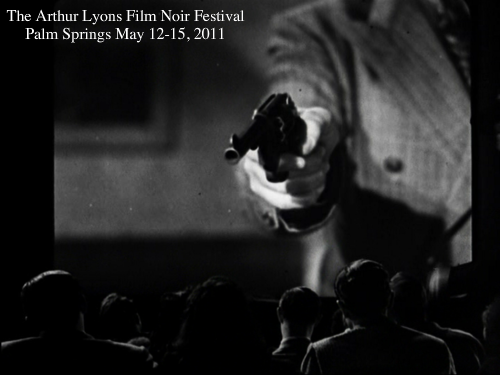 Above: A disturbing scene from Hitchcock's Saboteur (1942), which festival-goers can watch in the company of Norman Lloyd, one of the movie's stars.
The peripatetic film historian
Alan K. Rode
sends word that the
Arthur Lyons' Film Noir Festival
from May 12th -May 15th is coming around again. If you're like me, and can't possibly attend except in spirit, just seeing this year's slate of rare and beloved films makes me long for a ticket to Palm Springs, CA--or at least gives me a good idea for a film festival on the DVD player--if I could just find copies of the rarer titles. It sounds like a wonderful line-up once again, with such individuals as
Stefanie Powers, Norman Lloyd, Barrie Chase, Jeanne Cooper, Julie Adams
and
Diane Baker
in attendance to speak about the classic movies that are being rediscovered by many of us.
Arthur Lyons
, whose book,
Death on the Cheap: The Lost B-Movies of Film Noir
(Da Capo), remains an inspiration for all those who are intrigued by movies on the dark side, especially those neglected films waiting to be re-discovered.
I would really love to see some of the festival's scheduled films detailed below, especially
Crashout
(What a cast! William Bendix to Arthur Kennedy),
The Underworld Story
(Dan Duryea & Herbert Marshall rock) and
Loophole
(What? Barry Sullivan plays
another
skunk? How can that be?)
99 River Street
and
The Damned Don't Cry
are films I have posted about before on this site, but seeing them on the big screen would be a treat and a half, especially since both feature visually stunning black and white cinematography by
Franz Planer
and
Ted McCord
, respectively.
OPENING NIGHT:
May 12: Thursday
7:30 PM Experiment in Terror
(1962), 123 min., Dir: Blake Edwards.
A bank teller (Lee Remick) and her sister (Stefanie Powers) are terrorized by a murderous extortionist as F.B.I. agent Glenn Ford races against time to identify and apprehend the killer. This ominous nail-biter, filmed on location in San Francisco by pantheon director Blake Edwards, is highlighted by a memorable Henry Mancini musical score and Ross Martin's unforgettably creepy performance. Superb late-term noir that has achieved classic status.
Guest appearance by actress Stefanie Powers
May 13: Friday
10:00 am:
The Underworld Story
(1950), 90 min., Director: Cy Enfield.
Noir icon Dan Duryea stars as a bottom-feeding reporter who cleverly manipulates his new editor (Gale Storm), an ominous crime lord (Howard Da Silva), and a crusading D.A. (Michael O'Shea) when a newspaper magnate's (Herbert Marshall) daughter-in law turns up dead. This obscure gem, beautifully lensed by the legendary Stanley Cortez, was one of the first post WWII movies to address racism and big media hypocrisy. Rarely seen; don't miss it!
1:00 PM:
Six Bridges to Cross
(1955), 96 min, Dir: Joseph Pevney.
This frequently overlooked film is a brilliant saga about the career of a professional criminal (Tony Curtis) with his relationship with a Boston policeman (George Nader) and his wife (Julie Adams) providing the dramatic backdrop. Factually based on the infamous Brinks armored car robbery and filmed on location in Boston, this engrossing picture features one of the best-ever performances by the late, great Tony Curtis and includes the film debut of Sal Mineo.
Guest appearance by actress Julie Adams
4:00 PM: A Kiss Before Dying,
(1956), 94 min, Dir: Gerd Oswald.
Robert Wagner stars as a psychotic college student whose malevolence turns murderous when his scheme to marry an heiress (Joanne Woodward) goes awry. Beautiful Cinemascope production based on Ira Levin's novel boasts an all-star supporting cast (Mary Astor, Jeffrey Hunter, and Virginia Leith) and is highlighted by one of Wagner's finest performances.
Special video introduction by actor/writer Robert Wagner
7:30 PM:
Cape Fear
(1962), 105 min., Dir: J. Lee Thompson.
Sam Bowden (Gregory Peck) is a successful small-town lawyer and family man until Max Cady (Robert Mitchum) a man he helped send to prison arrives in town and begins a war of nerves. Harassment quickly turns deadly as Bowden realizes he is dealing with a clever psychopath who uses the law and all means necessary to exact a twisted revenge on Bowden, his wife (Polly Bergen) and daughter (Lori Martin). Gripping, original filmed version of the John D. McDonald novel is carried by Mitchum's powerhouse performance, superb original music by the great Bernard Herrmann and a brilliant supporting cast including Barrie Chase, Martin Balsam, Telly Savalas and Jack Kruschen.
Special Screening Guest: Actress/Dancer Barrie Chase
May 14: Saturday
10:00 am: 99 River Street
(1953), 83 min., Dir: Phil Karlson.
Heavyweight boxer John Payne is reduced to driving a cab after losing his title shot. Then he discovers his disdainful wife is two-timing him with a gangster and it looks like he might be counted out for good! Non-stop, bare-knuckled action set entirely at night with singular performances by Payne, Evelyn Keyes with a stellar supporting cast. An essential film noir courtesy of action maestro Phil Karlson!
My past review of
99 River Street
can be seen
here
.
1:00 PM:
Plunder Road
(1957,) 72 min., Dir: Hubert Cornfield.
NOT ON DVD! In the dark tradition of The Asphalt Jungle and The Killing, this stellar caper film features a brilliant ensemble cast (Gene Raymond, Jeanne Cooper, Wayne Morris and Elisha Cook Jr.) stealing a gigantic cache of gold bullion from a train and attempting a nerve-wracking escape back to Los Angeles. Almost never screened theatrically with the only known 35mm print provided courtesy of the UCLA Film and Television Archive!
Guest appearance by actress Jeanne Cooper
4:00 PM:
Loophole (1954),
80 min., Dir: Harold Schuster. NOT ON DVD!
A con man filches $50,000 from bank teller Barry Sullivan who ends up accused of the theft. His wife (Dorothy Malone) and the cops give Sullivan the benefit of the doubt, but Charles McGraw, in one of his signature roles as a ruthless insurance investigator, relentlessly pursues a confession by any means necessary! This new 35mm print was funded by The Film Noir Foundation and is enlivened by extensive location photography of Los Angeles, Hollywood and Malibu.
7:30 PM:
Mirage
(1965), 109 min., Dir: Edward Dmytryk.
Gregory Peck is on the run from mysterious assassins after being stricken by film noir's commonest malady: amnesia. Diane Baker and Walter Matthau assist in sorting out the mayhem in this nail-biting thriller filmed on location in New York City by renowned film noir director (Murder My Sweet, Cornered, Crossfire, The Sniper) Edward Dmytryk.
Guest appearance by actress Diane Baker.
May 15: Sunday
10:00 am:
Crashout
(1955), 89 min., Dir: Lewis R. Foster. NOT ON DVD!
A desperate group of escaped convicts (Arthur Kennedy, Luther Adler, Marshal Thompson, Gene Evans and William Talman) stick by a wounded William Bendix only after he promises to share the stashed payroll from his last bank robbery. The murderous assemblage embarks on a deadly odyssey in pursuit of the money, attempting to elude the police while terrorizing innocent people and double-crossing each other. Brilliantly cast and uncompromisingly violent for its day, this robust film can only be enjoyed at the Arthur Lyons Film Noir Festival!
1:00 PM:
Saboteur
(1942) 108 min., Dir: Alfred Hitchcock.
Classic World War II yarn of falsely accused munitions worker (Robert Cummings) embarking on a suspenseful cross-country odyssey to prove his innocence while foiling a Nazi sabotage ring. An eclectic supporting cast (Priscilla Lane, Norman Lloyd and Otto Kruger) and groundbreaking camera work add heft to one of the best films ever made by the Master of Suspense.
Guest appearance by actor/producer Norman Lloyd
4:00 PM:
The Damned Don't Cry (1950)
, 103 min., Dir: Vincent Sherman.
The signature Joan Crawford film noir! This "rags-to mink stole" saga is ostensibly based on the life of Bugsy Siegel moll Virginia Hill but it is also emulates the authentic story of Crawford herself. Joan alternately loves and discards Kent Smith, David Brian and Steve Cochran as she connives her way to the top of a national crime syndicate. Filmed on location in Palm Springs!!
My past review of
The Damned Don't Cry
(1950) can be seen
here
.