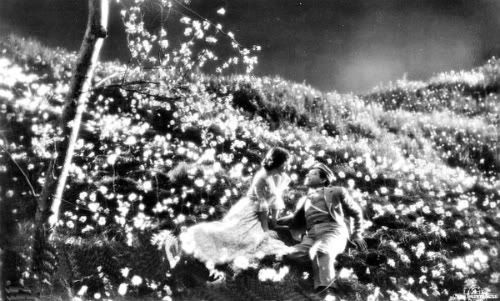 What was the
Lubitsch
touch? If you would like to learn one answer, you might wish to see a film that some believe was a masterpiece directed by Ernst Lubitsch at the end of the silent era,
The Student Prince in Old Heidelberg
(1927). This movie, which can still evoke rhapsodic responses from viewers, is currently only available on VHS and appears on the TCM schedule occasionally, (it is currently scheduled to be shown again
on TCM on April 30, 2011 at 4:00AM ET). For this viewer, it holds a special place in my film-viewing
memory as one of most tender and rapturous love stories ever filmed, undimmed by time and still able to evoke a wistful smile
when I think of seeing it for the first time.

The silent film is an
Ernst Lubitsch
adaptation of
Wilhelm Meyer-Förster
's novel and
Dorothy Donnelly
&
Sigmund Romberg
's operetta about Crown Prince Karl Heinrich (, who was raised to be constantly aware of his duty as the disciplined heir to the throne of the kingdom of Karlsburg. The Prince--whose stern uncle (
Gustave von Seyffertitz
, at his crustiest) had done all that he can to ensure that his nephew is a bit of a stiff--was untutored in one of life's unwritten and bittersweet lessons--and one that cannot be learned from any textbook: happiness can only be held very briefly in an open hand, like a flower or butterfly. The process of learning to hold it and let it go is the beginning of the Prince's true education.
This enchanting film may have been a romantic peak for the youthful
Ramon Novarro
, a rising star,
Norma Shearer
, and, perhaps, the American silent cinema.
Novarro
, playing a Ruritanian prince whose life has been constricted by his royal destiny, finds freedom, friendship and his humanity when he is sent to Heidelberg for his higher education by his stern King (
Gustav
von Seyffertitz
). Accompanying him on this sojourn is Dr. Friedrich Jüttner (
Jean Hersholt
, exuding warmth and his own brand of shambling charm), the young man's tutor, who appears to be one of the few who cares about Karl Heinrich as a person as well as a future head of state.
While I have enjoyed
Ramon Novarro
's
Ben-Hur
and some of his early sound work as well as his late career appearances on the tube, I don't think that his gentle sweetness, boyish diffidence, and eager, almost Gene Kellyish smile were ever put to better use on film than they were in this lyrical story. His performance is so winning that it's a pleasure to see it matched beautifully by a seemingly relaxed--for once--
Norma Shearer
, who plays a simple, common girl working as a barmaid at the inn where the Student Prince lodges while attending the university. Her warmth and generosity of spirit appear to melt away any awkwardness
Novarro
's formal character might have felt in his unfamiliar surroundings.
Novarro
's Karl Heinrich is youthful and eager to experience things underneath his tentative, sometimes stuffy demeanor. At this stage of his career,
Novarro
had a gift for conveying tenderness on screen, was the second choice for this role. Originally, when this project was first considered as an
Eric von Stroheim
film,
John Gilbert
was proposed for the role of the prince, though reportedly
Irving Thalberg
indicated that after the spectacular success of
Ben-Hur
(1925),
Novarro
's less aggressive but appealing screen persona might bring something special to the role. After
Lubitsch
was assigned to this MGM film as director, he proved to be a meticulous craftsman as
von Stroheim
, but with more of an eye on the bottom line and the schedule
. Lubitsch
's narrative, based on a
Hans Kraly
script, economically told the story as well. The plight of the cocooned young prince was encapsulated in an early scene when, as a boy, he longs to roughhouse with others, but is seen instead gingerly tossing a ball to his arthritic courtiers. Years later, when his tutor (
Jean Hersholt
) asks "Do you know what it means to go to Heidelberg?" the director stays on Novarro's face as he registers disbelief and joy to think that he might escape from the moribund court life for a time.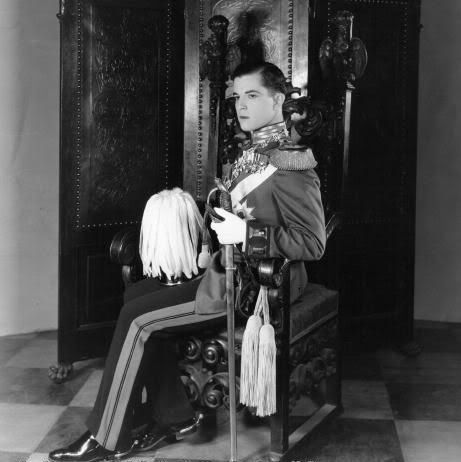 The sheltered young prince played by Novarro
Norma Shearer
, an actress who often tries too hard for me, gave one of her most relaxed, warmly sensual and gently romantic performances as the endearing barmaid, Kathi, under
Lubitsch
's direction. Interestingly, according to her biographer and Lubitsch's as well, she did not respond particularly well to the director's style of work. Feigning anger,
Lubitsch
would act out a scene for the performers (playing every role with relish) and then stomp toward his position behind the camera, exchanging a wink with the cameraman on the way there. Shearer, who was
Thalberg
's girlfriend at the time, finally snapped one day and called the young mogul to the set one day to straighten things out.
Shearer as Kathi the barmaid, the soul of spontaneity and warmth
The diplomatic executive listened to both sides of the issue, and wisely pointed out that "everyone has a lot to learn from Mr.
Lubitsch
." Apparently,
Shearer
never quite warmed to the director, but she might have reason to have thanked him--he drew something out of her that did not always appear in her more celebrated sound films--a dimension of simplicity and naturalness--expressed in her expression when she sees the Prince, when she unself-consciously demonstrates the softness of the mattress in his room, or lies on the side of a hill with him at night--that inspires a viewer to empathize with her.
During this period the Prince is also helped enormously by the reassuring presence of his childhood teacher,
Jean Hersholt
, whose shambling bear of a tutor encourages the boy's curiosity about the world outside himself. Despite
Hersholt
's initial concern when he sees that Prince Karl Heinrich has fallen in with a very boisterous student drinking society, in a beautifully staged scene, he too is swept up in the bonhomie that permeates Heidelberg.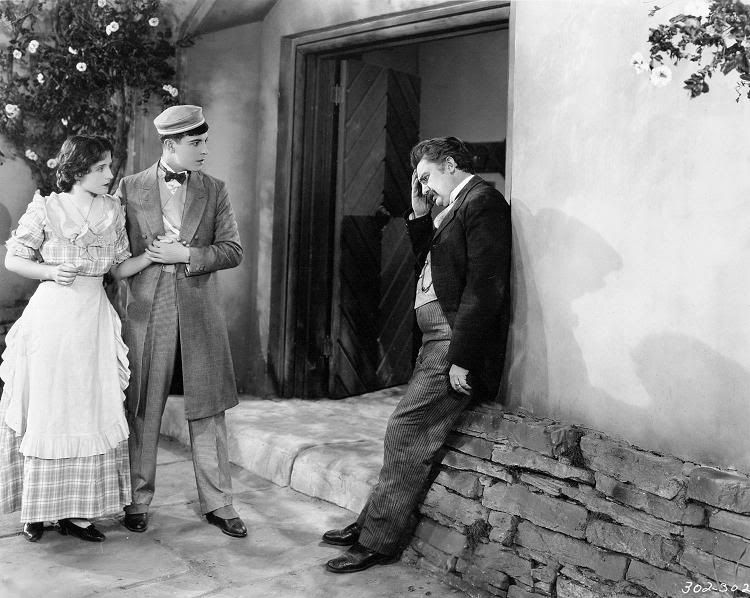 Jean Hersholt
, (above, with Shearer and Novarro), gives a wonderfully endearing performance throughout the film, building the viewer's affection for him through such details as the ashes constantly on his suit, his hiding his cigars and his affectionate scenes with the Prince, as well as his resigned attitude toward the ways of the royal world.
The good-natured quality of the film carries over to other detailed scenes centering on the inn. One particular favorite is when
Shearer
, dancing with
Novarro
in a large rambunctious crowd, sees a customer at the bar waiting impatiently for a refill of his beer. She dances over to him, nimbly fills his beer mug, scrapes the foam off the top, makes change for him, accepts a tip deftly, and takes up the dance once again, without losing a beat.
A playful Ramón Novarro with Norma Shearer as prince and commoner blossoming under Ernst Lubitsch's direction.


Lubitsch
, whose sophisticated appreciation for love's roundelay is legendary, uses his actors deftly, almost delicately in some scenes--though there is little of the customary cynicism associated with the director's work, replaced here by a wistful romanticism captured in a series of gently and increasingly serious ironic moments. One memorable moment, seen at the beginning of this blog, is set on a beautifully studio-created starry night in spring. Karl Heinrich and Kathi realize that they love one another amid a field of flowers, gazing at the sky as they--and seemingly the universe itself, holds its breath for just a moment--as a falling star streaks across the sky. We know it's all pretend and artifice in front of us, but can't help being swept up in the moment.
Cliché? Perhaps, but rarely done with such poignant style. The scene is also paced beautifully. The filmmaker doesn't linger too long on the moment, but, refreshingly, as they part, Novarro watches Shearer run down the hill toward the inn and the girl turns and waves once toward her love. We in the audience, almost expect her to turn once more to reconnect with him, but, wisely,
Lubitsch
has her turn away and dash inside, leaving us tantalized and satisfied as well. We, like the couple, have been brought to a moment of shared happiness with the boy and girl. We then watch the Prince lie back for only a moment on the grass and close his eyes in bliss--with just an edge of longing still in the air.
It's as though the director realized that, like many moments of great happiness, the fleeting nature of such realizations can't and shouldn't be forced or prolonged. I'm sure that the effect of this scene is better viewed than described by me, but it just struck me that this sequence, among many, was very well done.
Later in the film, when the Prince returns to Heidelberg after his reluctant ascension to the throne, we see that the world inevitably changes, though Kathi (
Norma Shearer
) still loves Karl Heinrich. She puts into words what both characters, (and the audience), know in their hearts: they will live on, finding some happiness again, but what they had cannot be replayed. In a sense, this is the real education that the Student Prince has acquired in Heidelberg.
As the film ends, we see
Novarro
, in his wedding carriage (we never see the face of his noble bride), waving to the crowd of well-wishers, lost in his own private thoughts, as one of the couples in the crowd ask each other, "Wouldn't it be wonderful to be a King?"
Re: The Student Prince Musical
Carl Davis' 1980's composed score for this silent film is delightful and, while it seems odd that such a famous musical should've been made into a silent film, I wonder if it really could have been done better with sound? I must admit that I avoided seeing this film in the past because I was so put off by the 1950's rendition of the beautifully melodic Sigmund Romberg musical
The Student Prince
(1954) that I'd once seen. That starred an unfortunately awkward
Edmund Purdom
(who is dubbed by
Mario Lanza
, a singer whose voice grates on my ear) &
Ann Blyth
(with her own pleasing soprano). I would enjoy this later movie more now, but I don't think that it could possibly match this silent one.
Strangely, this film still appears to be absent from DVD on Demand or any other way, despite the abiding interest in Ernst Lubitsch films. Here's hoping that will change in the near future. In the meantime, you can set a reminder for yourself about this film's next broadcast on TCM
here
.
A charming scene from
Old Heidelberg
aka
The Student Prince of Old Heidelberg
with Ramon Novarro and Norma Shearer has recently been posted on youtube and begins below. FYI: The print that has aired on TCM iin the past was of nearly pristine quality, but due to uploading compression, the portion below may not appear with the same clarity:
Sources:
Eyman, Scott
,
Ernst Lubitsch: Laughter in Paradise,
JHU Press, 2000.
Lambert, Gavin
,
Norma Shearer: A Life
,
Knopf, 1990.
Soares, André
,
Beyond Paradise: The Life of Ramon Novarro, Macmillan, 2002.