"Freedom! Free after 2000 years!" cried an exultant
Rex Ingram
as the fifty foot high genie released from his imprisonment in the bottle by
Sabu
in the evocative
Thief of Bagdad
(1940-Michael Powell, Ludwig Berger). How much of his own frustration and euphoria did this talented actor and exceptional African-American man put into those words? Awesome and appealing, inspiring and intimidating,
Ingram
's character was not easily controlled by the 15 year old thief who freed him. The Djinn's sarcasm and efforts to educate his youthful "master" in the art of wishing was punctuated with an earth-shaking laughter that transcended mirth, even as he pointed out to
Sabu
that he could "be a thief and a hero all in one." Imbuing the character with something beyond the words he was given to say, in his many roles during a fifty year acting career,
Rex
Ingram
went far beyond the racial stereotypes that were commonplace in his lifetime. What can you say about a man who was capable of playing a benevolent God in
Green Pastures
(1936), a troublemaking Devil in
Cabin in the Sky
(1943), and a mischievous genie in the
Thief of Bagdad
(1940), appearing in everything from Eugene O'Neill to the Broadway musical
St. Louis Woman
to Samuel Beckett, as well as numerous smaller roles made distinctive and deeply human by his artistry?
The first time I consciously remember being aware of
Rex Ingram
, I was far too young to know his name. The wartime drama
Sahara
(1943-Zoltan Korda) and particularly the serene and capable Sudanese sergeant major with the beautiful voice like dark velvet were truly unforgettable, as the actor lent an invaluable strength and gentleness to the makeup of
Humphrey Bogart
's motley band of straggling Allies, clinging to a tank called "LuluBelle" just before the Battle of El Alamein in North Africa.
While the situation in this harsh, sandblasted landscape is quite hopeless on the surface of things, as the desperate men are surrounded by an unforgiving desert and thousands of Rommel's Afrika Korps troops,
Ingram
's tall, dignified figure is the only man who is truly at home in this hostile place. His role is one of the most dynamic characters in the movie, which was based on the Soviet film,
The Thirteen
. Sgt. Major Stambul (
Ingram
) uses his knowledge of desert life to find an abandoned oasis, and he patiently ekes out any remaining water from a deep, nearly dry well, saving the men's lives. In one particularly memorable scene, a German flier is downed by the men and searched by the Sudanese soldier. The tank commander, beautifully played by a sardonic
Bogart
, delivers one of the more pointed moments of dialogue in the film as he tells the bristling Nazi "not to worry about [Stambul] being black, [since] it won't come off on your pretty uniform." As the men sacrifice their lives one by one in a seemingly futile effort to stave off the capture of the oasis by mobile Nazi forces crying for "wasser, wasser", it was the loss of
Ingram
's steadying presence that touches the viewer most profoundly. At one point, when struggling to prevent the hate-filled flier from escaping and warning his compatriots of the presence of the Allies, Ingram tackles and subdues the racist "superman" in a brief action that signaled a significant step forward in cinematic characterizations of black individuals on screen. Prompted in part by the war's galvanizing influence and the need to encourage social unity and equality, this scene reinforced one of the primary goals of the war in a triumphant visual moment. While given several choice moments throughout the film,
Rex Ingram
's single most memorable line comes when he calmly points out to the others that
"We both have much to learn from each other."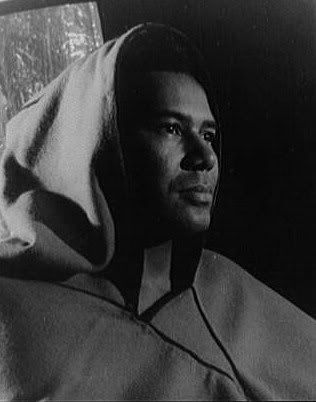 As Christophe in the Broadway play, "Haiti" in 1934.

Ingram

played the leader of the Haitian slave rebellion in 1802, that led to Haiti's independence. His acting in the role
marked his arrival as the face of a new generation of African-American actors in the heroic mold, second only to the increasingly absent

Paul Robeson

. The success of these men also led to the emergence of such actors as

Canada Lee

,

Juano Hernandez

,

James Edwards

and

Frank Silvera

in the years that followed on stage and screen
Robert E. Lee
, where his father worked as a fireman,
Rex Ingram
(not to be confused with the silent movie director of Irish birth), might have been an exceptional person if he'd never stepped on a stage. Graduating in 1919 from Northwestern University Medical School, he was the first Black man to do so, and the first to be a member of the scholastic honor fraternity, Phi Beta Kappa. However, at over six feet tall, with a natural dignity and handsome face and form, he was approached while walking down a California street to appear in an uncredited role in
Elmo Lincoln
's 1918 version of Edgar Rice Burroughs'
Tarzan of the Apes
. "For the next eight years", the actor told a New York Times reporter 20 years later, "I did everything from porters to butlers and natives. I got a lot of work because of my size...anyway, I was making money and had that sun. Then somebody asked me why I didn't try the legitimate stage. I didn't quite understand the word 'legitimate' in that connection, but I decided to try it.
Alan Mowbray
had a lot to do with it." Making a good impression on the Belasco production office led to a series of jobs on stage, though the actor returned to California during lulls in employment to the sunshine he craved, making his way in the burgeoning film world.
Left: A young Rex Ingram
The similar small roles that Ingram described as "a series of Nubian slaves" followed, asking no more of him than playing a generic African native in exotic settings, though working for powerhouse director Cecil B. DeMille in
The Ten Commandments
(1923), and
King of Kings
(1927) enabled him to gain a foothold as a reliable actor with solid credits, and, even in his early silents, the man stands out thanks to his . His career in the arts, coinciding with the exciting and hopeful wave of the
Harlem Renaissance
, brought
Ingram
to New York City repeatedly where the actor would ply his trade traveling between the city and Los Angeles and regional theaters for decades. His majestic bearing, rich speaking voice, and innovative characterizations brought more challenging opportunities in theatrical appearances in plays such as
Porgy
for the Theatre Guild and
Stevedore
in 1934 for the Theater Union at the Civic Repertory Theater. That play, written by George Sklar and Paul Peters, also featured
Canada Lee
,
Leigh Whipper
and
Juanita Hall
in the cast.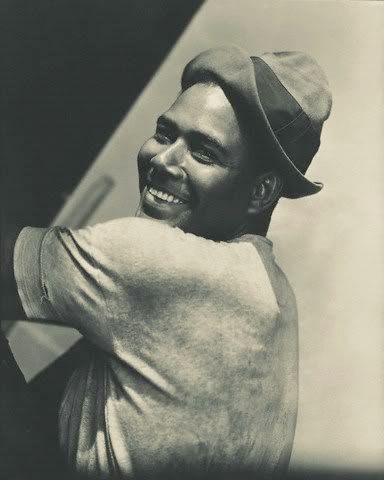 Rex Ingram in the Broadway production of the socially conscious play Stevedore in 1934.
Like the much better known Clifford Odets'
production for the Group Theater,
Waiting for Lefty,
which premiered in 1935,
Stevedore
was said to be one of the most stirring examples of the agitprop theater of that era, often evoking the intense involvement of the audience, who, on more than one occasion, stormed the stage to participate in the drama, which depicted the efforts of New Orleans dock workers to unionize.
Ingram
also kept up a hectic schedule of film appearances as he became an increasingly prominent member of a new generation of African-American artists.
Working in Eugene O'Neill's
The Emperor Jones
on stage in the leading role and in a small part in the 1933 movie starring his illustrious contemporary
Paul Robeson
began a period when
Ingram
's career gained momentum, as the range and depth of his talent became clearer to audiences of all races. Often compared to the impressive, multi-talented, and unappreciated
Robeson
, Rex Ingram may have lacked the magisterial, intellectual and singular isolation that
Robeson
wrapped around his leonine portrayals on screen, but
Ingram
brought a warmth, humor, and a deeply felt, melancholy understanding to his best roles.
Ingram
's eventual participation in white author
Marc Connelly
's legendary play and film of
Green Pastures
(1936-Marc Connelly, William Keighley), which tried--with sometimes mixed and controversial results--to capture the spiritual goodness and simplicity of a rural people, just as African Americans were becoming an important part of the urban scene in the great migration north prompted by the promise of greater opportunity.
To modern day observers such as film historian
Donald Bogle
, the language of the movie, written in a now demeaning dialect meant to represent Southern black speech of the time, remains "the liveliest collection of agreeable toms, uncle remuses, aunt jemimas, and corn-patch pickaninnies ever assembled in one motion picture." Despite this, Bogle conceded the "sheer dynamics and unabashed delight" of the actors--especially
Rex Ingram
, redeems the film. As scholar
Paul Nolan
described
Ingram
's beautifully calibrated performance as "De Lawd", he alternates between paternal wrath and warm compassion "concerned with the well-being of his creatures, tolerant, generous, feeling — but removed."
Using his resonant baritone with great subtlety, even today,
Ingram
's patriarchal deity brings a warmth, humor and assured grandeur to a role that few other actors in his time or ours could have made as appealing.
Seen as a fable, through the eyes and heart of a black child in the rural south early in the 20th century,
Green Pastures
tried to picture heaven. Based on Roark Bradford's stories of "Ol' Man Adam and His Chillun'", about Louisiana Sunday School youngsters, the film offered
Ingram
a chance to show his gift for appealing and human characterizations, even when playing a deity as "De Lawd," the first flawed and frightened man in "Adam," as well as a third character, "Hezdrel," (even though he was reportedly only paid $550 a week for being a star of the movie as well as a key member of the supporting cast).
Rex Ingram as a peripatetic actor, working in film and theaters throughout America in his prime.
The heady experiences of playing in productions that had personal meaning to
Rex Ingram
and that gave both black and white audiences a glimpse of the richness of the black experience affected the actor profoundly--even if, given the structure of society at the time, he was working in material written by white authors.
Ingram
discovered that his longing to do "something meaningful", as the actor put it, led him "to be gentler", and he "noticed people and things as I never had before." As
Ingram
put it in 1938, "I got the idea then that I wanted to do something for the Negroes. I was in a position to it and I decided to help our cause to the best of my ability. I wouldn't take parts that at least do us justice. Maybe I was all wrong. But anyway, for the next two years I didn't have a job." Eventually, the actor became involved in the WPA Federal Project Theater, traveling throughout the United States with fellow actors, producing, directing and writing critically well-received original productions during the late '30s.
Rex Ingram studying a script in his New York City home in the late '30s.


Ingram
's return to films in 1939 in the role of Jim to
Mickey Rooney
's Huck Finn in an MGM production of
The Adventures of Huckleberry Finn
, directed by Richard Thorpe was a triumph of his skill, requiring
Rex
to bring his own nuanced portrayal of the runaway slave Jim as the boy's friend and companion in a streamlined version of Mark Twain's that gingerly addressed the implicit racial issues of the story.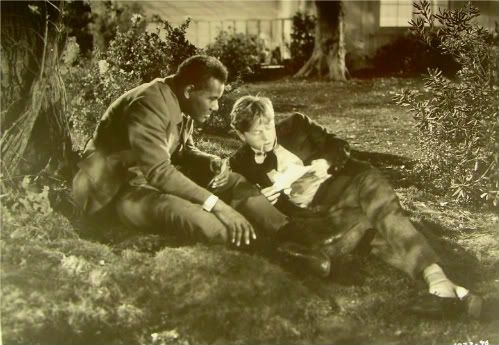 Rex Ingram as Jim tries to relay to an unaware Huck Finn (Mickey Rooney) the pain of his position as a slave.
Ingram
's Jim is depicted as a man longing for freedom and reunion with his wife and child in a free state. Jim's muted pain throughout the film is eased somewhat by the rapport between
Ingram
and a refreshingly subtle performance from
Rooney
. Jim's presence, as commiserates he spares Tom from the brutality of his drunken father, sharing the adventures and trials of life adrift on the Mississippi, is often secondary to the action, but
Ingram
's character of Jim becomes, as writer
Russell Baker
once described him, the "one man of honor in this phantasmagoria." In a story populated by "drunkards, murderers, bullies, swindlers, lynchers, thieves, liars, mows, frauds, child abusers, numbskulls, hypocrites, windbags and traders in human flesh. All are white...[and it is one of the ironies] of a society in which the only true gentleman was held beneath contempt." The screenplay, which considerably softened the story's raw elements in several instances, did not lack emotional impact in the scenes leading up to the near lynching of
Rex Ingram
's character. Filmed in his small jail cell under siege from a racist mob prior to
Rooney
's reappearance,
Ingram
alternates between understandable fear and bravery, with his justly plaintive question asking why no help has come to him.
This lingering question, even after he is liberated, remains.
Rooney
's Finn, struggling throughout the story, as
Twain
put it, between his "sound heart" and "a deformed conscience" is shocked to learn at one point in the plot that Jim has concealed knowledge of his father's demise from him. He contemptuously calls his friend "a thing", abandoning him for a time, though the filmmakers have
Rooney
deliver a small, (non-Twain in origin) speech, clarifying "how it ain't right for one human being to own another." Despite such changes, there is great fun in the film, as well as a feeling of lingering pain that hangs over the movie, largely provided by
Rex Ingram
's characterization as the non-subservient Jim, (even if his black character "needs" to be rescued by a white one). Choosing a seemingly neat happy ending cannot completely erase the elements of real anguish beneath the surface of the story, especially since the issue of lynching--not to mention equality--was sadly relevant to American society as much in the 1930s as in the antebellum South.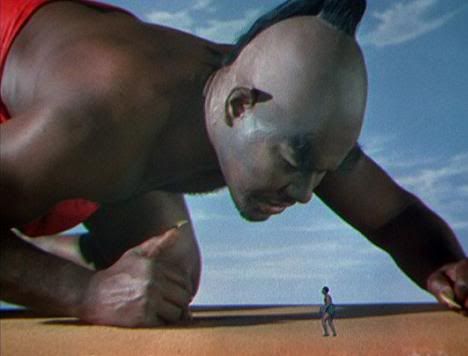 Fortunately, the regained momentum of
Ingram
's career then led to the justly celebrated portrayals of the above mentioned production of
Thief of Bagdad
(1940), during which, according to memories of his co-star John Justin, amidst the rather disorganized production of the classic, he cherished the "fond memory...of
Rex Ingram
, a fine actor and amazingly patient while chaos reigned." Active on stage and in some movies throughout the 1940s, notably in the groundbreaking and delightful musical
Cabin in the Sky
(1943-Vincente Minnelli),
Dark Waters
(1944-Andre de Toth) and in an exceptionally fine, non-stereotyped role as a melancholy recluse guiding a troubled youth in
Moonrise
(1948-Frank Borzage), discussed in detail
here
.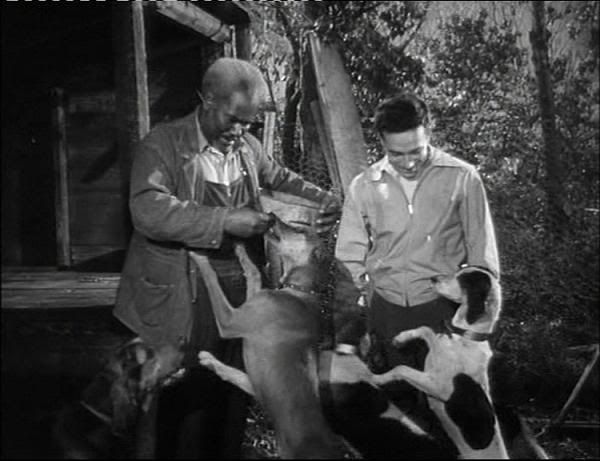 Rex Ingram as troubled Dane Clark's father figure in Moonrise (1948), directed by Frank Borzage.
The actor also found time to try to bring greater representation of minorities to the Board of the Screen Actors Guild during a tumultuous period of Hollywood history, where he served along with
Lena Horne
. In a conciliatory move in 1946, SAG representatives met with NAACP director
Walter White
, who was attempting to transform the movies at their source by means of a "Hollywood bureau". To the chagrin of performers whose living was dependent on continued employment in films and who often felt that their continuous presence had begun to make real inroads into the images of African-Americans on screen,
White
took a hard line stance against actors who "took undignified roles." During this postwar period, as the studios began their long decay under legal and economic pressure,
Ingram
, along with
John Garfield
,
Walter Abel
and other SAG members were highly visible observers on the picket lines of the period to monitor possible civil rights violations by the police, particularly during the divisive
Warner Brothers strike of 1945
, which helped to precipitate the chilled political atmosphere of Hollywood.
Offstage,
Rex Ingram
's life sometimes appears to have been chaotic, perhaps since he made a compelling target, and perhaps because the artistic drive that made him pursue such a precarious profession also reflected a profoundly restless nature. His relative prominence may have been one factor in attracting unwelcome and unhealthy attention, but it is possible that
Ingram
was affected by the constant traveling and the financial insecurity of a life as an actor, the criticism he sometimes felt from within the black community for his choice of roles, the endemic racism of American society, which often limited his employment, as well as some personal demons that plagued the creative actor for several years. Though
Ingram
ended his life married and the father of a daughter, he endured a long distance marriage to the gifted musical performer, actress and activist
Francine Everett
, a divorce, a bankruptcy in the 1930s, speeding arrests, assault charges, and, tragically, a 1948 conviction for a violation of the Mann Act for the transportation of a minor across state lines when a 15 year old white girl from Kansas whom he'd met in Hollywood briefly accompanied him to New York City. Arrested by the F.B.I. in Times Square while preparing for a Broadway opening,
Ingram
pleaded guilty and was sentenced to 18 months in jail for his infraction. Despite these real life problems, the gifted actor had already reached a legendary status within his profession and the larger community and he was paroled after half of his sentence had been served.
An older Rex Ingram instructing a youthful Hank Williams (Donald Losby) in

Your Cheatin' Heart

(1964-Gene Nelson).
Broken in spirit and financially strapped after this incident,
Rex Ingram
's spark, in author Donald Bogle's view, seemed to be extinguished. His roles in his remaining active years were confined largely to television, (including breaking the color barrier when he was the first black man hired to appear on a soap opera called
Bright Day
in 1954), and in small supporting parts in movies. He was an exceptional voice of sanity, providing a counterpoint to the ravings of his friend and employer, played by
Robert Ryan
, in the then controversial adaptation of Erskine Caldwell's
God's Little Acre
(1957-Anthony Mann). One of his last roles of significance was in an all black stage production of Samuel Beckett's
Waiting for Godot
in 1957 at the Ethel Barrymore Theater in New York. Other cast members in that all too brief appearance were
Geoffrey Holder
and
Mantan Moreland
, while
Rex Ingram
enacted the sometimes aggressive, sometimes philosophical "Pozzo", a character who muses that the "tears of the world are a constant quantity. For each one who begins to weep, somewhere else another stops. The same is true of the laugh." As
Ingram
himself once admitted, "my career as an actor was quite by chance." His talent and his performances that we can still see on film will not be forgotten.
A few
Rex Ingram
films can be seen in their entirety, beginning below:
The Emperor Jones
(1933):
T
he Adventures of Huckleberry Finn
trailer (1939):
Cabin in the Sky
(1943) gave Ingram a chance to show his lighter side as he played Lucifer, Jr. (as well as Lucius Ferry). Manipulating the mortals with his minions, (who include Mantan Moreland and Louis Armstrong) or urging Lena Horne to slow her walk down, Ingram appears to be having a field day:
In this clip from
Moonrise
(1948), Rex Ingram guides Dane Clark's youthful fugitive with a blues story:
Sources:
Baker, Russell
,
"Observer: The Only Gentleman"
,
The New York Times
,April 14, 1982.
Bogle, Donald
,
Toms, Coons, Mulattoes, Mammies, and Bucks: An Interpretive History of Blacks in American Films
,Continuum, 2001.
Cripps, Thomas
, (ed.),
The Green Pastures,
The University of Wisconsin Press, 1979.
"Emperor Ingram of 'Haiti'"
,
The New York Times
, July 24, 1938.
Nolan, Paul
,
"God on Stage: A Problem in Characterization in Marc Connelly's Green Pastures,"
Xavier University Studies 4, 1965.
"Rex Ingram, the Actor, Dies in Hollywood at 73"
The New York Times
, Sept. 20, 1969.
Separate Cinema: From Micheaux to Morrison
.