This day in our holiday hegira finds us knocking at the wreathed door of
Frances Gifford
, whose birthday is December 7th as well. Doors seemed to open naturally in the wake of this onetime golden girl, especially during the holidays. Largely forgotten today, she was a young lady who had just about everything: A beautiful face and form, a good mind (she graduated from high school at 16 and had intended to study law at UCLA), and she was in the right place at the right time. That place was the Samuel Goldwyn Studio in September, 1936.
The Long Beach, California native was
Mary Frances Gifford
then, getting a behind-the-scenes tour with Bill Paquette, a boyfriend employed there. Reports differ about the next sequence of events. Some say a
Goldwyn
exec saw the youngster with the symmetrical fresh face and pitched the classic line, "How would you like to be in pictures?" Others say that
Merle Oberon
, making
Beloved Enemy
(1936) with
Brian Aherne
at the time, took a shine to the lovely girl, asserting that she should be given a screen test and that a meeting with Mr.
Goldwyn
should be arranged for the lithe teenager, whose only acting experience had been in high school plays. Somehow, I suspect that the truth is in the middle of these tales.
A brief but hectic year followed as the newly christened "Mary" Gifford was tutored in the art of posing, makeup, walking with one of those cockamamie books on her head to learn poise, and having scads of pictures taken of her--most of which wound up on the desks of publicists and their minions--though a few found their way into a feature story in
Life Magazine
. A flurry of small, often uncredited parts followed in forgettable films, though she also flickered briefly through scenes in some eventual classics as well. Gifford can be seen filling in the background prettily in
Stage Door
(1937) (in which her on-screen character, "Mary McGuire," had an actual name for the first time), and
Bringing Up Baby
(1938)--though you have to be quick to catch sight of her fleeting presence.
A brief appearance as a bus passenger in one ironically named film,
Living on Love
(1937), resulted in the marriage of 19 year old
Frances Gifford
(as she was now called) to talented veteran actor
James Dunn (
Bad Girl,
Stand Up and Cheer, The Bramble Bush
). Their nuptials took place in Yuma, Arizona between Christmas, 1937 and New Year's Day, 1938, a traditional time of renewed hopes and resolutions. Despite any dreams that might have been nurtured by the couple, 37 year old
Dunn
's roller coaster career was unfortunately on the down grade
during their four year marriage, as alcoholism increasingly blighted his life. (
James Dunn
would eventually earn a well-deserved Academy Award as Best Supporting Actor for his finest portrayal, that of the well-meaning, ne'er-do-well alcoholic father and husband in
Elia Kazan
's adaptation of Betty Smith's
A Tree Grows in Brooklyn
(1945).
Gifford
's screen career was actually on the upswing by the time she filed for divorce in 1941, though perhaps it didn't seem so when the actress was loaned out to Republic from her new berth at Paramount. The actress stepped into the starring role of Nyoka, the
Jungle Girl
(1941) in a loosely adapted version of Edgar Rice Burroughs' story. In the process of making this entertaining, low budget serial,
Frances Gifford
earned a place as a heroine next to the silent era's
Pearl White
, reportedly becoming
the first female title character in a serial since sound.
Gifford
succeeded spectacularly in this role that displayed her natural athleticism and trimly efficient manner.
Playing a girl who grew up in the African jungle of mythical Cairobi with her doctor father (
Trevor Bardette
) who is vexed by his evil twin, (!) the ludicrous aspects of the plot do not mitigate Ms.
Gifford
's poise. She had a kind of elegant spunkiness in the role, whether she was riding on the back of an elephant, being roasted alive as an entrée on a witch doctor's menu, trapped in a room with a guy in a bad gorilla suit, or swinging through the jungle on a vine. She also performed many of her own stunts, though Republic veteran stuntman
Dave Sharpe
doubled her on a few shots. Her aplomb, a nicely tailored, leopard-trimmed suede ensemble (with matching knee high boots) and that permanent wave in her brunette locks that never seemed to frizz up or lose its bounce in the fetid rain forest all combined to prompt better offers to come her way. After a few more pit stops on the studio trail in a small part in a good movie,
The Glass Key
(1942), another in an unwieldy collection of Western clichés in
American Empire
(1942), and a nifty return visit to genre-land in
Tarzan Triumphs
(1943), a contract materialized for the actress at the Tiffany of movie studios, MGM.
In Culver City, under the watchful eye of the soft-spoken, and
very
powerful casting director
Benjamin Thau
, the new contract player began to make some progress in her career. In many ways
Gifford
was a quintessential MGM contract player. She became a young woman who was groomed, radiated health, and proved adaptable to the needs of the studio--and was almost indistinguishable from many other girls at the studio. She became, perhaps unwittingly, a product of modern art and science as much as God-given endowment. In several of her films, the comely
Frances Gifford
often seemed to lack an individual spark to set her apart from others. Some critics noticed her resemblance to others, though it was hard to put their finger on just who she resembled. Some said
Gifford
reminded them of
Laraine Day
, or
Jean Rogers
, or was it
Ann Miller
?
When the job required it,
Gifford
did what she was asked, appearing in print as a model wearing appropriately grim but serviceable duds for Rosy the Riveters, designed for safety rather than style on the wartime factory floor. Normally, the actress was seen in clothes designed by
Irene
, specializing in film roles as a cafe society type contrasted with a
Lana Turner
or an
Esther Williams
. She could adopt an air of brisk hauteur, reinforced by a lovely speaking voice, with careful diction that was no doubt burnished through lessons with studio mainstay
Lillian Burns
. She was a regular candidate for parts in which her genteelly wayward character needed to learn a lesson. Often that message seemed aimed at a woman in the workplace, who, MGM apparently felt, needed to be reminded about her femininity and the happiness she might achieve if her character got those silly notions about a long term career out of her head, (see her college professor role in 1945's
She Went to the Races
).
Gifford
appears to have found a niche as an easily cast lead in some B movie projects, often paired with the studio's second string leading men,
James Craig
and
John Hodiak
in the mix.
Her impact, even in the high profile wartime drama,
Cry, Havoc
(1943), seemed to have been diminished by the studio's high polish rather than enhanced by MGM's characteristic attention to detail and production values. The singular
Margaret Sullavan
, and
Marsha Hunt
, who could purr as well as bristle while remaining an appealing individual, along with the troupe of ten other distinctive actresses in the cast (including character actress
Connie Gilchrist
) have blinded me in the past to
Gifford
's presence in this stagy but still effective story of nurses under fire in the Philippines. I am embarrassed to say that I just didn't notice her before writing this blog (which also might say something about my powers of observation). Seeing this movie more than once, I am usually moved by the group's changing dynamic and the bravery in this slightly claustrophobic film, though the film's production code restrictions on reporting reality and the studio's mania for nearly perfect hair and makeup proved a bit distracting. Off-screen, btw,
Marsha Hunt
and
Gifford
found time, according to later accounts, to enjoy their mutual love of music during this production, since they often met at nearby recording sessions of the studio orchestra.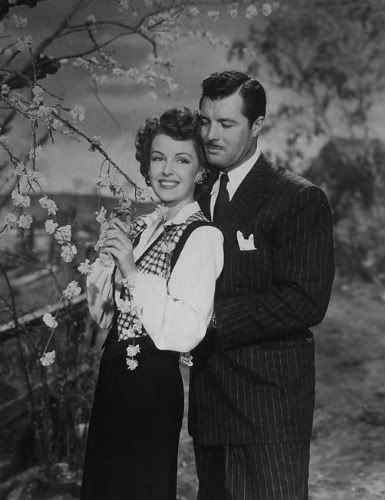 My real awareness of something diffident and distinctive in
Frances Gifford
came about after seeing
Our Vines Have Tender Grapes
(1945). This movie, directed by
Roy Rowland
(
Lost Angel, Scene of the Crime, Two Weeks With Love
) and written by noted scenarist and blacklist victim*
Dalton Trumbo
(
Five Came Back, A Guy Named Joe, He Ran All the Way
) from a novel by
George Victor Martin
, is notable for the hints of reality darkening a beautifully told, episodic story of life in a Norwegian farming community in Wisconsin. The stars of this film are
Margaret O'Brien, Edward G. Robinson
and
Agnes Moorehead
, whose characterizations are each excellent. The gifted
Robinson
and
Moorehead,
appearing as
O'Brien
's parents, are given a rare chance to play quietly heroic, everyday people. Their positive, warm-hearted presence, and their dynamic with the remarkably effective
O'Brien
help to lift this imperfect but touching film from sentimentality to something particularly moving in its moments of unforced simplicity.
Frances
Gifford
played the independent Viola Johnson, a newly arrived teacher from the city whose career path includes what she assumes is a brief apprenticeship in this rural backwater, until she becomes involved with a local newspaper editor (
James Craig
, seen in the image at the right with
Frances Gifford
), as well as with the people of the small community. Among the rural residents who is briefly seen is a somewhat fey, simple-minded girl, Ingeborg Johnson (
Dorothy Morris
), who appears to be in her teens, but whose hostile father had refused to allow to attend any school for reasons that the screenplay never adequately explains. Since this story is told largely from the point of view of a child played by
Margaret O'Brien
, and perhaps because of the restrictions of the Production Code, (there are surprisingly strong hints that Ingeborg may was molested and impregnated prior to her surprise marriage) the plight of this youngster is only half-understood by the viewers too.
There is an especially jarring scene when the mysterious demise of an apparently retarded young woman, Ingeborg Jensen (
Dorothy Morris
), is interpreted through the eyes of a small girl (
O'Brien
), causing snickers among her more worldly-wise classmates. In this film, there are two minutes that may be
Frances Gifford
's most effective in her screen career. For the first time since leaving the African veldt behind in
Jungle Princess
, the actress has a role to play that is not just a passive, highly decorative antagonist or an obstacle thrown into the plot to prevent the happiness of an A list star until the last scene.
Gifford
's Viola Johnson is both one of life's perennial students, and also a teacher, literally and figuratively. The brief scene below is one of her best moments in this movie:
Decent reviews followed Our Vines Have Tender Grapes release, with some observers crediting the director and screenwriter for the restraint they showed in certain scenes, saving them from potential mawkishness. Others found that the subplot of the romance between Craig and Gifford had a tacked on feel--though they ignored the rapport that both actors demonstrated in their interactions with the uncanny children in the film, especially Margaret O'Brien and Butch Jenkins. Frances Gifford's career looked even better after this movie, and in 1946, she was chosen for the leading part in The Arnelo Affair (1946), a female-centric film noir directed by radio's premiere writer, Arch Oboler. The movie, which is interesting at times, but is over-burdened by the writer-director's radio style of writing using interior monologues (it was based on a play written for that medium). The film sat on the shelf for a year before seeing the light of a projector in a movie house, but it has its charms, (and will be the topic of a future post).

The postwar slump at the box office presaged deep changes to the corporate structure of Hollywood, and contract players at MGM were undoubtedly a bit anxious about the future. For Frances Gifford, however, her malleability and ties to Benny Thau seemed to protect her employment. Unfortunately, on the night of December 31, 1947, while on the way to a New Year's Eve party attended by Louis B. Mayer and his minions, Frances and Benjamin Thau were in a terrible car accident. Thau was apparently alright, but Gifford suffered severe head injuries and the trauma from this accident--even after plastic surgery restored her lovely face, led her and MGM to end her contract in December, 1948 by mutual agreement.

After this period, the actress was only seen sporadically on screen, with her last film role in 1953's obscure Sky Commando with Dan Duryea. In her penultimate movie role, made just before turning 30, Gifford played an aristocratic divorcee pursuing a morally suspect horse trainer Bing Crosby in Frank Capra's Riding High (1950), a remake of the director's earlier Broadway Bill (1934). The stresses of the rapidly changing movie business and the lingering effects of the 1947 crash may have contributed to Frances Gifford being hospitalized in California state mental hospitals repeatedly in the next decades. However, in 1983, it was revealed that Ms. Gifford had recovered from her physical and psychological problems. She was found working contentedly at the Pasadena Central Library, p
erhaps enjoying a job that did not simply rely on her pleasant appearance. Maybe that life, which ended when the former actress died in 1994, was a bit closer to one that the 16 year old she once was might have imagined, before
Frances Gifford
fell
down the rabbit hole into Hollywood's wonderland.
*
Unbelievably from a 21st century perspective, three years after the movie was made, it was one of those cited by HUAC as laced with possible Communistic propaganda, since it contained several scenes that emphasize communal support of citizens. The Committee's attention focused largely on suspected CP ties of actor
Morris Carnovsky
and particularly on the high profile Hollywood Ten member,
Dalton Trumbo
, since his
contributions to the screenplay were alleged by some to be promoting ideals contrary to American values. The very broad brush that tarred this film was one of the main reasons that
Our Vines Have Tender Grapes
(1945) received very few screenings on television until the 1990s.
~~~~~~
Our Vines Have Tender Grapes
(1945) is on the TCM schedule from time to time and it is finally available on DVD and can be purchased on the internet, including
here
, as part of the Warner Archive Collection.
Sources:
The Glamour Factory: Inside Hollywood's Big Studio by Ronald L. Davis, (Southern Methodist Univ., 1993)





"Snapshots of Hollywood Collected at Random" by Louella Parsons, The Milwaukee Sentinel, Jan. 5, 1948.




"Hollywood Love...", (UPI), The Toledo News-Bee, Dec. 20, 1937.