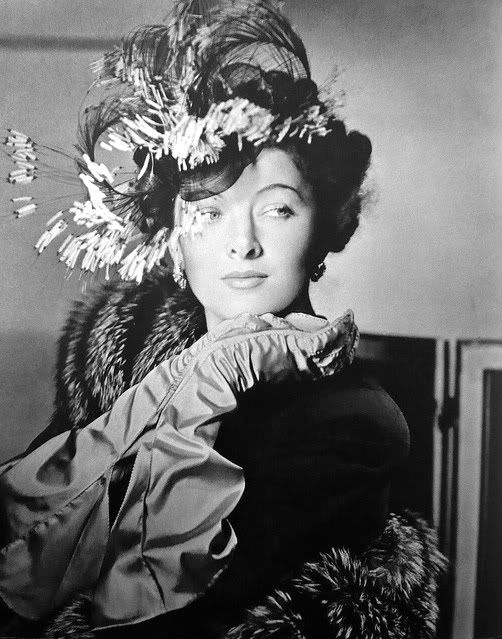 Myrna Loy, photographed by Horst P. Horst in the November 15, 1942 Vogue.
"You look at those old studio portraits and you say: 'My God! Were there people that really looked like that?' Scrupulous attention was given to achieving an ideal of beauty. It was considered a treasured, wonderful thing. I'm not sure it was the best thing--a lot of people with talent and personality got lost in the shuffle--but it created an image, an aura, a myth that endures." ~ Myrna Loy in Being and Becoming, her autobiography

Myrna Loy
(1905–1993) caught my fancy as an appropriate subject for the second entry in this casual series about the lost art of wearing a hat. Ms.
Loy
had the ability to transform a humble bit of sculpted cloth, feathers and ribbon into a statement of inner strength, a jaunty attitude, or an acknowledgment of the divine foolishness required for a life in the spotlight.
Loy
's trim form, lithe posture, and expressive yet exquisite heart-shaped face all blended with her talent to imbue her roles with her individual humor, grace and humanity over the course of seven decade career. She was a skilled actress, an intelligent beauty, and a concerned citizen. I suspect that her reassuring presence made audiences and her industry take her a bit for granted, especially since she made it all look easy.
I remember seeing
Myrna Loy
just a few years before her death being interviewed when she rolled her eyes and said that she knew the words "The Perfect Wife" would be part of her obituary's headline. The actress tried to redeem her image by some blunt truth-telling: she was not the ideal wife on or off screen, by her own frustrated admission. "Some perfect wife I am," she once said. "I've been married four times, divorced four times, have no children, and can't boil an egg." Perhaps Ms.
Loy
was correct about her wifely skills in reality, though on screen, even she might have a tough time arguing against consistent poise, charm and warmth--as well as talent. Beginning as
an artist's model
and dancer, the sloe-eyed, down-to-earth redheaded girl from Montana was earning bread for her fatherless family in Los Angeles by appearing in the chorus line at Grauman's Chinese Theater. Myrna began to garner roles on screen as well when when she was cast as a character labelled "Vamp" in 1925's
What Price Beauty?
, a Nita Naldi and Natacha Rambova silent vehicle, after which she appeared in a little epic called
Satan in Sables
(1925), resulting in a Warner Brothers contract. After her first starring role in
Bitter Apples
(1927) with Monte Blue, Myrna began to be cast in parts that downplayed her wholesome naturalism. With the arrival of sound
Loy
was still playing exotics (
The Squall, The Mask of Fu Manchu, 13 Women
), but her gift for the comic and romantic soon came to the fore as well (
Love Me Tonight, Topaze, When Ladies Meet
), and her star potential began to be realized in
Manhattan Melodrama
as a woman torn between Clark Gable and William Powell (we should all have such difficult choices in our private lives).
Perhaps Loy made it all look too easy, since her skills as an actress never truly received the nod they deserved from critics or her industry (the Academy Award she received in 1991 was honorary). Her dramatic roles, particularly her beautifully modulated and often surprisingly poignant performances in
The Rains Came
(1939),
The Best Years of Our Lives
,
The Red Pony
(1949),
Lonelyhearts
(1958) and
From the Terrace
(1960), would be career highlights. Unbelievably, in between all this work, Myrna Loy committed herself to The Red Cross, giving up her career for the length of the Second World War, and later was active in helping to make the United Nations viable, becoming a peripatetic ambassador for UNESCO's efforts to help feed and clothe the world's poor.
Though
Loy
had been a very big star for decades, she remained rooted in her family, country and beliefs, dismissing her retroussé nose, creamy skin and streamlined, nearly perfect Art Deco form with the comment that "I was a homely kid with freckles that came out every spring and stuck on me till Christmas." Others felt differently. Among them were those who eagerly photographed her over the years, such as
Clarence Sinclair Bull
and
Horst P. Horst
, (who photographed her above). On camera, Myrna claimed that "I was glamorous [on film] because of magicians like
George J. Folsey
,
James Wong Howe, Oliver Marsh
,
Ray June
,and all those other great cinematographers. I trusted those men and the other experts who made us beautiful. The rest of it I didn't give a damn about. I didn't fuss about my clothes, my lighting, or anything else, but, believe me, some of them did."
Even after she'd graduated from a series of rather roles as an exotic figure in early movies, becoming a star,
Loy
found the focus on "achieving that ideal [beauty]...exasperating." She continued to be scrutinized for improved presentation, though Myrna was the first to acknowledge that "none of us is perfect. Everyone who has beauty must pay in one way or another. I have a little bone on the side of my nose," she once wrote, "that casts a shadow in certain lights. It drove the cameramen crazy, because they never knew when it would appear. They'd see the rushes, groan, 'There's that thing again,' and have to retake the scene. It looked like a tiny smudge on my nose. I mean you could hardly see it, but that's how far the mania for perfection went. Of course, the retakes got kind of expensive so they called me into the makeup department one day: 'We think maybe we're going to have to fix your nose.' I was horrified. I used to be known as 'The Nose' for goodness' sake--thousands of women went to plastic surgeons to have it duplicated. I said, 'Never! Nobody's touching this nose!' and got out of there fast."
According to the actress, it "was hell getting started [in the movie business during the studio era], but once you were in, they coddled and cared for you. They groomed you and made you look wonderful. They saw that you played lots of different roles, and if the public responded to a particular characterization, the studio there would exploit it. That was a two-edged sword, because it established an image and made stars of us while usually limiting our range. There were writers writing for you, deftly promulgating that image. We had such writing talent at our fingertips...you could call up the Hacketts or Bob Benchley or Ben Hecht; Charlie MacArthur and Anita Loos were there...I could go on and on."
"There was so much coverage, so much invented glamour. When you finished a picture, you went to
Clarence Bull
, or
George Hurrell
,
Laszlo Willinger
or
Ted Allan
, those great still photographers, and you did two or three days of sittings with your co-stars. Then you would have portraits taken for hours on end. We posed for thousands of photographs, which went out with appropriate, if not necessarily accurate, copy to publications all over the world. Once you were an M-G-M star, that's the way it was. It helped to have talent, of course, but that constant saturation created this legendary kind of thing. We couldn't help becoming legends."
In the pictures below featuring Myrna Loy in a variety of hats, you can judge for yourself, and perhaps a bit more objectively, about the photograph and the subject.
Sources:
Being and Becoming by Myrna Loy and James Kotsilibas-Davis(Donald I. Fine, Inc., 1988), "Myrna Loy, Model of Urbanity in 'Thin Man' Roles, Dies at 88" by Peter Flint, The New York Times, December 15, 1993