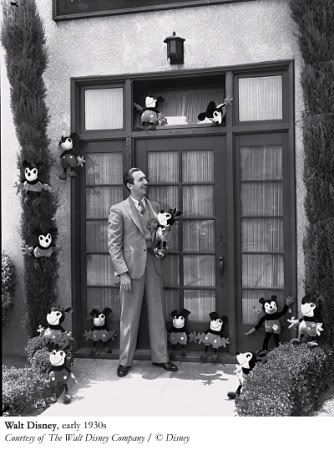 It is a pleasure to announce that film historian
J.B. Kaufman
will be visiting
The Silver Screen Oasis
from Monday, Nov. 8th through Thursday, Nov. 11th, 2010. If you would like to ask Mr.
Kaufman
a question about all things
Disney
or film scholarship in general, or would enjoy reading the Q & A, please visit
this thread
devoted to our visitor to the SSO.
Mr.
Kaufman
, seen above on the left of his frequent co-author,
Russell Merritt,
is a writer and film historian on the staff of the Walt Disney Family Foundation. In his position he has documented the work of the Disney Family Museum and just last year, J.B. was in the news as he introduced the Blu-Ray restoration of
Snow White and the Seven Dwarfs
(1937), commenting that the film "just looks spectacular" after the "dust-and-dirt removal as well as the brightening of the Technicolor picture to conform with the original intentions of Walt Disney's artists." Speaking about the restoration,
Kaufman
told the press that "As an historian and loving these films, one of my pet peeves is not being able to see them in a form that does justice to them -- and I think we're finally getting into a form that does."
The film historian has written several books related to his passion, among them the following:
: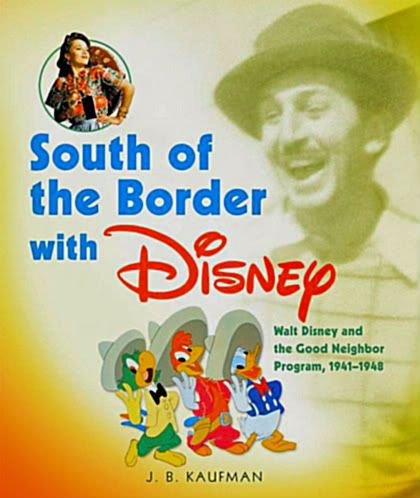 South of the Border With Disney: Walt Disney and the Good Neighbor Program, 1941-1948
by J.B. Kaufman
(
Disney Editions 2009)
:
An examination of the complex cultural and political history of Walt Disney's cartoons set in Latin America as part of the Good Neighbor program initiated by Nelson Rockefeller during the early 1940s. As described by the publisher, the book begins "with the extraordinary research trip Disney undertook in 1941, leading a team comprising his top animators, artists, and writers from Mexico to Chile, renowned animation historian J. B. Kaufman reveals the story behind Disney's contribution to Rockefeller's program. Based on extraordinarily comprehensive archival research and richly illustrated with many images never before published, South of the Border with Disney is a fascinating study of an all-but-forgotten aspect of the American war effort that will inform and delight Disney fans, animation lovers, and World War II buffs everywhere."
Walt in Wonderland: The Silent Films of Walt Disney
(
The Johns Hopkins University Press, 2000) by Russell Merritt and J.B. Kaufman:
This examination of the early efforts of Disney to master his life work, was described by Linda Rosencrantz at The Miami Herald as an examination of the "whole fascinating 8-year period predating Mickey is chronicled in [this] meticulously researched book... The authors point out interesting links to the work of other animators (of such characters as Felix the Cat and Krazy Kat) and also demonstrate parallels to the routines of such silent clowns as Buster Keaton, Harold Lloyd, and Charlie Chaplin."
Walt Disney's Silly Symphonies: A Companion to the Classic Cartoon Series
(
La Cineteca del Friuli, 2006) by Russell Merritt and J.B. Kaufman
As fellow film historian
Leonard Maltin
wrote when this book was released:
"With perfect timing, Indiana University Press has taken on distribution of this valuable (and beautifully-printed) book, just as the second volume of Disney's Silly Symphonies cartoons has become available on DVD as part of my Walt Disney Treasures series. In truth, Merritt and Kaufman have been working on this definitive compendium for years... but it was well worth the wait...Every short is exhaustively chronicled, with information you will find nowhere else: when it went into production, who animated each individual shot, how much it cost to produce, where it debuted, and much, much more. No detail has gone unexplored...What's more, the book is beautifully designed and filled with rare illustrations in both black & white and color."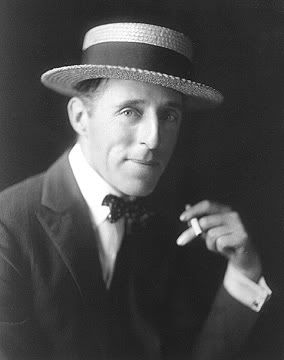 D. W. Griffith, whose work is the focus of the Griffith Project.
J.B. Kaufman has also been one of the film scholars who has contributed to the ongoing Griffith Project, an international retrospective held by the Pordenone Silent Film Festival in Italy devoted to research into and distribution of the work of the pioneering film director, D. W. Griffith. The innovative filmmaker's legacy of some 500 films is being systematically documented and, when possible, restored through this project, allowing more of us to see and understand how much we have inherited from the earliest films.