I had such high hopes. Naively, I was hoping that I might find a moment or two of gay abandonment in a film, stumble upon a good chick flick, or at least unearth the fun in a turkey. Perhaps, if you are reading this far, you might share my hope that this rarely seen
Dorothy McGuir
e film would turn out to be a lost gem.
Mother Didn't Tell Me
(1950), has been left on the shelf in the 20th Century Fox vault for over half a century. It is now re-emerging and was broadcast on the Fox Movie Channel on October 12th, 2010 at 6:00 am ET. If you have Time Warner Digital Cable, it is currently part of the Movie Pass On Demand feature.
As far as I know, it has never been issued commercially on VHS or DVD.
The elaborate mating rituals
depicted in this film might be of more value as a sociological curiosity than as the lesson in comic timing and joyous escapism that I was seeking, though that didn't stop me from watching the entire movie. Yes, dear reader, I am a fool at times...especially when the movie features some appealing actors, but even they cannot completely save a film without some help from the script.
Mother Didn't Tell Me
was a confection meant to capture some of the stumbles and triumphs of one couple engaged in the headlong rush toward domestic bliss that returning veterans and their mates plunged into following World War II in America. This movie was based on an epistolary novel by
Mary Bard
called
The Doctor Wears Three Faces,
which had some trenchant things to say about the often laughable illusions that each of us harbors about marriage and about the ultimate cost paid by a doctor's family for his commitment to his patients. The book sprang from incidents in the early years of the author's marriage to Dr. Clyde Jensen, an internist and pathologist who had established a practice in Seattle.
Bard
may have been prompted to write this book by the success of her better known sister,
Betty McDonald
, who wrote
The Egg and I
, and other popular books about the lighter side of domestic life. Both sisters wrote several books based on their own home lives with varying degrees of success.
Today these siblings are best known through the films made from their books, but
Bard
and
McDonald
were minor celebrities in their Washington State communities and continue to interest readers, some of whom have researched the authors' families and careers
here
. The sisters each continued to document their often funny and sensitive observations of marriage, parenthood and the social milieu they found themselves in during several periods of their lives. From a 21st century perspective, there is a touching quality to the simple yet resonant experiences found in these books that still echoes today. The forbearance needed to tiptoe through marital and familial compromises, impending motherhood and social mine fields in communities large and small have changed somewhat, but are still recognizable milestones for many.
Sisters and authors Mary Bard and Betty McDonald viewing the film, Mother Didn't Tell Me (1950). (Photo courtesy of MOHAI)
A casual reader glimpses men and women who seem familiar as they are caught up in the waves of change that swept over their lives during the '30s and '40s. Their struggle to make good while keeping alive their idealized view of what love, marriage and family really meant to them may seem banal to some, but there is a bravery in their effort to mold something out of their often limited circumstances. Both women tried to maintain their own identities in their roles as wives and mothers, though the contrast between reality and hope was often wide, especially when a husband's desire for one kind of life conflicted with their wives' dreams. In
Bard
's books, in particular, she blends self-deprecating humor with her knowledge of the sometimes tragic path life can take, particularly when viewing the lives of the patients coming to her husband
. McDonald
wrote about her comical, fish-out-of-water experiences of chicken farming came out of an attempt to subsist during the worst years of The Great Depression and to hold a shaky marriage together. Naturally, when these elements were translated into commercial films, some of that poignancy was inevitably lost, though, at least in the case of
The Egg and I
(1947), which starred
Fred MacMurray
and
Claudette Colbert
, the presence of
Marjorie Main
's Ma Kettle made her vivid character's plight both hilarious and moving, earning the veteran character actress a nomination for an Academy Award as Best Supporting Actress for her performance. (The Kettle's depiction also prompted
a law suit in 1951 from people
who believed they had been caricatured by McDonald in her fictionalized memoir).
The adaptation of
Mary Bard
's book seemed ripe material for Hollywood when it started to climb the best-seller lists shortly after publication in 1947, and it was sold to 20th Century Fox for a then whopping $40k, (though the amounts reported in news accounts of such deals are always suspect--especially after they pass through a press agent's hands). The studio originally announced that it was intended as a vehicle for
Maureen O'Hara
. Later
Jeanne Crain
was the announced star for the projected film. Between then and the film's release,
Dorothy McGuire
signed a contract with the studio and was slotted into the leading role as Jane Morgan, a "jingle writer" for a radio station who goes to a new doctor for treatment of her cold, which causes her to cough so loudly that a bellowing walrus would be embarrassed by the sound.
McGuire
was an actress with an unusual simplicity and a certain reserve that resisted Hollywood stereotypes. She could play characters who were winsome, vulnerable, selfish and serious and gave resonance to girls and women whose lives and struggles were recognizable to moviegoers, as she had proven in
Claudia, The Enchanted Cottage, A Tree Grows in Brooklyn
,
The Spiral Staircase
, and
Till the End of Time.
Unfortunately, the actress, who had developed under good directors such as
Goulding, Kazan
,
Dmytryk
and
Siodmak
, seemed to approach her role in this film with little more than a new (and frankly, unflattering) hairstyle. The script asked her, at 34, to play a girlish character with little on her mind but nailing a husband, enabling her character to fulfill her vague fantasies of marital communion with a professional man, while enhancing his social and professional life with her hastily acquired familiarity with medical terms about peptic ulcers. All successful actors seem to have this problem--do they wait for the perfect vehicle to come along, or do they just try to keep working in the hopes that a higher profile will lead to a meatier part eventually? In
Dorothy McGuire
's case, I suspect that she chose the latter, accepting this promising looking, light-hearted part, even though the finished script asked her to reprise the endearing mannerisms of her emblematic screen debut as
Claudia
(1943), the flighty child-bride made seven years prior to this film.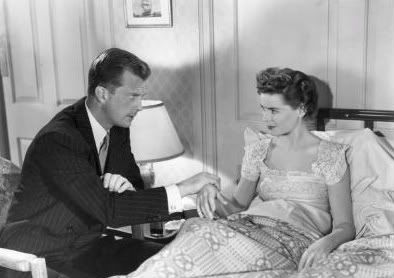 William Lundigan checks Dorothy McGuire's pulse in Mother Never Told Me (1950).
The brusquely efficient Dr. Wright is played by a young and dimpled
William Lundigan
, an actor who used his agreeable mien to coast through dozens of forgettable films, beginning in the 1930s, after he was discovered as a radio announcer in his hometown of Syracuse, NY. The affable
Lundigan
seemed to stumble into an occasional good film, such as
Santa Fe Trail
(1940) and
The Sea Hawk
(1940), but since his career momentum was interrupted by his wartime service in the U.S. Navy, the quality and pace of his film career was uneven.
William Lundigan
Signing with 20th Century Fox just after appearing in the stylish "B" noir for RKO,
Follow Me Quietly
(1948),
Lundigan
might have been groomed by his new employers for stardom after playing an easy-going doctor in Elia Kazan's racial drama,
Pinky
(1949), which led copywriters to cry "That 'Pinky' man doesn't have a chance!" in some of the print ads for this domestic comedy.
Lundigan
's career would eventually include better roles in films such as Robert Wise's
The House on Telegraph Hill
(1951) and in the effective portrait of a minister in Henry King's
I'd Climb the Highest Mountain
(1951), but in his role in
Mother Didn't Tell Me
Lundigan's character of the preoccupied doctor seems so obtuse at times a viewer can't help wondering what motivated Jane Morgan (McGuire) to fall so precipitously for Lundigan's Dr. Wright.
The leads are not alone in being cast adrift in this movie. The talented
Jessie Royce Landis,
an accomplished actress whose comic gifts graced several classic Hitchcock movies, plays Lundigan's mother, whose disdain for McGuire's "civilian status" (since she doesn't come from a family of medicos) leads her to some inexcusable duplicity and a demonstration of incompetence as a babysitter that borders on the tragic.
The cast was rounded out by
June Havoc
, a good dramatic actress who was too often wasted in "the other woman" parts that were much smaller than her talent. In her underwritten role as a superficially sympathetic veteran doctor's wife,
Havoc
has the unenviable task of playing the most self-loathing character, whose moods seem to range from catty and cynical to resigned. Her character is not made more appealing when she is given to comments such as "One of the great prices you have to pay for being a woman is having to face other women."
Gary Merrill
, on the cusp of his life-changing role in
All About Eve
(1950), comes along for the ride in a few brief scenes as a curt obstetrician colleague of Lundigan.
Merrill
's sawbones, with the bedside manner of a man who should only be doing research and kept away from the humans, tells his pregnant patient that "in the normal course of events, you need me about as much as a rabbit needs a midwife. In approximately six and a half months you can lie down in the nearest field." The odd presence of the usually stolid
Leif Erickson
as a visiting psychiatrist who flirts and encourages
Havoc
and particularly
McGuire
to let their hair down is preposterous--though seeing
Dorothy McGuire
sway her hips like a Balinese dancer is one of the few sprightly moments in the script.I don't think that
Erickson
ever tried a comic role again--and I can see why--though today celebrity shrinks are a dime a dozen, his strange turn as a head doc with too much bedside manner is one of the few dim highlights of this movie. The diminutive actress-dancer
Reiko Sato
appears in a few brief scenes as an intriguingly sullen household helper for
McGuire
. This film was the debut film performance for Sato, who danced with distinction on Broadway, in Las Vegas (with noted dancer-choreographer
Jack Cole
) and acted in a few films, including
Flower Drum Song
(1961) and
The Ugly American
(1963). In
Flower Drum Song
, the delicate
Reiko
sang one of the stand-out ballads from that Rodgers and Hammerstein show, rendering "Love Look Away" with exceptional tenderness. (Sato, a close friend of actor
Marlon Brando
's for two decades, died in her sleep at only age 49.) The ubiquitous (and often uncredited) character actor
Frank Jenks
has a nice moment as a sarcastic moving man caught in the middle of a couple's dissolving marital union.
Talented Supporting Players Trapped in "Mother Didn't Tell Me": (Top Row) Jessie Royce Landis, Gary Merrill, Leif Erickson, (bottom row) June Havoc, Frank Jenks and Reiko Sato.
All these actors are potentially quite likable, though a viewer might wonder how many ways their characters can be made repellent in this one movie. The doctor's motivation for marrying the pertly manipulative young lady who entices him to her neat little furnished room by feigning a serious illness certainly could not have been appealing because of her original intellect, though of course a flimsy peignoir and a cloying come-hither smile are provided for the occasion.
McGuire
's young bride decides to have a baby, (twins, yet) because a friend suggested it will help fill the day. Lundigan's Dr. Wright is the sort of paternalistic figure who buys a house sight unseen without consulting his new wife. She expresses rage when her husband becomes a partner with a woman doctor (
Joyce Mackenzie
), immediately assuming that this is a ploy to steal her mate. He is never on time when she has dinner on the table or guests cooling their heels--though, strangely, the film never allows the audience to see any of the patients that preoccupy him. Perhaps this decision was made to give a fairly shapeless film a narrower and hopefully funnier focus--though it only winds up being oddly truncated instead.
In the era when marriage was assumed to be the only goal of each woman's life
on screen, it was not to surprising to see this single-minded motivation celebrated on screen. What does seem a bit shocking is that
Mother Didn't Tell Me
was written for the screen and directed by
Claude Binyon
with the usually exceptional
Joseph LaShelle
as the cinematographer. Binyon the filmmaker began his working life in show biz as a writer for
Variety
, penning the classic headline, "Wall Street Lays Egg" when reporting on the stock market crash of 1929. Soon, he found his way to Hollywood, where the filmmaker's credits as a screenwriter include some of the nimbler comedies of the previous two decades, including
The Gilded Lily
(1935),
True Confession
(1937),
Sing You Sinners
(1938),
Take a Letter, Darling
(1942) and
No Time For Love
(1943). His films were rarely characterized by a strong narrative drive, and they may be dated when they spin out of control or strain for effect, as occurred with the depictions of African-Americans in
Holiday Inn
(1941) and
Dixie
(1943). Yet, when directed by the capable
Wesley Ruggles
or the gifted
Mitchell Leisen
, Binyon's storytelling could also be full of high spirits, romantic wistfulness, and screwball incidents that could prove enchanting still.
A
Binyon
movie usually featured some engaging skirmishes in the eternal battle of the sexes, giving distinctive actresses such as
Claudette Colbert
and
Carole Lombard
a chance to shine on screen, and providing actors such as
Fred MacMurray
and
Bing Crosby
with good parts that emphasized their shambling charm.
In 1948,
Binyon
, who was a fixture at Paramount Pictures for much of his career, took flight by directing and writing a dramatic screenplay based on Frederick Wakeman's novel
The Saxon Charm
(1948). It was a critically hailed portrait of a stylish show biz hustler (well played by
Robert Montgomery
, whose character was based on the notoriously quirky
Jed Harris
), for the screen for Universal-International. I rather wish that he had never tried to be a director, but given the disarray of the studio system during its collapse, perhaps
Binyon
's desire to peddle himself as a one man band capable of more than "just" writing was inevitable.
Mother Didn't Tell Me
(1950) marked the beginning of Claude Binyon's new career path as a director, writer and producer in the 1950s. Some of his later films, such as
Dreamboat
(1952),
Woman's World
(1954) and
North to Alaska
(1960) would prove to be a bit better, and a few would be profitable for their makers. Still, if you want to see Binyon at his best--not to mention the actors trapped in this film in sturdier vehicles--please look elsewhere. I suspect that most of them would be glad to see this film, which was released in France with the saucy title
Embrassez-moi, docteur,
might have been more aptly entitled
Embarrasséz-moi, docteur.
Btw, if you'd like to see
Dorothy McGuire
in a far better film,
Claudia
(1943) is scheduled to be shown on FMC on November 4th, 2010 at 6:00 am ET.
Update:
Laura of
Laura's Miscellaneous Musings
has posted a review of this film
here
. Since Laura had more patience with the premise and characters than I, her account may interest anyone thinking of investing their valuable time in
Mother Didn't Tell Me
.
Cast
(Please click here for full cast and crew)
| | | | |
| --- | --- | --- | --- |
| | Dorothy McGuire | ... | Jane Morgan |
| | William Lundigan | ... | Doctor William Wright |
| | June Havoc | ... | Maggie Roberts |
| | Gary Merrill | ... | Doctor Peter Roberts |
| | Jessie Royce Landis | ... | Mrs. Wright |
| | Joyce Mackenzie | ... | Helen Porter |
| | Leif Erickson | ... | Doctor Bruce Gordon |