I have recently finished reading
In My Father's Shadow: A Daughter Remembers Orson Welles
(Algonquin Books of Chapel Hill), a splendid book by
Chris Welles Feder
, which was about her relationship with her titanically talented father,
Orson Welles
. After a friend brought up the competitive nature of the relations between
Welles
and
Laurence Olivier
, I re-read the passages in this memoir relating a magical visit that the author had enjoyed with both men when she was still a young girl. I thought that others might enjoy her observations and have supplemented this with comments about their differing styles from other sources.
I take most memoirs, autobiographies and biographies with a grain of salt, but Ms.
Feder
has made her mark in the separate world of educational publishing, establishing a separate identity from her father. She continues to foster appreciation of her father's work at various film festivals worldwide, and has a gift for relaying her understanding insights with affection and clear-sighted admiration for him in her own words.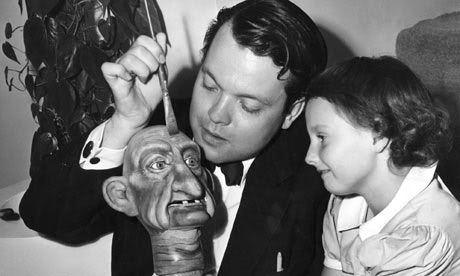 Orson and his first-born child, Chris Welles, in the 1940s.
In her beautifully written memoir about her father,
Chris Welles Feder
, the filmmaker's daughter (born in 1938 to the young theatrical titan's first wife, Virginia Nicholson), describes a visit to Britain with her father in 1951 during the time of the Festival of Britain. Her parents, who had divorced a decade before, maintained a chilly truce in matters concerning their child, though, like most daughters, she doted on her father and craved his attention. Their reunions were few, in part because Virginia had married an Englishman who had settled in South Africa. Enchanted with her father's company, the pair were intense companions, with the sometimes inconsistent Welles making efforts to compensate for his absence in her life with a series of wonderful visits with her when his schedule and her mother and stepfather allowed them. In the summer of '51, Chris accompanied her father to the theater repeatedly to see
Vivien Leigh
and
Laurence Olivier
play in Shakespeare's
Antony and Cleopatra
and Shaw's
Caesar and Cleopatra
. The following excerpt gives you some idea of the wary but ultimately respectful attitudes of
Welles
and
Olivier
. I apologize for the length, but I wanted to convey the context of these remarks as best I could:
"...my father took me to see the two Cleopatras performed on consecutive nights. As I sat enthralled through both productions no one had to tell me that

Laurence Olivier

was the greatest actor in the English-speaking world. It was apparent from the moment he appeared on stage, a handsome, commanding presence, so sure of his every word and movement, so at home in the play that one could hear the collective sigh of the audience relaxing into the moment. We were in the hands of a master, whether he gave us Shaw's Julius Caesar in his world-weary fifties or Shakespeare's Marc Antony in his ardent youth.

On the other hand, her two versions of Cleopatra--Shaw's headstrong child-woman and Shakespeare's smoldering

femme fatale

--

Vivien Leigh

was mainly remarkable for her beauty. At thirty-eight, she was so petite and vivacious that in Shaw's play she created the illusion of being only sixteen. In the interval my father boomed, "Believe me, Vivien's a lot more convincing as a young Cleopatra than Katharine Cornell was when she tackled Juliet in her forties."
Her father then went on to describe his adventures when he was a very young actor in Cornell's touring company, though this moment was interrupted by autograph hounds "...[one] of whom leapfrogged over seats to present him with a piece of paper and a pen that was out of ink." After these boors finally left Welles and his daughter were alone again, when the girl said:
"...

Vivien

is very lovely as Cleopatra," I told my father when we were alone again, "but she doesn't come across the way Laurence Olivier does.

My father gave me a delighted smile. 'You're right!

Vivien

is much better in the movies--in fact, she's superb. Some actresses can't project on the stage but have a magical relationship with the movie camera. Larry is the opposite, not nearly as thrilling on the screen as he is on stage, but I do wish he wouldn't wear tights. If I were directing the Cleopatra plays, I would do them both in modern dress so we wouldn't have to see Larry's legs.'"

"What's wrong with his legs?"

"What's wrong?" He glowered at me. "They're so thin they look like matchsticks. For years Larry starved himself, you know, because he was too poor to buy food, and now it doesn't matter how rich and famous he is, he looks dreadful in tights. Someone ought to tell him..."

The Oliviers with Orson Welles and Robert Helpmann backstage in June, 1951.

"On the second night, when my father took me backstage to meet the

Oliviers

, I prayed he wouldn't raise the subject of tights. Still in their stage costumes and makeup, the incredibly good-looking couple greeted us with the easy smiles and warmth of theater people, creating an aura of instant familiarity. I wanted to pull up a chair in their cozy dressing room and talk to them for hours"
The genuine way that the couple greeted them instantly made the girl open up and want to spend more time in their company. She was touched by "the bird-like" delicacy of
Leigh
's appearance, which, in person added to another layer to the aura of beauty and fragility that emanated from the actress. The girl found that
Olivier
genuinely seemed to want the
Welles
--both father and daughter--to stay to talk. Then the embarrassed adolescent girl heard her father teasingly explain to the
Oliviers
that he had to drag his daughter away from the theater where
Danny Kaye
was wowing London audiences night after night.
Kaye
had been very kind to the girl when they met, though she was too shy to ask him many questions, he sensed her unease and ardor, and made her laugh several times, even arranging to have her watch a performance from the wings. (It pays to have a famous parent--occasionally).
"Orson, you must come to lunch this Sunday," Vivien was saying, "and bring Christopher, of course."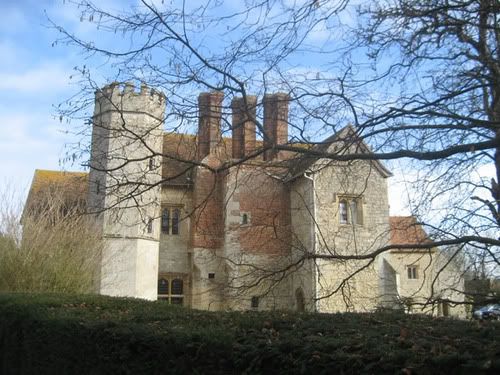 Notley Abbey today, which is used for conferences and weddings now.
When
Leigh
was told that the girl loved
Danny Kaye
, the actress insisted that she should arrange that he would also be at the luncheon. (No mention of the reputed amorous connection between Olivier and Kaye as described by Olivier biographer Donald Spoto is included in Chris Welles Feder's book). On the day of the event, as they drove up to the door, her father explained the history of the Oliviers' weekend home, Notley Abbey. The shell of the 13th century house had been purchased by the
Oliviers
in 1943 and was now a showplace.
"Larry fell in love with the place and its history," my father told me...as an austere Gothic presence of gray stone and leaded windows "loomed into view." [Orson went on to say that] "Larry has played so many kings on the stage and screen, you know, that he wants to live like one in his private life." A wistful note had crept into my father's voice, making me think of a small boy pressing his nose against the window of a pastry shop. At that point in his life,

Orson Welles

had no home to anchor him, and even though he was living in Europe by choice, he was a man without a country. "Larry can afford this," he rumbled on, as though thinking aloud. "He made a fortune with Henry V, the most popular movie ever made of a Shakespearean play, and that's exactly what it is, a play slapped onto the screen."

"Notley Abbey looks awfully gloomy," I remarked, peering out the window. "Does it have a dungeon?"

"Dear child," He laughed.

"Well, I wouldn't want to live here."

The Oliviers relaxing at Notley Abbey. You can see more about Notley Abbey here at the wonderful VivandLarry.com site.

"Wait until you see the inside, Christopher.

Vivien

has done wonders with it. She has a talent for decorating--and for entertaining. She likes nothing better than to invite carloads of people on weekends, which drives

Larry

crazy." He went on to tell me that

Olivier

was an intensely private man who would have preferred to spend the day reading in his study or working in his rose garden. "

Larry

's out of luck today, all right." My father gestured at the lineup of fancy cars parked in the driveway. "Looks like we're not the only ones invited to Sunday lunch."
After meeting some guests and being greeted with graciousness and informality by the
Oliviers
, Christopher found herself seated between
Robert Helpmann
, the famous ballet dancer that the girl had seen in
The Red Shoes
and
Laurence Olivier
, who gently pulled out a chair for her to sit on his left. The youngster enthusiastically discussed that film in detail with
Helpmann
and
Olivier
as she and the two adults enthusiastically recalled some of the exceptional dance and fantasy sequences in
The Red Shoes
. Chris later learned that all the adults she had spoken with that day were impressed with her intelligence and poise, something that the girl herself was seemingly unaware of prior to this visit, since at home she very rarely received any encouragement.
"How easy it was to talk to

Helpmann

and

Olivier

, both of them taking an interest in me that did not seem feigned for my father's sake. He could not have heard us anyway since he and

Danny Kaye

were taking turns regaling their end of the table and causing explosions of laughter. Rarely had I felt so grown up and self-confident.

'Speaking of films,'

Olivier

was saying to me, 'I hope you know, Christopher, what an extraordinary actor and director your father is. He may be out of favor now--his reputation has suffered in recent years, and many people don't appreciate his style of acting or understand his films--but time will show how wrong they are. Orson is the true artist among us, and when he finishes

Othello

, it will be a film for the ages. People will be watching it long after my Shakespearean films have been forgotten. Have you seen my Henry V by the way?' I nodded but before I could say anything about it, he rushed on, 'Now don't tell me how much you liked it. Everyone tells me that, and it's not the point. My films may be crowd-pleasers, but they are utterly conventional, and I am the first to admit it. When it comes to making films, I don't begin to have your father's brilliance or originality.'

I had been in awe of

Olivier

with his striking good looks and kingly bearing, and now I realized what a modest man he was, in spite of his enormous success, wealth and fame. He was speaking to me simply, directly and I was touched that he wanted me to know, in case I didn't, what a great creative force my father was."
In his 1983 autobiography,
Confessions of an Actor
,
Laurence Olivier
wrote that he had hoped to have
Orson Welles
appear as Buckingham in his film of
Richard III
(1955), but that
Olivier
's longtime friend,
Ralph Richardson
, had his heart set on the role. Faced with this dilemma, he chose to have
Richardson
in the movie, though he later regretted losing
Welles
, since he felt that
Orson
"would have brought an extra element to the screen, an intelligence that would have gone well with the plot element of conspiracy."
Also, according to some sources,
Orson Welles
wrote the story for
Mr. Arkadin
(1955) during an extended stay with the Oliviers.
Orson Welles in the film of Othello (1952)
While planning a stage production of
Othello
,
Welles
discussed the role with
Olivier
, who encouraged him to use a small curved knife to cut his throat from ear to ear at the climax of the play. 'I thought it was a very bad idea--so he went ahead and did it years later,'
Welles
is quoted as saying in Barbara Leaming's
Orson Welles, A Biography
.
Welles
was said to have also suggested to
Olivier
that he would make a great Iago...to which Olivier instantly replied 'Why not Othello?'" Welles replied bluntly "Because to play Othello you need a bass voice," said Orson. At this Olivier's eyes lowered, and the discussion ended.'" Years later,
Welles
reportedly described Olivier's
Othello
(1965) on film as outrageously hammy, commenting that he thought "it was like watching Sammy Davis Jr. on screen."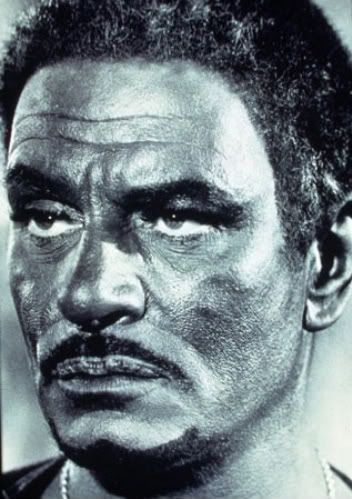 Laurence Olivier as Othello (1965)
In a 1960 a London stage production of Ionesco's
Rhinoceros
,
Welles
jumped at the chance to direct
Olivier
. At a time when the wave of the "kitchen sink" school of drama was cresting, attempting to prompt painful examination of class and social issues, it was quite daring for
Olivier
to take this role, and
Welles
, whose life as an artist was founded on
avant-garde
approaches to the performing arts, could have used a prestigious alliance with Olivier. While writers such as John Osborne, Arnold Wesker, David Storey and others helped to sweep away the stodginess of much of Britain's commercial theater at the time, the participation of Britain's most prestigious actor showed
Olivier
's desire to remain a vital contributor to his nation's creative life. The Ionesco play, which had never been performed in Britain professionally prior to then, was a prime example of the Theatre of the Absurd, with all the characters transformed into animals in the course of the play, which was further enlivened by a touch of surrealism, a vivid streak of madness and a commentary about political values in modern societies. The challenges presented by such a daunting and fascinating project proved too much for
Olivier
at the time. He was not at his best.
Unfortunately,
Olivier
, who wrote privately at that time, "I am not a nice person...I can't wait to be this other person for three hours..." was having a very rough time in his private life, which made him more difficult to work with on several levels. Unfortunately, after trying to lose himself completely in his work, and overtaxing himself,
Olivier
found several issues affecting his professional and personal life. He had become involved with actress
Joan Plowright
and was trying to extricate himself as best he could from his marriage to
Leigh
without harming her, while performing as actor-producer-director in numerous projects on stage and screen--not to mention trying to get the National Theater off the ground. It was during the production of
Rhinoceros
that the affair with Plowright became public knowledge. This occurred after Vivien Leigh, who was reportedly in the thrall of a manic episode, issued a statement to the press that "Lady Olivier wishes to say that Sir Laurence has asked for a divorce in order to marry Miss Joan Plowright. She will naturally do whatever he wishes." The public shock and press reaction that followed this statement that marked the acknowledgement of the end of a dream was only comparable in scale to the news that Edward VIII intended to abdicate for a union with Wallis Simpson two decades before. Even Notley Abbey and its cherished contents and memories had to be sold as part of the divorce settlement. Consequently, the 53 year old
Olivier
was not at his best. He undermined
Welles
' direction of the play by giving the cast direction when Orson was absent, contradicting his authority and vision of the play.
Whatever Happened to Orson Welles
, by Joseph McBride, the actor is quoted as saying that "Larry's acting is like getting a postcard from a foreign country. On one side is a beautiful landscape. And on the other side it says 'Having wonderful time--wish you were here."
Austin Pendleton & Orson Welles in Catch-22 (1970).
A recent man of the theater, actor-director-playwright
Austin Pendleton
, mined the competitive friendship and real admiration that both
Welles
and
Olivier
felt and dramatized it with considerable success in his play,
Orson's Shadow,
which has enjoyed widespread acclaim on both sides of the Atlantic.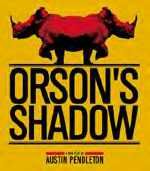 Pendleton
, who worked with
Welles
on the movie
Catch-22
(1970), found that the material about the two talented but different men working together on the
Ionesco
play had provided him with rich material for his homage. As a young actor appearing in each of his scenes with
Welles
on what turned out to be a disastrous production was a learning experience for the youthful actor. Looking back, the then 29 year old actor described the
Welles
he met as "funny. He was very difficult. But he [was] also terribly witty. Witty and bitter--and witty about being bitter."
Pendleton
describes
in this interview
more of his experiences with
Welles
and an encounter with
Vivien Leigh
--all of which affected his play's evolution in an amusing and thoughtful way.
You can see more about obtaining a copy of
Chris Welles Feder
's memoir of her father
here
.
Sources:
Beckett, Francis
,
Laurence Olivier(Life & Times)
, Haus Publishing, 2005.

Feder, Chris Welles
,
In My Father's Shadow: A Daughter Remembers Orson Welles
, Algonquin Books,2009.
Leaming, Barbara
,
Orson Welles: A Biography
, Hal Leonard Corp., 1995.
Olivier, Laurence
,
Confessions of an Actor
, G.K. Hall, 1983.
Tallmer, Jeremy
,
Making It Up to Orson
, The Villager, Volume 74, Number 45, March 16 - 22, 2005.
Some Recommended Online Resources:
The Wild River Review:
An Interview with Chris Welles Feder by Bella Stander
The Orson Welles Web Resource:
Wellesnet
The Official Web Site of Laurence Olivier:
http://www.laurenceolivier.com/
The Vivien Leigh and Laurence Olivier web site:
http://www.vivandlarry.com/
A Vivien Leigh Web Site:
http://www.vivien-leigh.com/