Embraceable You
(1948), a "B" movie from Warner Brothers studio, which gave a veteran dialogue director at Warner Brothers,
Felix Jacoves
, a chance to make a small scale film with two promising contract players at the studio,
Dane Clark
and
Geraldine Brooks
. It was
Clark
's twentieth movie since 1940, but only
Brooks
' third film role, and her first leading part. The little 80 minute film was unexpectedly touching, not because it broke new ground dramatically, but because of the striking wistfulness of its brief story, and the sensitive playing of the two leads, who meshed believably, animating their characters despite the limitations of the formulaic aspects of the production.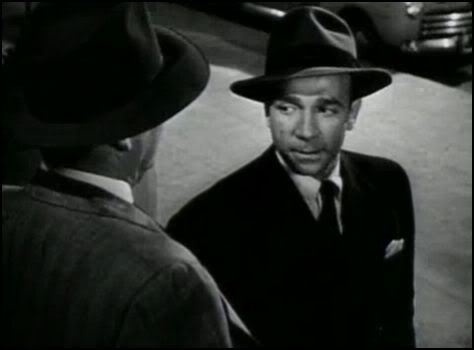 Dane Clark with that hunted look that he wore so well in that period.
The film begins with a crime--a hit and run accident that occurs when an underworld flunky, Eddie Novoc (
Dane Clark
), drives his shady gambler boss, Sig Kelch (
Rod Rogers
) through the cavernous streets of New York. Eddie unfortunately strikes a young woman with his car, but drives on at the urging of Kelch, who has much to hide. Despite his dark connections, Eddie's lingering decent instincts lead him to seek out the girl at the hospital, posing as an absent brother's friend. Bringing her roses that he can ill afford and visiting with her without telling her it was he behind the wheel, Eddie has an awkward tenderness that indicates his nervous eagerness to believe that seeing her sitting up in bed means all is well. A gracious Marie Willens (
Geraldine Brooks
), who had lost her job at a nightclub recently, receives his attentions with just a hint of coyness, trying, as she later confesses, "to play you, to work you--for all I could get."
As he blithely walks away from his responsibility for her hospitalization, Dr. Worth (
Douglas Kennedy
), who was treating Marie, takes him aside and confides that the girl, who has no family or friends nearby, has an inoperable aneurysm that will soon cause her to die. Straining credulity, the medical doctor asserts that the girl is scheduled to be released due to some vaguely "impossible" reason, despite her precarious condition. Just as this viewer started mumbling to herself that "
and we thought hospitals could be ruthless now...
" the medico
has the chutzpah to inquire if Eddie, who has falsely represented himself as a friend of the girl's apparently non-existent brother, might be able to find someone to care for her until her time is up.
Actually, I'm always amazed how often people in old movies are not hospitalized and how fatal prognoses are withheld from the patients "for their own good." Oodles of characters in studio era films are treated
at home
for heart attacks, polio, cancer, amputations, gun shot wounds and other maladies. This decision is often explained away by a doc saying "he (or she) is too sick to be moved." While I'm sure this was partially based on the realities of the period, I wonder if perhaps this is a hangover from the time when going to the hospital was often synonymous with a death sentence, with unsanitary or slap-dash care hastening the angel of death's arrival? Thankfully, as the film progresses, Marie is allowed to sense the gravity of her health--telling both the doctor and the man she has grown to love that she is going to die.
Geraldine Brooks at 22 in Embraceable You (1948).
Rather than having such a revelation be a cause for bathetic emotions, in
Geraldine Brooks
portrayal, her insight is an act of courage--though in a delicate balance, the actress never allows her character to be unrealistically grandiose about her situation. Death is allowed to be a presence in this story, off-screen but coming soon, leaving room for some simple, understated pleasures of life: a quiet room with a fireplace, a simple dance, a single rose, a shared laugh, and significantly for a movie called "Embraceable You," a Gershwin tune. The actors, who could easily have coasted through this insignificant movie, instead bring considerable tenderness and nuance to the creation of their characters, who both begin with hidden motives.
Geraldine Brooks
, the offspring of a theatrical costuming family in New York, had a tiny but voluptuous figure, a memorably husky voice, and an infectious laugh. With her sparkling eyes, thousand watt smile, dramatic education at the American Academy of Dramatic Arts, and very keen intelligence,
Brooks
made her mark on Broadway in a 1944 musical in which she did an imitation of Katharine Hepburn that stopped the show. Her first performances on film in
Possessed
(1947) as Joan Crawford's distrustful step-daughter and as a neurotic niece of Errol Flynn in
Cry Wolf
(1947), were well received, even when the film was not.
Embraceable You
(1948) was shown as the lower bill of a double feature in most theaters and did not receive a New York opening nor was it reviewed by most periodicals. It would be one year before the actress received another part---which would be one of her best--in Max Ophuls'
The Reckless Moment
(1949).
Geraldine Brooks
and
Dane Clark
are among those actors who never quite caught the brass ring--while they both had their triumphs, because of timing, personal choices or just bad luck, their résumés contain many forgettable titles. Whenever I have come across their work, I am always tempted to watch them. They had presence and occasionally, as in this film, they had moments of grace. Taking the raw materials of a crime melodrama, and a variation on
Dark Victory
, the two leads made something surprisingly affecting out of what might have been a hackneyed retread.
Dane Clark
However, in this film, after brushing off the doctor's inquiry with a guilty-sounding claim that he knows nothing about her family, Eddie soon encounters another, more assertive figure who will prick his dormant conscience. A veteran police detective named Ferria, played by
Wallace Ford
, is aware of Novoc's culpability. Confronting the shaken but still emotionally uninvolved Novoc as he leaves the hospital, the cop blackmails him into taking responsibility for his victim. "I've seen savvy kids like you all my life ," he says. "Hanging around the big shots, looking for angles...except you never really get to know the big shots, you just take the fall for them." This time, he insists, Novoc
will
do the right thing by finding the girl a place to stay and taking care of her--or face the immediate legal consequences for his act of callousness. Sure, this all strains credibility, (not to mention Marie's right to privacy and full disclosure from her doctor), but you know Hollywood.
Eddie, never more than a hanger-on in the underworld and only a would-be tough guy who "never had a job in his life that paid anything more than coffee and cake" slowly finds his life changing. As he struggles to scrape up the scratch to care for the young woman, his car is sold to rent the girl a nice furnished apartment. She responds with a child-like delight, even enthusing over the fireplace with the winking--if fake--firelight in the electric logs. Hesitant and a bit brusque around the girl at first,
Clark
's face breaks into a shy smile as he watches the simple pleasure she takes in her surroundings. Against his will, without realizing it, he has begun to change, and his life has began to have a purpose and meaning beyond the next poker game. All this is complicated by the fact that he learns he may be implicated in a murder, thanks to his past associations. The pair are befriended by Marie's former friend from the chorus line (
Lina Romay
, a singer with the Xavier Cugat band) and her lecherous agent boyfriend (
Phil Van Zandt
). These two, a bit sad and cynical and beyond the stage of redemption offer a parallel example of what the hapless Eddie and doomed Marie might have become if fate hadn't intervened to awaken them from their sleepwalking through life.
Philip Van Zandt
) to get a job in a nightclub,
Brooks
, whose smile was like a sunburst, performs a nimble tap dance, but a sudden weakness causes her to falter, frightening her and Eddie. In a moment, each of these characters realizes that something is wrong, but when a frightened Marie asks Eddie to stay with her,
Clark
's face expresses his sudden realization that he has crossed over from a culpable bystander to a man with a heart.
Alienated from his threatening fellow thugs who want to silence him, and desperate to find a place where Marie will be safe from them, Eddie, with Ferria's help, takes the faltering girl to a cottage in the country where he hopes to give her some peaceful moments before her death. The couple's rapport with one another grows as both unwind away from the hustling city. Marie even has a chance to sleep in front of a real fireplace for the first time in her life. Of course, to appease the Production Code it is always made clear that these two sleep apart, though well-versed audiences might see beyond the implications of such behavior.
As Marie's condition becomes so serious that she can no longer walk, in a lovely scene when both characters drop their guard and admit their love, she asks him if he would marry her. While there are a few more superfluous moments of gangsters and cops intruding on the story, it is the simple wedding ceremony in the cottage that is the proper climax for this film. In a small part, a restrained (well, as restrained as he can be)
S.Z. Sakall
, as a kind of foster grandfather for the two lovers, moved this viewer to a few tears when he asks to perform a traditional act, "if you don't mind." Placing a champagne glass in the hearth, he breaks it with his foot, saying "God's blessing, I wish. Broken glass means luck, if it was broken by somebody who loves you."
Some will say this is just one more soap opera. What made it exceptional was the way that these two unlikely people found each other and bloomed in each others presence. Despite the many times they try to make such romantic movies, they only rarely work on any level. Just as in life, ordinary miracles only happen occasionally and deserve to be cherished in art and life. As
Dane Clark
's inarticulate Eddie tries to explain to
Wally Ford
's flatfoot, "You know what I was before this happened. I guess she wasn't much better. But it's different now. I can't talk about it good. We got something we never would've had otherwise."
The film is credited to
Aleck Block
and
Dietrich V. Hannekin
for its story, but the screenplay, fortunately, was written by
Edna Anhalt
, who was one half of the married writing-producing team of herself and
Edward Anhalt
. The two would eventually bring well written, character-driven stories such as
Panic in the Streets
(1950),
The Sniper
(1952), and Carson McCullers'
The Member of the Wedding
(1952) to the screen.
One of the reasons why this film worked its spell on me was probably because of the music from the
George and Ira Gershwin
songbook that is woven into soundtrack. "Embraceable You" is heard repeatedly, though strains of different songs, some by other composers are also heard, including "I've Got a Crush on You," and "There's a Small Hotel" and "It Had to Be You," almost all of which belong to earlier decades, but whose power to enchant never ends. When Warner Brothers made
Rhapsody in Blue
(1945), the fanciful biography of the tragic
George Gershwin
starring Robert Alda, they purchased the rights to many of the brothers' most famous compositions, allowing them to weave these tunes into numerous films of the period. I often wonder if that is one of the reasons why they have such a hold on my imagination to this day.
I have written about
Dane Clark
's work on film before in posts about the films
Deep Valley
(1947) and
Moonrise
(1948).
I have just discovered that the wonderful blog,
Laura's Miscellaneous Musings
, found
here
, has also published an interesting post about this film on Monday, Sept. 27th. I suspect that Laura saw past the mechanical plot too.
Cast of
Embraceable You
(1948):
(For complete cast and crew please click
here
)
Dane Clark..............Eddie Novoc
Geraldine Brooks....Marie Willens aka Bronislavski
S.Z. Sakall..............Sammy
Wallace Ford..........Ferria
Richard Rober........Sig Ketch
Lina Romay............Libby
Douglas Kennedy...Dr. Wirth / Opening Off-Screen Narrator
Mary Stuart............Miss Purdy
Philip Van Zandt....Matt Hethron, Theatrical Agent
Rod Rogers............Bernie Sallin