I'm not a big collector. No press kits, autographs or movie posters add to the clutter of my admittedly book-laden home. Yet, there was a time when I enjoyed the odd comic book or two, with everything from
Archie
to
Sgt. Rock and His Howling Commandos
to
Classic Comic Books
littering that blank page that was my mind then. (I especially liked the Classic Comic Book version of Dostoyevsky's
Crime and Punishment
, which actually got me to read his books later).
Of course, comic books, baseball cards, et al were all subject to the Wrath of Mom, who regarded them as "insults to our intelligence" and therefore destined for the dust bin as soon as she uncovered them under the mattress or on the back porch. So today I don't own any of these items, which might have provided some needed shekels on Ebay. Ah well, nothing ever fades, including nostalgia for Mother's laser-like concern for the alleged minds of her ungrateful brood.
Since the Mom-inator is not around any more to censor my tastes, sometimes I am tempted to collect some things, though the price tag and seeing them online has kept any potential hoarding tendencies well in check...so far. These days I am brought up short when I come across an old magazine, though it's the advertisements as much as anything that catch my eye. "What do you mean, you could buy a brand new Mustang for $2000 in '67??" is the kind of outburst I'm prone to when looking over ephemera for sale featuring long-gone, old magazines such as the glossy
Look Magazine
or literate
The Saturday Review
. Yes, I know that incomes then averaged $7k (according to a
MSNBC report
on the Summer of Love). Yet it's the old ads that really intrigue me, many of which were a part of a consumer's life before I was born, especially when they feature big time favorite movie actors, whether fondly remembered or barely a pop culture memory.
Here are a few of my favorite ads collected on the web over time, which I still find myself most amused by. My faves are those that appeal to the things in life that are "immoral, illegal or fattening"--you know, those delightful everyday vices! I find the most interesting ones to be those ads that show the most unlikely people hawking something I'd never have expected.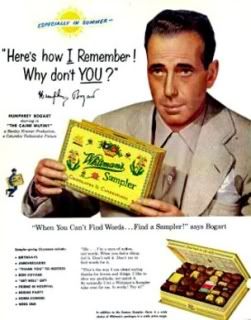 This Whitman's Sampler ad with
Humphrey Bogart
was printed in
The Saturday Evening Post
around the time of
The Caine Mutiny,
and though I can't find a larger version online, the text has Bogie saying "Here's how I Remember! Why don't YOU?" with his signature followed by "Humphrey Bogart starring in 'The Caine Mutiny."
It goes on to feature Bogart saying, "When You Can't Find Words … Find a Sampler!" and "Me … I'm a man of action, not words." And since Bogart liked to "show [his] gratitude, not speak it," he "naturally" let a "Whitman's Sampler take over" for him and the actor exhorted readers to "Try it!," followed by a list of of "Sampler-giving Occasions" and the parting shot that said "A Woman Never Forgets the Man Who Remembers." Gee, I'd love to hear how much ribbing the actor had to take from his tart-tongued wife and friends over this ad. I really like the understandably sheepish expression on his face. Do you suppose his yacht, the
Santana,
needed new sails, or a mast that might have been paid for with this endorsement?
______________________
Basil Rathbone
seems to be one of the Kings of Endorsements, especially eager to collect a check for shilling for consumer goods most at odds with his on screen image. Shredded Wheat is not something I'd ever thought of in connection with Basil before stumbling over this tidbit, shown in the following thumbnail (click to see the full ad, please).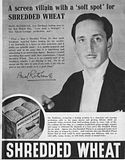 Thinking of Basil Rathbone, have his pearly whites ever been the first memory that sprang to mind? I really like the little mask "hiding" that unique, hawk-nosed face so well in the thumbnail below (click to see the full ad, please).
Basil really did need dough after a lifetime of living it up in Hollywood, (Basil and Ouida Rathbone were great hosts with a penchant for very elaborate parties on a regular basis). So, after giving one fine performance after another in films great, good and ghastly, and being hopelessly typecast as a baddie and later as Sherlock, he needed money to live in the '60s. But peanut butter?? Caviar, maybe, and perhaps some canned liver pâté in a pinch...(click on pic to see the full ad, please).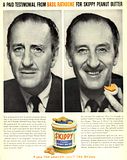 _______________________________
One of the more bizarre ads features noted if disparate actors hoisting a few during the holidays. The fact that they liked a snort now and then is hardly news, though I really like the terrible cut and paste job done putting each actor's head on the figure in formal dress. I'm sure you can name all the actors in this ad, which I believe was from the early '50s, but for younger readers who have stumbled in here their names are, left to right:
Louis Hayward, Herbert Marshall, Robert Preston, Claude Rains
, and
Cesar Romero
. Funny how
Claude Rains
looks the way he did in 1933, isn't it? (click on pic to see the full ad, please):
_______________________________
Think of love goddess
Rita Hayworth
and images of a glossy yet somehow fundamentally wholesome erotic beauty may dance through your head. While you subconsciously hum the tune "Put the Blame on Mame, Boys" could...imitation butter, aka margarine possibly be synonymous with
Salome
, much less
Gilda
?? Somehow I doubt that this was her idea of making a splash with her public, though after a few husbands that Ms. Hayworth was compelled to pay to get rid of, she probably needed the dough to keep herself in those gorgeous Jean Louis gowns, not to mention caring for her beloved children. Heigh-ho, it's a living...
(click on pic to see the full ad, please)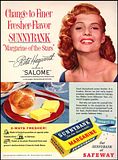 My respect for
Bing Crosby
's talent never extended to his penchant for endorsing product lines such as Minute Maid Orange Juice. (Btw, he often owned a controlling interest in the products he endorsed). The ad below, featuring Der Bingle shilling for cooking with gas might have worked if he had Louis Armstrong in the kitchen jamming with him. However, I find this goggle-eyed glazed look in the crooner's eyes pretty haunting...he looks as though he's had a really rough night and come home to discover an empty fridge.
(click on pic to see the full ad, please)
I adore
Raymond Burr
, whether he played a morally complex man with a gravitas as large as his beautiful baby blues, a poor actor playing a cartoonish hero trapped in a very tiny jungle set, or a mischievous scamp teasing Della Street after a long day in the court room. I'll take my Ray in almost any form (save that boring guy in
Ironsides
), whether he was relatively svelte or shopping in the big boy dept., playing a very bad guy or a noble protector of the innocent, (Perry never defended anyone who was guilty did he?). However, given the fact that he went through life carefully keeping his public image separate from his private life--by necessity, if he wanted a career back then--did they have to ask him to pose in a
pink
car? (click on pic to see the full ad, please):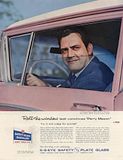 Btw, my Dad had one of these cars, with a very similar, if odd color. We called it "The Fleshmobile" and made him drop us off for school a block away when he gave us a ride. No one needed the existence of that car and its embarrassing color with our very burly father behind the wheel for teasing ammo at school.
Here's the most pathetic celebrity endorsement I've ever seen. Maybe poor
Joan Caulfield
wasn't great shakes in the acting department, especially since she seemed to have a frozen face, but she was a looker. Couldn't they have found an endorsement for Lux Soap or Mink Stoles or Woodbury Powder like a kajillion other studio era actresses? Maybe she ticked someone off big time, 'cause having your pan on a package of bobby pins seems to be carrying the phenomenon of inveigling the public into buying something to a new, pathetic low.