Not as a Stranger
(1955) is one of those movies that I am always startled to learn is among the favorites of many people. I have a couple of faves popping up in this flick too, but can't help wondering what in sam hill
Stanley Kramer
was thinking when he tackled this movie as a first-time director after several innings as a writer-producer.
When asked by a reporter why he chose a "soap opera" for his first directing job, Kramer explained,
" I needed a surefire hit, so I picked the best selling novel by Morton Thompson. And then I hired Edna and Edward Anhalt to do the screenplay.
" Even though the project may not have gelled exactly as hoped for at the beginning, even in 1989, Kramer told an interviewer,
"I don't think this was a standard soap. It had some very important themes: How a surgeon forgets his humanity, the true goals of medicine versus the chase for wealth.
"
This sounds all too relevant, over fifty years later, doesn't it?
Despite these good intentions, assembling a cast proved a bit trickier. According to Kramer, "Olivia de Havilland demanded and got first billing but she hadn't made a picture in a few years. Bob Mitchum lobbied to play the intern with Frank Sinatra asking to be cast as best friend." Unusual even then to think of Sinatra as a third billed member of a cast, he had "won a supporting Oscar but he was still in the rebuilding phase of his career. Gloria Grahame, another Oscar winner, was our resident femme fatale. She put Kleenex under her top lip because she thought that was sexy."
Unfortunately, the chemistry was not exactly magical on the set. "
Olivia and Bob most definitely did not hit it off. His lackadaisical style can be off putting. He really didn't warm to Frankie either." Fortunately, the strength of the movie is what Kramer described as "a stable of old hands: Broderick Crawford, Lon Chaney, Charlie Bickford, Myron McCormick."
While I can't say that
Not as a Stranger
is
compelling
watching for me, certain scenes in the fragmented film have some power. The notable seduction scene between
Mitchum
,
Grahame
and the horses at night in a corral has a certain bizarre fascination for me, since it invariably makes me think of some of the particularly risible moments in
The Fountainhead
(1949), another movie that flirts with Eros and seems to evoke passionate defenders. At least that movie had
King Vidor
's skilled, experienced hand behind the camera. With
Kramer
behind the lens supervising the noted cinematographer
Franz Planer
(who has many more beautiful and technically noteworthy films to his credit), this scene seems to mark the first time that the director discovered that two technical toys were now at his disposal--the crane and the zoom shot--though I wish he'd given his actors, (not to mention the script), more attention. Trying to stuff
Morton Thompson
's 900+ page novel into a screenplay must have been a horrible form of sausage-making, Hollywood style, though
Edward and Edna Anhalt
gave it a game try after the novelist, who had been working on the script too, killed himself while this film was in production. (I've no idea if this was related to any problems on this movie project).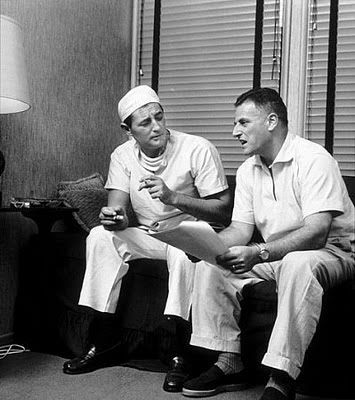 Above: a skeptical looking Robert Mitchum discussing a scene with neophyte director Stanley Kramer during the shooting of Not as a Stranger (1955).
Casting
Robert Mitchum
, the apathetic, uncrowned king of cool as the leading man, Dr. Marsh, "the brilliant physician who must learn to be a human being!" seems downright foolhardy due to his age and temperament. Actually,
all
the alleged medical students and
Olivia de Havilland
look 10-15 years older than they should to me, even if they were supposed to have gone to college only after serving in the military. The part might have worked if a
Montgomery Clift
, a pre-Moses
Charlton Heston
, or even a block of wood like
John Gavin
had been handed the role of young Dr. Marsh, the physician who must first heal himself.
Sinatra
, who was entering his deep-dyed ring-a-ding period, seems to be a peculiarly inauspicious choice for the lackadaisical but likable med student trying to get his shingle so he can start printing greenbacks in a posh clinical setting. And don't get me started on the unlikely casting of that up and comer,
Lee Marvin
, as another med student looking "to live a little" before taking the Hippocratic Oath.
Stanley Kramer
even admitted later that
at 38
, neither Mitchum nor Sinatra were "
ideal as young interns in the early scenes but it found a ready audience and [Kramer] had a robust hit to start the director's new association with United Artists."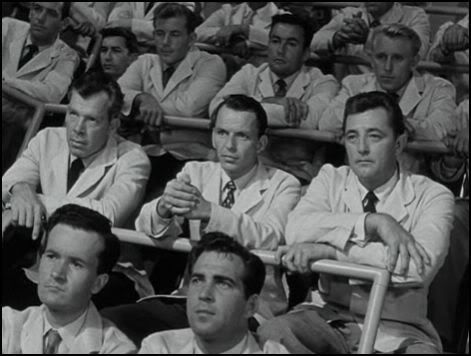 Above: Lee Marvin, Frank Sinatra, and Robert Mitchum as superannuated (but oh, so hip) med students in Not as a Stranger (1955).
All these fellas could act very well, on occasion, but these parts just don't seem to fit their on or off screen personas. If you were seeking help for a physical problem (and not just looking for a good time and a story to tell your grandchildren), would you really let any of these guys examine you, much less treat you for an illness?
That being said, I do find the following enjoyable in this movie:
1.)
Broderick Crawford
: even though he rattles off much of his dialogue like a racetrack announcer caught up in a photo finish, he somehow seems much more real than expected. Sure, he looks hungover
--but what a way with dialogue!--
and he really looks like the chain-smoking doctor who delivered me. Brod, squinting, sweating, and spouting off aphorisms and medical lingo as though he'd just swallowed a copy of the Physicians' Desk Reference, (which might explain his chronically queasy expression) seems as authentic in all his messy humanity as can be. Btw, legend has it that after Kramer demanded that his cast steep themselves in realism prior to filming, Sinatra, Mitchum and Crawford were all compelled to attend an actual autopsy. Watching a real pathologist slice into an actual corpse in an operating theater, the minute that the scalpel met flesh and bone,
Broderick Crawford
shot out of his chair and headed for the exit. Frank Sinatra called to him, asking where he thought he was going. "Malibu!" was his terse reply as he left for the day. That's the mark of a sane man--and one whose acting chops and dramatic imagination allowed him to play a credible teaching pathologist trying to instill a reverence for the bodies that would soon be his students' stock in trade.
Btw, after subsequent attendance at all sorts of gruesome operations,
Robert Mitchum
claimed that "Everybody was surprised, and, if you ask me,
disgusted
that none of us got sick."
Above: The eloquent face of Lon Chaney, Jr., looking for understanding as Mitchum's stewpot father in Not as a Stranger (1955)
2.)
Lon Chaney, Jr
, who played
Robert Mitchum
's dissolute father, seems to be one felicitous bit of casting in what is basically a cameo. Chaney and Mitchum actually share an interesting, drowsy, three-toed sloth look that makes the actors appear to be physically similar enough to be closely related.
Chaney
, an actor whose sad, expressive face could make a stone weep in empathy, has been a particularly appealing performer for me since first seeing him when I was a kid playing
The Wolf Man
(1941) and as another immortal figure, the eternally childish Lenny in
Of Mice and Men
(1939). Hoping that being beaten to death with a silver tipped cane might release his tormented soul is a peculiar way to feel about a character, but when the drunken, broken old man in
Not as a Stranger
cries out to his stolid son that he "is just a human being," it is as if the furry-palmed Larry Talbot and Steinbeck's poor itinerant ranch hand were both begging for understanding all over again. That, and longing to hear George tell him about the rabbits one more time.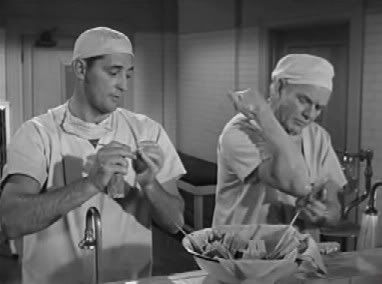 Above: Robert Mitchum with Charles Bickford, who was one of the few actors to engage the laid-back leading man effectively in Not as a Stranger (1955)
3.)
Charles
Bickford
: (*sigh*) an extraordinarily gifted actor, he plays Dr. Dave Runcklemann, the mentor and country doctor who becomes a true father to the impassive, cold character that
Mitchum
plays.While Kramer sought technical detail and honesty diligently throughout this movie, it is
Bickford
whose presence adds another dimension of humanity to the film. If you watch
Mitchum
, who often seems to be sleepwalking in this movie, in his scenes with
Bickford
, the younger actor seems much more alert. I suspect that the gruff, no-nonsense, "let's cut the bull" Bickford demanded respect and engagement from his movie star cast mate on and off the set. Notorious for his temper,
Bickford
's career never quite developed as it might have due to a horrendous encounter he had with a lion on a movie set in the mid '30s and, perhaps even more so because he was known to tell certain people, (like
Cecil B. DeMille
on the set of
Dynamite
in 1929) to go to hell. And it probably didn't help his standing in Hollywood when, after being particularly vexed by a certain youthful director (
William Wyler
) asking for endless retakes while filming in the desert heat, (in
Hell's Heroes
in 1930), he actually slugged the neophyte director. Of course, over a quarter century later,
Bickford
and the director called a truce and worked together again. (And, oh yes, this too was in the blazing desert wasteland, while filming
The Big Country
in 1957.) No wonder
Robert Mitchum
actually even looks directly into the startling blue eyes of the grizzled, slow, and old-fashioned medico played by the snowy-haired
Bickford
. The connection between the two characters is particularly poignant in the scene when
Bickford
lies on the operating table after he collapsed from over-work. As
Mitchum
tries to massage his heart back to life, his intense and ultimately shattered expression as he tries to bring this gentle man back from the grave is actually the best bit of acting that Bob does in this flick.
______________________
Other blog postings about cast member Broderick Crawford can be seen here:
The Mob (1951): Undercover Brod
New York Confidential: Film Noir Archaeology
A Glimpse of the Culinary Adventures of Old Hollywood
______________________
Sources:
Bawden, Jim, Remembering Stanley Kramer, The Columnists, Oct. 12, 2009.
Server, Lee. Robert Mitchum: "Baby I Don't Care," Macmillan, 2002.
Spoto, Donald. Stanley Kramer, Filmmaker,
University of Michigan Press, 2008.