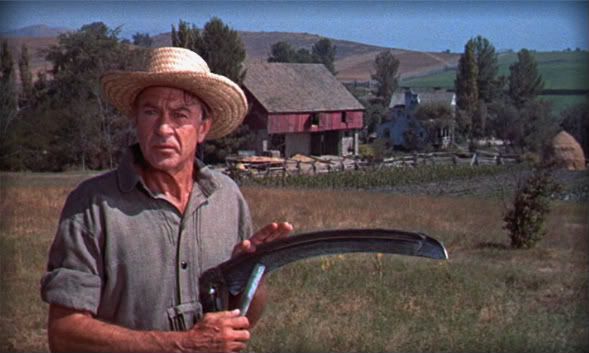 Friendly Persuasion
(1956), a
William Wyler
movie based on
The Friendly Persuasion
, a collection of short stories by the writer,
Jessamyn West
, who was of Quaker descent, starred
Gary Cooper, Dorothy McGuire, Anthony Perkins
and the great
Marjorie Main
in a small role. The film, which is available on DVD, is being broadcast on TCM on January 15, 2011 at 3:00 AM ET.
It is a simple story. A 19th century Quaker family squabbles over the encroachment of the outside world on their idyllic rural lives. A forbidden horse race disturbs the peace of the Sabbath, a Quaker meeting interrupted by news of approaching armies, a county fair with all its temptations takes place, a new courtship begins for young lovers and a renewed one for a married couple, a young man looks for the strength within himself to choose the right path in his life, and life and death inevitably intrudes on our reverie. The themes of love, death, honor and human foibles are eternal.
I am drawn to the way that the movie recreates a bucolic rural world of an Indiana farm in the 1860s that seems to echo the images of
Winslow Homer
,
N.C. Wyeth
, and
Tasha Tudor
paintings. The soft color and beautifully detailed touches in the world inhabited by a Quaker family, the Birdwells, created by Jessamyn West and based on her own family. Filmed at the Rowland V. Lee ranch in the San Fernando Valley, are rendered so well thanks in part to the color cinematography of
Ellsworth Fredericks
and
Ted Haworth
's art direction. Initially,
William Wyle
r's first film in color may seem to be a sunny, even smug paean to a utopian America that never existed.
That is the superficial view that has led some contemporary critics, such as David Thomson, to dismiss the film as "one of the dreariest pictures [Gary] Cooper ever made." Thomson and others reject what they regard as "pieties" in the story that they may believe earn "respectability and serious themes a crushing reputation," despite six Oscar nominations and winning the Palme d'Or at the Cannes Film Festival. Sadly, despite the generally good reviews at the time of the movie's release
Friendly Persuasion
, which had been budgeted as $2 million, but ultimately cost over $4 million, the movie was a disaster for Allied Artists, affecting the indie production unit's ability to make and market future films.
Friendly Persuasion
does presents a rustic world punctuated by familial comedy in the first part of the film. As it follows a Quaker family's philosophical and emotional journey through the Civil War and the challenges it presents to each family member, the film darkens. As a commercial production with a desire to draw in an audience, Wyler and his collaborators included a treacly theme song sung by one of the era's heart throbs, Pat Boone, called "Thee I Love" with lyrics by Paul Francis Webster and music by Dmitri Tiomkin.* In the same era as
The Wild One
and
Rebel Without a Cause
as they grapple with keeping their love alive against the background of teen angst experienced by Anthony Perkins and Phyllis Love as the family teenagers, and leavened by the childhood antics of Richard Eyer's put-upon Little Jess. Eventually, the more thoughtful aspects of the film focusing on the three main character's depth of religious belief, the threat posed to the family unit by the outside world (a theme that
Wyler
had explored in his previous film set in 1955,
The Desperate Hours
), and the strains that imposed on their love for one another, their home and their individual consciences. As he had done in in
The Best Years of Our Lives
(1946) and
The Little Foxes
(1941),
Wyler
composed scenes beautifully, with action occurring in the foreground and sides of the screen, as well as in the distance.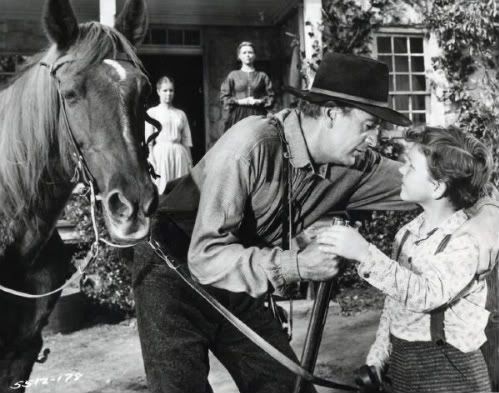 Gary Cooper with Richard Eyer in Friendly Persuasion (1956).
Richard Eyer
, (who had also appeared in
The Desperate Hours
) the understandably stubborn, bad-tempered youngest son whose unfettered desires and ongoing war with the family goose were least likely to be checked by any external set of beliefs brought out some of the best comedic moments in the movie. His antics were complemented by
Robert Middleton
, who played a rare positive role as a non-Quaker neighbor of Jess Birdwell (Gary Cooper) who loves to race his friend to their separate churches--to the mortification of Eliza Birdwell (
Dorothy McGuire
). Other episodes unfurl like a sampler, with moments at a county fair, a Quaker meeting, a brief foray away from the farm to visit with
Marjorie Main
's frontier mother of three girls, and inside the Birdwell home filled with color, detail and a good-natured acceptance of individual differences among the characters.
Maybe best of all, is the mature, occasionally tense love story between
Gary Cooper
and
Dorothy McGuire
. Though some biographers maintain that Cooper and McGuire disliked one another on the set, on the screen, they do seem very much like a long married pair who are still discovering one another. I was touched by their efforts to treat one another and their children with respect even while occasionally finding one another exasperating. The family dynamic may have mirrored some of the underlying tension on the set, since reportedly--as with many actors over time--
Wyler
's working methods may have put
Dorothy McGuire
's guard up, and
Anthony Perkins
felt somewhat ignored by
Gary Cooper
, who told a visiting reporter bluntly that "I think he'd do well to spend a summer on a ranch--it would toughen him up and he'd learn a lot from another kind of people." Ah, every family has problems. It was ever thus, no?
In 1955,
Wyler
had originally tried to cajole Katharine Hepburn to play the pious, bossy Eliza Birdwell, but the flinty actress proved elusive. His pursuit of a leading lady led to his pleading with Vivien Leigh who was committed to a season at Stratford-on-Avon, followed by Ingrid Bergman, who was the first choice of Gary Cooper. The refusal of the plum role by Bergman, whose detente with American blue noses would have to wait for her turn as
Anastasia
(1956), led the director to seek out a long list of actresses between thirty and fifty-five, including Maureen O'Hara, Jane Wyman, Eleanor Parker, Mary Martin, Martha Scott and Teresa Wright. At one point Jessamyn West found herself on the receiving end of Wyler's dead pan humor when he took her aside and asked with a straight face: "What do you think of Jane Russell? She's a very pious girl, I understand. Goes to church, teaches Sunday school, sings hymns."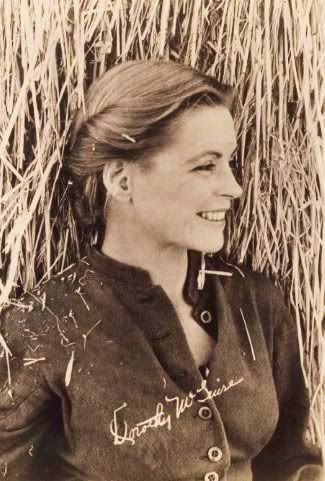 The choice of
Dorothy McGuire
proved apt, even though
Wyler
felt that she initially had difficulty getting into character. "He had me spending I don't know how many hours a day before production, kneading bread," McGuire later recalled. "He never explained why he did something, he just asked that you do it. It was funny. What director would ask you to knead bread? I guess it put me into a different period of time, with a different way of thinking." Her discomfort on the set may have reflected the actress's inability to mold her enviable career path along the lines she wished after her long tutelage under
David O. Selznick
's somewhat smothering wing in the 1940s. She never became a big star in the sense of a Bergman or a Hepburn, but McGuire's appearances as a matriarchal figure in the '50s brought her renewed attention, beginning with this role.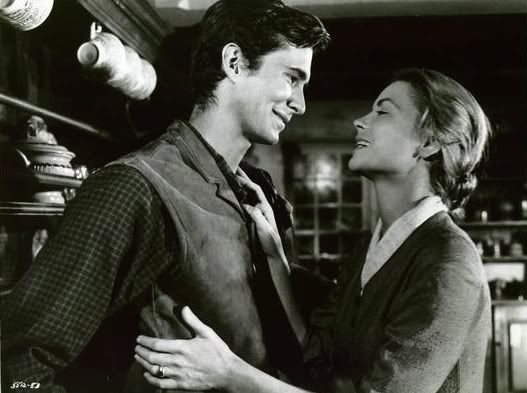 Dorothy McGuire as Eliza Birdwell with Anthony Perkins as Josh Birdwell in Friendly Persuasion (1956).
McGuire's spare beauty and the underlying latent girlishness gives her role as the often disapproving mother of three in
Friendly Persuasion
an appealing quality. Eliza Birdwell is the primary representative of Quakerism, a religion advocating pacifism, the equality of the sexes (McGuire's character is a leader of her sect), and an archaic speech using "thee" and "thou" for pronouns as a way to remain mindful of the sacredness in everyday life. Most audiences in the fifties and certainly now would find this manner of living rather rigid and alien. Despite the director and star's apparent dissatisfaction with their leading lady,
Dorothy McGuire
's portrayal of her strong character whose beliefs provide much of the story's conflict is important to the film. While she is firm in her views, Eliza Birdwell is humanized by an awareness of her own awareness of her fallibility and her love for her husband and son as they are drawn into the conflict as Confederates near their idyllic farm. (You can read several more posts on this blog related to Dorothy McGuire
here
).
Anthony Perkins
, new to films, was chosen for the conflicted adolescent son, Josh Birdwell, after James Dean's agent let Wyler know that his client would not be accepting any supporting roles. Perkins, who had appeared in a few small parts in films, had been forewarned about Wyler's deafness, but he was surprised that the director had rehearsals prior to filming, an unusual practice in Hollywood. "I was just a brash kid who didn't know much about anything. The names William Wyler and Billy Wilder were interchangeable to me. I was just careful to keep my mouth shut, so I wouldn't make any mistakes." Unfortunately,
Perkins
was chided during their first full cast read through prior to filming. "Don't blow this by introducing the serious aspect of these characters too soon," he was told by Wyler. "Get into the fun of it. Get into the family life, the casualness of it." The over-eager Perkins, who characterized himself as "a bit pretentious" at this early point in his career, found that Wyler actually appeared to enjoy it when he came to rehearsal each day with four different versions of a scene slated to be filmed that day. The veteran filmmaker would often tell the actor to use some parts of the different approaches to a scene, telling the neophyte actor to "Begin with the second one and end with the third one."
In the end, Perkins' pensive character, faced with the arrival of the Civil War on his doorstep, declares honestly that he does not know whether or not he
Cooper and William Wyler discussing Friendly Persuasion on the set.
The terse relationship between
Cooper
and
Wyler
sometimes seemed to consist of highly technical instructions, such as "Enter the room, swallow, and count to three." According to
Perkins
, when you saw
Gary Cooper
perform these simple, mechanical actions, his "artistry...could translate a technical direction into something very soulful. And I saw him do this time and again."
My small quibbles with this movie, to tell the truth, are mainly with
Samantha the Goose
, who could have had a lot less screen time. I'd also have excised that icky
Pat Boone
song from the beginning of the movie!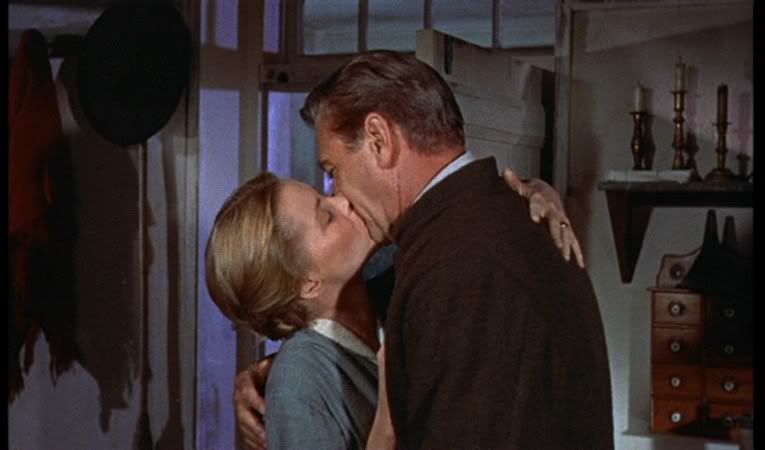 *Mild Possible Spoiler Below**Mild Possible Spoiler Below*
According to
Jessamyn West
's memories of the film quoted from Jan Herman's
William Wyler:
A Talent for Trouble
, the aging
Cooper
was reluctant to take the role of the conflicted Quaker patriarch, feeling that he wasn't well suited to play what he initially believed was a passive role.
West
, whose ambivalence about all of filmmaking comes through in her memories of this project, which was first developed by
Frank Capra
, recalled that at her first meeting with
Gary Cooper
, he explained to the author that "There comes a time when the people who see me in a picture expect me to do something."
"You mean pull a trigger?",
West
asked.
Cooper
reportedly replied, "Deliver a blow. First or bullet. Or sword. They expect it. They feel let down without it."
Wanting to know what his character would do in a way of action,
Cooper
asked
Jessamyn
West
what "something" the writer might have him do as a Quaker.The occasionally impatient author replied: "Refrain. You will furnish your public with the refreshing picture of a strong man refraining." In the end,
Coop
picked up a gun as the conflict of the Civil War spilled onto his land and threatened to tear his family's world apart...but he did not fire.
Wyler
allows the audience to get to know the family members and others in the community, using a nice blend of humor and pointed conversation.
Anthony Perkins
is quite touching as he communicates his torn response to the recruiting call of a Union soldier at a fair, even as he mother, Eliza Birdwell (
McGuire
) prays for pacifism and expects her children to adhere to her beliefs as well. The inherent conflict between a recognition of the existence of evil and a belief in pacifism has rarely been so eloquently expressed in a mainstream American movie.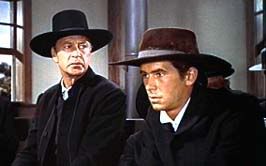 The conflict between conscience and survival once the Birdwell family find themselves drawn into war presents the viewer with an emotional stake in the story. This is only strengthened by the humorous aspects of the tale, which help make the characters more human and easily identifiable for an audience, despite the remoteness of the story's time and the spiritual beliefs of the characters.
One of the story elements, dealing with the tug of violence on the oldest son (
Anthony Perkins
), and his father's own mixed feelings about the consequences of taking up arms reflects a thread that runs through the later films of
Gary Cooper
, several of which, including
High Noon
(1952),
Man of the West
(1957),
They Came to Cordura
(1959), and
The Hanging Tree
(1959), look at the corrosive nature of violence on the men who follow that path, and the nature of our perceptions of heroism. While Gary Cooper made many excellent films, I am quite fond of his work in this last decade of his life:
Return to Paradise
(1953),
Love in the Afternoon
(1957),
Ten North Frederick
(1958), and
The Wreck of the Mary Deare
(1959) each seems to have a rueful air about the squandered opportunities in the past, redolent with an elegiac air whenever the star is on camera. There is a haunted quality to Cooper's increasingly worn face that adds a depth of reality and feeling to each of his roles, even and especially in these sometimes less than ideal films.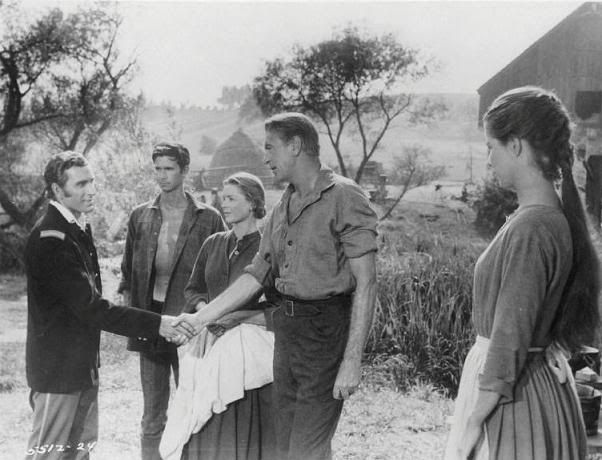 Gary Cooper greeting Peter Mark Richman in Friendly Persuasion (1956) as Antony Perkins, Dorothy McGuire and Phyllis Love look on.
Having read a couple of
Cooper
's biographies recently, including Jeffrey Meyer's
Gary Cooper
:
An American Her
o
(Cooper Square Press, 2001) and his daughter
Maria Cooper Janis
' loving pictorial memoir,
Gary Cooper Off Camera: A Daughter Remembers
(
Harry N. Abrams, 1999), I suspect that there was a spiritual restlessness in the actor during this decade, evident in his choice of film material. In some of his films, there is an openness and vulnerability in his acting (particularly in
Ten North Frederick
(1958), when he played a small town patrician who fell in love with his daughter's friend, played by Suzy Parker). I don't know if he found the answers he was looking for, but, his conversion to Roman Catholicism close to his death, (which was his wife and daughter's faith) might indicate a deeper longing during his glittering, sometimes profligate life.
Perhaps the issues of conscience, peace, war and family bonds that the movie touches on so lightly still have resonance with audiences. Jessamyn West's
The Friendly Persuasion
(Harvest Books) is a lovely and very entertaining introduction to this group's beliefs and West's writing. I don't think that it has ever gone out of print since the '50s. Quakerism, in particular, with all its variants and the ripple effect of the lives of its small number of adherents, remains a fascinating aspect of American and World history for me. Just last night, I was deeply impressed with a program that offers a brief survey of major spiritual beliefs in the world called
I Believe
on PBS. Host
Dennis Wholey
interviewing
Deborra Sinnes Pancoe
, a member of the Religious Society of Friends who, in her religion's tradition is a powerful "plain speaker" can be seen
here
.
Below is the trailer for
Friendly Persuasion
:
The Cast of Friendly Persuasion:
Gary Cooper...Jess Birdwell
Dorothy McGuire...Eliza Birdwell
Anthony Perkins...Josh Birdwell
Richard Eyer...Little Jess
Robert Middleton...Sam Jordan
Phyllis Love...Martha 'Mattie' True Birdwell
Peter Mark Richman...Gardner 'Gard' Jordan (as Mark Richman)
Walter Catlett...Prof. Waldo Quigley
Richard Hale...Purdy (violent Quaker)
Joel Fluellen...Enoch (black hired hand)
Theodore Newton...Maj. Harvey (recruiter in meetinig)
John Smith...Caleb Cope (wrestling Quaker)
Edna Skinner...Opal Hudspeth
Marjorie Durant...Pearl Hudspeth (pipe-smoking woodcutter in braids)
Frances Farwell...Ruby Hudspeth
Samantha the Goose...Herself
Marjorie Main...The Widow Hudspeth
For complete cast and crew, please visit
here
.
Sources:
Herman, Jan
,
A Talent for Trouble:
The Life of Hollywood's Most Acclaimed Director, William Wyler
,
Da Capo Press, 1997.
Janis, Maria Cooper
,
Gary Cooper Off Camera: A Daughter Remembers,
Harry N. Abrams, 1999.
Mirisch, Walter
,
I Thought We Were Making Movies, Not History,
Univ of Wisconsin Press, 2008.
Meyers, Jeffrey, Gary Cooper: American Hero,
Cooper Square Press, 2001.
"Twenty-Four Year Old Copy of Cooper," Life Magazine, July 16, 1956.
Thomson, David, Gary Cooper,
Macmillan, 2010.
West, Jessamyn,
Except for Me and Thee: A Companion to The Friendly Persuasion,
Univ. of California Press, 2008.
Recommended Online Resources:
Jacqueline at Another Old Movie Blog has written an excellent review of this film :
http://anotheroldmovieblog.blogspot.com/2009/05/friendly-persuasion-1956.html
Gary Cooper at The Mave:
http://themave.com/Cooper/index.htm
The Gary Cooper Scrapbook:
http://garycooperscrapbook.proboards.com/
Jessamyn West: Quaker Author (1903-1984):
http://www.jessamyn.com/jessamyn/jess.html
William Wyler at Senses of Cinema:
http://archive.sensesofcinema.com/contents/directors/05/wyler.html