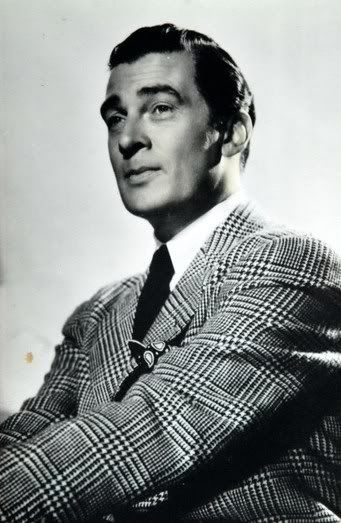 Walter Pidgeon (1897-1984) seems to have been one of the studio era's clearest eyed realists. Reflecting on his long tenure at the Tiffany of movie studios from the '30s to the '50s, he once described his experience as being "like a kept woman during my twenty-one years at MGM." Known by his co-workers for his general irreverence, naughty sense of humor, amiability on the set, and deep-rooted work ethic, he ably filled that second tier niche occupied by fellow MGM actors, Robert Montgomery and Robert Young.

Like them, he appeared to be especially deft at light comedy and drama that didn't require much heavy lifting (or thinking)---though these actors occasionally went beyond their employer's and audience expectations in a few significant films. Walter Pidgeon was very good at supporting actresses who were bigger stars, such as Myrna Loy and Jean Harlow, though his most memorable partner was in his eight on-screen pairings with Greer Garson, which began with Blossoms in the Dust (1941) and continued through Scandal at Scourie (1953). During this partnership, Pidgeon, who many commentators today describe as "unexciting" or even "wooden", also earned Oscar nominations for Mrs. Miniver (1942) and Madame Curie (1943).

While his style may have fallen out of fashion among some, I suspect that there are many film lovers who not only find him a reassuring presence in many films, but might enjoy some of his uncharacteristic work--little of which, strangely, seems to have earned him much individual recognition at the time.
Tall, dark and handsome in a relaxed, pleasantly middle-aged way, his malleability as a contract player also landed him in some fairly thankless roles at his home studio, though the completely unexpected success of a "B" movie role as gentleman detective Nick Carter, Master Detective (1939), in three films at MGM helped to make it possible for him to have an annus mirabilis beginning in 1940.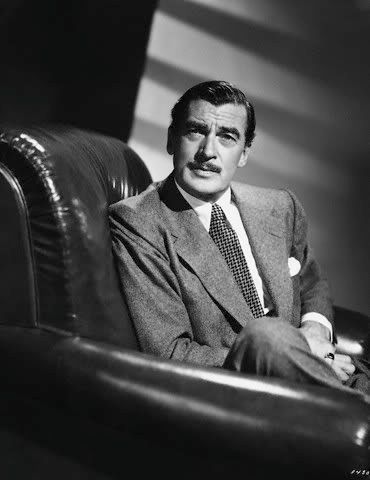 As
Pidgeon
later commented on the his Nick Carter movies, "The kids loved it, and don't ask me why--so did I!" Maybe audiences loved it because he looked as though he was having fun--something sadly lacking at times from such earlier fare as the smaller budgeted
Listen, Darling
and the "A" movie made with
Margaret Sullavan
in 1938,
The Shopworn Angel
. Perhaps one of the reasons that audiences enjoyed these very rudimentary mysteries so much was due to the fact that
Pidgeon
seems so utterly relaxed and breezy in them, almost as though he's ready to break the "fourth wall" and say to the viewers with a philosophical shrug, "Can you believe this nonsense?" Another reason why they may still entertain is the presence of one of
Walter Pidgeon
's oddest on-screen partners--
the delightfully befuddled yet sometimes irksome
Donald Meek
as Bartholomew, the bee man, who appears as Carter's apiary-obsessed sidekick.


Another reason for die-hard film noir movie fans to check out the 1939 Nick Carter movie and the follow-up, Phantom Raiders (1940) is that they are directed by a young Jacques Tourneur, a French émigré whose father, Maurice Tourneur, had also guided the actor in only Walter's third movie, the silent, Old Loves and New (1926). Being such an old hand at movies may have helped "Pidge", as he was known, to seem so charmingly relaxed in his movies too. He'd probably learned early in his career not to expect too much. Ironically, he appeared in several silent films set in the musical world--though he rarely had a chance to use his singing voice once sound came to talking pictures. One early film that has recently been restored by the UCLA Film and Television Archive
was
Sweet Kitty Bellairs
(1930), an early talkie musical set among the aristocracy in 18th century Bath. This movie gave
Pidgeon
a chance to show his light baritione and charming, diffident manner in this surprisingly sprightly movie that deserves to be seen by a modern audience. I had a chance to write more about this film
here
.
Born into a comfortably well-off haberdasher's family in Saint John, New Brunswick, Canada, from the age of 13 he'd sung in public. After being seriously injured during army training during WWI, he'd landed in Boston, working at a dull job at the Shawmut Bank and studying at the prestigious Boston Conservatory of Music.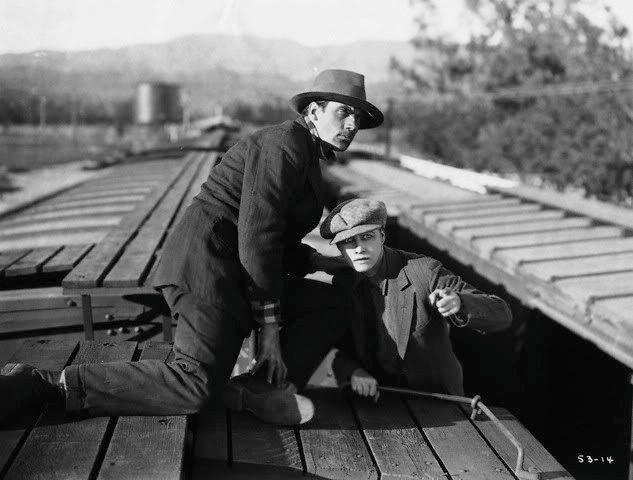 Walter Pidgeon and Anna Q.
Nilsson in Miss Nobody (1926
), one of 5 films he made in his first year in movies.

His fine baritone, which can occasionally be heard singing snatches of songs here and there in his many movies, and which undoubtedly contributed to making his cello-like speaking voice so distinctive, helped to land him roles in light opera, (even appearing as a Mountie in Rose Marie), and later in Broadway musicals. Work came more readily after his contemporary, Fred Astaire, had recommended Pidgeon to the then very well known performer, Elsie Janis as a possible stage partner. It didn't take long for the actor to be enticed to Hollywood, even though the dramatic fare did not tax him unduly and the silents didn't utilize that voice. His movie roles for roughly the next 14 years generally asked Walter to fill a well-cut suit nicely, and to behave in an over-civilized manner when the leading lady dropped him like a hot potato for someone who was a bit more of a challenge, appealingly rougher, and on the "A" list, such as Clark Gable.
Greer Garson & Walter Pidgeon in one of their best films together, Mrs. Miniver (1942), a story of a British family in the war, which was directed by William Wyler.
Occasionally I've wondered if Walter Pidgeon might have asked himself if his skills were being vastly under-utilized in his comfortable berth at the glossiest of Hollywood's dream factories. The bargaining favored by the canny Katharine Hepburn and the more confrontational style of a Cagney or a Davis at Warner's was never his style, however. As he later explained, he "didn't demand any vetoes over the films I didn't like, as they do today. I asked nicely and discovered a secret that has stayed with me for my entire career: that a request spoken softly usually brings results and demands rarely do." Actually, Pidgeon's easygoing manner may have been only part of his success at MGM.
As reported by a chronicler of Canadians in Hollywood, Charles Foster, in his book Stardust and Shadows: Canadians in Early Hollywood when Pidgeon first met Louis B. Mayer for a possible contract with Metro, the mogul asked him where he was from. When the actor said "Saint John", the always suspicious Mayer exploded, jumped to his feet, and demanded to be told "Who told you to say that? How dare you claim to come from my home town? Get out of my office. We don't want frauds at MGM." Pidgeon, worried that his career might well be over, stood his ground, verifying facts about the town that only a native would know. Mollified, Mayer chatted with him enthusiastically for two hours about Canada, until, glancing at his watch, he called his executive secretary, Ida Koverman, into his office, telling her to prepare a contract for the man, and instructing her to increase the usual pay rate by $50 "for a good Canadian." As he left the office, Mayer asked, almost as an afterthought, "You do act, don't you?" Fitting in as an actor on the soundstages at MGM wasn't hard given his abilities, and his sense of camaraderie.
Walter Pidgeon earned a reputation as one of the friendliest of stars toward all his co-workers in front of and behind the screen, though he did have a reportedly terrible memory for names, calling all and sundry acquaintances "Joe" when he couldn't quite remember their real handle. As a joke, on one birthday while working on a movie, the crew surprised him with a birthday cake emblazoned with many candles, and the legend: "Happy Birthday, Joe Pidgeon".
After paying his dues for years at Culver City, and with the Nick Carter flicks helping to boost his profile at the end of the '30s, the services of this surprisingly "hot property" were suddenly requested by other studios, This resulted in three of the more interesting films in this period of his studio tenure, (and earned MGM considerably more money). The handful of films he did in these loanouts also allowed him to work with several of the most creative directors in that period and in material based on the work of some better storytellers as well.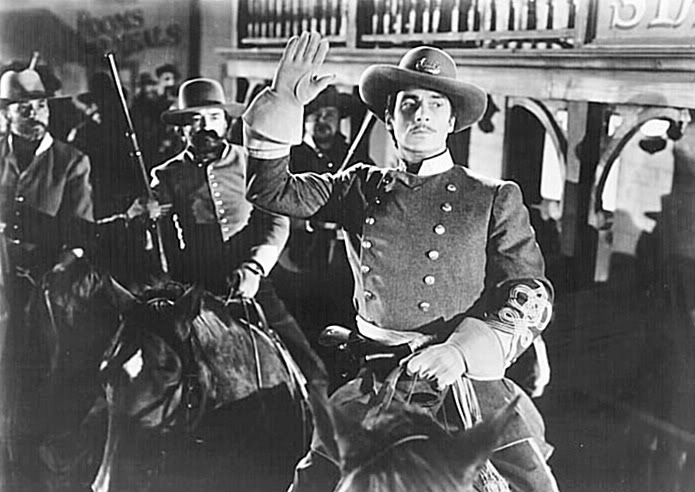 Viewing Raoul Walsh's film of W.R. Burnett's Dark Command from Republic Studios, 20th Century Fox's Fritz Lang adaptation of Geoffrey Householder's Man Hunt (1940), and, best of all, Richard Llewellyn's How Green Was My Valley (1941), directed by the masterful John Ford, one might argue that this trio would possibly be the best work of Pidgeon's career.
Based loosely on the factual activities of the renegade Confederate in Kansas, William Quantrill , Dark Command was produced under the aegis of Herbert J. Yates at the bare bones Republic Studio. It starred the popular breakout star John Wayne just after his fine work in John Ford's classic Stagecoach (1939). Wayne, who had also performed well under Walsh in his rawly effective lead debut in the financially unsuccessful The Big Trail (1930), is the opposing figure opposite Walter Pidgeon's potent, often disturbing villain, "Will Cantrell."




This film is one of the few times that Pidge would have an opportunity to play a malcontent, though there is an echo of the hurt, anger and control he evokes in this part in his memorable "Dr. Morbius" in Forbidden Planet (1956). "Cantrell" is a fascinating dual-natured character. In several scenes, particularly those with Marjorie Main, who plays Cantrell's mother in a similarly somber style that she brought to her maternal part in Dead End (1937), the mother and son discuss their dark family history. Their relationship seems to presage some of the themes that Walsh would explore more fully in the wildly over-the-top, intensely entertaining White Heat(1949).

Pidgeon, in his own way, plays an unhinged character with great relish, surprising viewers who might have expected his usual smooth manner. In one scene, set in a courtroom, Cantrell uses his powerful voice to verbally intimidate a jury he is pleading a case before, repeatedly using the word "pain" emphatically to remind the citizenry that outside the courtroom, there are few promises of civility.


As the film progresses, Pidgeon's complex character, ostensibly driven by his rage and jealousy over John Wayne's place in the community and in heroine Claire Trevor's heart, he goes from emancipating slaves, to killing their master and ultimately selling the slaves to another man. Eventually donning Confederate uniforms after massacring most of those on a Southern supply train, his personality disintegrates from a schoolteacher to a mad guerrilla raider who causes the fiery destruction of his former town, Lawrence, Kansas. While Wayne, supported by a likable, earnest Roy Rogers, plays the clear hero, the movie, brims with the director's signature energetic action, really pivots on Pidgeon's vivid psychological characterization. Strangely, at the time, the frenetic pacing and acting of Wayne were praised in several contemporary reviews, including those in Time Magazine and The New York Times, but Pidgeon's unusual, well-played role is barely mentioned.
On his next loan out, Fritz Lang took the actor's civilized exterior, exposed it to his characteristic, sometimes playful skill evoking paranoia and menace in the everyday and, using his own experiences in early Nazi Germany, demonstrated what a "proper Englishman" might be up against in the modern world in the new World War, which had broken out in September, 1939, just months before the production began on this movie. As "Capt. Alan Thorndike" in Man Hunt (1941),
Pidgeon played an upper class Englishman who was a former big game hunter, renowned for his exploits in Kenya. Eschewing the senseless cruelty of a sport that no longer offers him much challenge, Thorndike (Pigeon), "on a lark" concocts a notion to go after the biggest and most closely guarded game of all in that time: Adolf Hitler.
This "sporting stalk, is not, he tells himself, to actually kill the Führer, but to savor the satisfaction of finding the dictator in his sights and just knowing he could do it.

While loading his rifle after squeezing the trigger on an empty rifle above Hitler's fortress-like rural home, (though I don't think that the location of Adolf's home away from home in Berchtesgaden is mentioned by name), Thorndike is jumped by a guard, and soon brought before
über-baddie George Sanders, as a far too perfect English educated Nazi, for further interrogation, Gestapo-style. Sanders, who sports a monocle (rather like the one that Lang himself wore, even in America, even after his tinsel town advisors told him that it was a bit off-putting for Americans), and his cohort, Ludwig Stössel
--who really looks like Lang and would later appear in some memorable Italian Swiss Colony commercials of the '60s as the "little old winemaker"--both project quiet, deliberate menace that, initially at least, the Englishman refuses to take seriously. And this is just the beginning of Dudley Nichol's tautly written script!
Soon left for dead in a staged accident after refusing to sign a confession claiming that he was acting under orders from the British government, Pidge survives (natch), and makes his way to a Danish freighter bound for England. Helped by an English cabin boy (played affectingly by Roddy McDowall in his first American role on film), he makes his way back to Britain, followed by Sanders' minions, among whom is John Carradine in one of his eeriest appearances as a deadly nemesis. Btw, Roddy McDowall said on some occasions that his casting in this part, and
ultimately, his contract with 20th Century Fox was owed in part to the intercession of Walter Pidgeon, who championed the underweight refugee from the war to those who mattered. The rapport between the leading actor and the boy illuminates their brief scenes, especially in one when, as the curious boy gently interrogates the fugitive. Asking "Have you committed a crime?" the bedraggled Thorndike replies, wearily, "No". Unable to control his interest, Roddy McDowall goes on to ask "Was it, um, about a woman?" Pidgeon, smiling gently for the first time, simply says "Ah, I see you know life." The cabin boy, happy to have reasoned out the predicament that he finds his fellow countryman in on his own, replies, with all the world-weary perspective that an excited 12 year old can muster,
"I thought so, sir. They're a dickens of a problem, aren't they?'

London's streets are no safer than those of Berlin would be for Thorndike, as he soon realizes that fifth columnists are dogging his attempts to elude his hunters. Seeking shelter with a lower class girl on the street,
Walter is soon hiding out with "Jerry Stokes" (Joan Bennett) in her room. Bennett, who would soon come into her own under Lang's direction in such classic films as The Woman in the Window (1944) and Scarlett Street (1945), is very winning and touching as a young, obviously smitten girl, whose street smarts are no match for the romantic pull of the Toff she harbors or for the violence that the Nazis were capable of in their pursuit of their prey. Btw, PCA censors allegedly insisted on the close-ups of Joan's sewing machine in her room when the pair bed down for the night (at about 50 feet away from one another). This was intended to imply that she earned her living as a seamstress of some sort, though there are plenty of implications that Bennett's character might be a Cockney streetwalker, albeit one with the requisite heart of gold.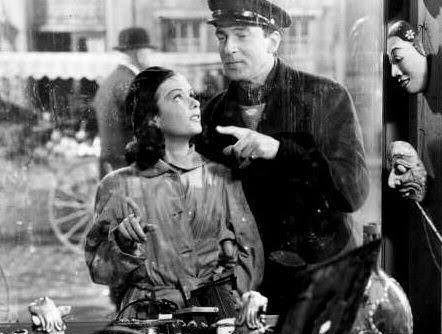 Pidgeon once again proves that he could carry the action in this film.

As he would in Mrs. Miniver and The Red Danube, he doesn't attempt to play an Englishman, but simply enunciates as beautifully as ever, with a few interjections of "I say" and a beguilingly formal graciousness toward his gamine savior. However, as the film proceeds, and his desperation becomes more intensely expressed, his world narrows more and more, until he retreats eventually to a cave in an isolated spot in Lyme Regis. Without spoiling the conclusion, there is a riveting conclusion that is equal parts "A Boy's Life" adventure that is also a solid propaganda piece, underlining the extremes Britain and the Allies would need to go to in the war. It also
resonates with one of those heartbreaking "what-ifs" of history as seen through the jaundiced, monocled eye of Fritz Lang, a master of action. For "Pidgeon watchers" like myself, this evergreen story, based on Geoffrey Household's brief, action-packed novella, Rogue Male, is among those movies that, once seen, is never forgotten. Man Hunt (1941)
is finally available on a Region 1 DVD.
Walter Pidgeon's career hat trick was completed by his felicitous casting in 20th Century Fox's production of How Green Was My Valley (1941), a John Ford film that consistently and deservedly is named as one of the best of the studio era. This deeply felt elegy to the lasting love that created and sustained the people in one place, it documents as well
the inevitable disintegration of a community, a generation and a family over time. The blend of love and the implied acknowledgment of the futility of most human effort is simultaneously woven together from Richard Llewellyn's more politically and socially conscious novel by Ford, his screenwriter Philip Dunne, and producer Daryll Zanuck. The cast and crew assembled to produce this movie were each showcased in a uniquely graceful, beautiful film.
Casting Walter Pidgeon just after his sterling turn in Man Hunt at the same studio, the filmmakers had earlier rejected Alexander Knox (!) for the part of Mr. Gruffydd. With "Pidge" on board, there was some talk of Greer Garson being borrowed from MGM to play the key role of Angharad , but thankfully, a Fox contract player, Maureen O'Hara, won the role opposite Pidgeon as the only girl among the Morgan siblings in a mining family in a Welsh town.
Pidgeon encouraging Huw Morgan (Roddy McDowall) to walk again in How Green Was My Valley.
Reunited with Roddy McDowall, who was superb in this poetic and sweeping film as young Huw Morgan, Walter played a new, liberal thinking clergyman who mentors the youngest son of Donald Crisp and Sara Allgood's large brood. The pair become especially close when Huw undergoes a long recovery after his legs are injured, and Gruffyd (Pidgeon), instructing him to walk again, and later, to seek a better life for himself, outside the mines and the narrow confines of his valley. Though he comes from the mines himself, the idealistic pastor Gruffydd
seems quite isolated in the sometimes judgmental society portrayed in How Green Was My Valley. He tries to transmit his values to Huw in particular, urging him to see his suffering as a gift, "
a chance to make the spirit within yourself. And as your father cleans his lamp to have good light, so keep clean your spirit... " The scenes between the clergyman and the boy are imbued with great tenderness.

As implied in the film, the seed that Gruffydd plants in Huw, though he might never see it, was to stay with both of them for a lifetime, even though on the surface, the cleric is a failure, just as, in Ford's hands, the film is a story of the failure of most of human endeavor.
Pidgeon's character, despite his closeness to the Morgan family had hoped, when he came to the valley to foster "an army greater than Alexander ever dreamed of, not to conquer nations, but to liberate mankind. With truth. With the golden sound of the Word. But only a few of them heard. Only a few of you understood."
The existence of deep sorrow and love simultaneously characterizes the complex love that develops between Angharad and Gruffydd, which, in that time and place, is impossible for the visionary clergyman to pursue, as seen here in this lovely clip from the film. Though there seems to be an element of
Ford's Catholic background in this part of the story, emphasizing a celibate's commitment to his faith, the depiction of the Protestant minister and miner's daughters' unfulfilled love seems to reflect the reality of poverty that a man like Gruffydd would have needed to accept with his vocation. Today we may have a harder time accepting the sacrifice of such a character, but in the time of the story's setting, such a conviction of principle over self-interest was much more credible.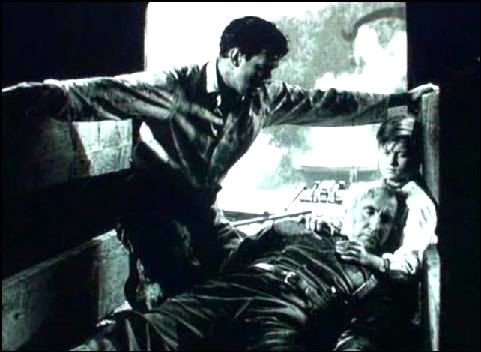 Pidgeon with Donald Crisp and Roddy McDowall in a climactic moment in How Green Was My Valley.
Well
aware of the hard choices that class, economics and emotional ties can place on an individual, much less a struggling couple, Pidgeon and O'Hara's bittersweet love is among the most brilliantly done skeins of this story, especially in the scene depicting the day of Angharad's loveless marriage to the mine owner's son. Ford only shows Pidgeon coming out of the church in the distance as the newly married pair's carriage pulls away. In the famous moment when the wind lifts Anagharad's veil, as if all hope and love was being blown away from her life as well at that second, we see, in the distance, the dark, silhouetted
figure of Gruffydd beneath the churchyard tree.
He is, as always, isolated and alone.
Despite reports that there were some qualms on the part of John Ford about Pidgeon as an actor, (he may have believed that the MGM player might wish to be the center of attention), Walter Pidgeon is an integral part of the film, as vital to its overall, lasting power as the rest of the phenomenal cast.
John Ford's later films as well, especially in The Quiet Man and Wings of Eagles. Audiences might respond to Maureen O'Hara best as half of any pair featuring John Wayne as the male, but the magnetism of Pidgeon-O'Hara seems much more deeply felt in this film to me.
Oddly, despite these exceptional films in this brief period of his career and his very successful second pairing with Greer Garson in Mrs. Miniver back at MGM the following year, Walter Pidgeon's talent never bloomed in such an interesting way again.
Hopping back on his velvet treadmill at Metro, the actor continued to churn out his bosses' requested assignments w ith the same easy to overlook smooth efficiency and standard charm, (even in whoppers like
White Cargo
in 1942). Working at MGM, not surprisingly,
Pidgeon
's politics took a conservative turn. As president of the Screen Actors Guild from 1952-1957
, he was alerted by a letter from a New Mexico school teacher, Jane Kuhlmann, that a film by a blacklisted filmmaker was being made in her state.

Paul Jarrico

, a writer-producer who was blacklisted during the McCarthy era, believed that Pidgeon alerted the federal government and the Hollywood medea of his
production of

Salt of the Earth

(1954). Jarrico said in a 1997 interview that

Pidgeon

's actions led to having "
the FBI swung into action and movie industries swung into action and we found ourselves barred from laboratories, barred from sound studios, barred from any of the normal facilities available to film makers, and we found ourselves hounded by all kinds of denunciations on the floor of Congress and by columnists."
Perhaps in part because of the sometimes cutthroat atmosphere of Hollywood, Pidgeon once admitted that "I enjoy the company of the people who make the wheels turn, the sound men, electricians,the set builders,and one of my best friends was, until he died in 1973, a guard at the front gates of MGM."
Walter Pidgeon with his wife Ruth at the Mocambo in the 1940s
Increasingly turning to the stage instead of continuing in films as the studio system eroded,
Pidgeon
found Broadway beckoning. In 1956, he returned to Broadway in
The Happiest Millionaire
, which prompted
Brooks Atkinson to write in the The New York Times: ''As father Biddle, Mr.
Pidgeon
is just about ideal.
Although he is headstrong, noisy and boastful, he is also a gentleman, and fleetingly humble when something penetrates that athletic exterior.''
In 1959, he again starred on Broadway in the musical ''Take Me Along'' with Jackie Gleason.
"Gleason," Pidgeon said, "is a master at everything he does. Ad-libbing with him was a special delight that we carried out every night after the final curtain. I have wonderful memories of a great man and brilliant performer." Pidgeon was nominated for a Tony award for his role opposite Gleason, and graciously saw "The Great One" win the Tony.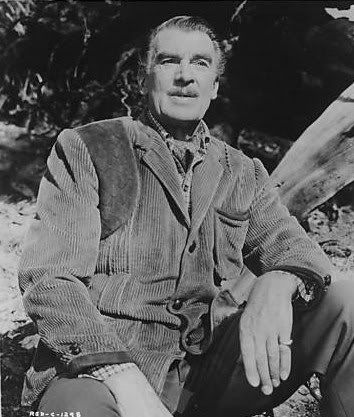 An older Walter Pidgeon as he appeared in the Disney film, Big Red (1962)
Of his long and fortunate life and career,

Walter Pidgeon

claimed he was at a loss to explain his good luck.
"Somehow I just muddled through," he said. "I don't know quite when I started to get old, but I recall very clearly, when I played opposite Elizabeth Taylor in 1954 in The Last Time I Saw Paris, thinking how young and beautiful she was and how old I had suddenly become." In 1984, he told his wife Ruth near the end of his life that
"I would have liked to live forever. Life has been so good to me. But," he added wistfully, "I'm afraid no one up there is listening."
Walter Pidgeon continued to appear in films throughout the 1960s, with notable work in Otto Preminger's film of Advise and Consent (1962) as a powerful senator who still had the energy for a liaison with

Gene Tierney

, who played a Washington hostess. Pidgeon's credible and amiable power broker earned him good notices from critics who had missed his blend of maturity and civilized bonhomie. His last credited screen appearance was in the disastrous finale to Mae West's career in the incoherent Sextette (1978). Still, his overall legacy, especially in the outstanding yet under-appreciated performances touched on here, remains that of a true professional
to the end.
His frequent co-star and off-screen friend, Greer Garson described him affectionately as "Hollywood's only real gentleman. I never heard him raise his voice in anger, I never heard him say a bad word about anyone, nor did I hear anyone say a bad word about him. He was a gentleman and a gentle man."
Sources:
Eyman, Scott
,
Print the Legend: The Life and Times of John Ford
, Simon & Schuster, 1999.
Foster, Charles
,
Stardust and Shadows: Canadians in Early Hollywood
, Dundurn Press, Ltd., 2000.
Lorance, James J.
, The Suppression of Salt of Salt of the Earth,
UNM Press, 1999.
McGilligan, Patrick
,
Fritz Lang: The Nature of the Beast
, St. Martin's Press, 1997.
Troyan, Michael
,
A Rose for Mrs. Miniver: The Life of Greer Garson
, University of Kentucky Press, 2005.
Online Source
:
The Gentleman From Saint John by Charles Foster
.
(Originally published by me at MovieMorlocks.com, June 11, 2008. Reprinted here with the kind permission of Turner Classic Movies.)