The Raid
(1954) stars
Van Heflin
and
Anne Bancroft
in a story of the American Civil War. The film, which pairs the two intelligent actors in an unlikely, largely unspoken romance is set against the bitterness of the war. The unlikeliness of their chemistry in real or cinematic life is muted, however, since this fact-based Civil War saga is quite effectively told in this 20th Century Fox film, which was directed by
Hugo Fregonese,
an Argentinian native who worked throughout the world during his peripatetic career as a journeyman filmmaker.
His middling career included some interesting misfires in just about every genre, such as the noirish
One Way Street
(1950), the once racy but quite a good, saucy adaptation of Boccaccio's
Decameron Nights
(1953) (condemned by the Legion of Decency, which was probably good for box office),
Seven Thunders
(1957), a compelling story of escaped British servicemen trapped in wartime Marseilles, and the last in the series of films begun by Fritz Lang in 1922,
The Secret of Dr. Mabuse
(1964), which owed more to James Bond than to the cinematic master, Herr Lang. Perhaps because of
Fregonese
's cosmopolitan background,
The Raid
is available on a Region 2 DVD in some countries, though it is not yet available in the United States. If an enterprising vendor could be found to promote this DVD, it might also be interesting to American Civil War buffs and those of us who enjoy obscure oddities of an historical nature.
I'm really not certain that
The Raid
(1954) should be categorized as action, adventure or a western, (or maybe more accurately, a "no'reastern"?), but recently I've been reminded that I've been meaning to write a bit about this odd duck of a movie for some time. The film begins with a group of Confederate prisoners of war breaking out of a Yankee prison in Plattsburg, NY. While there were almost two dozen Union prison camps in New York State during the Civil War, as far as I know there was not one in Plattsburgh. In the brief sequence set in this film's POW camp, the poor conditions depicted make me believe that for whatever reason, the filmmakers may have based this reality on the conditions at the Elmira Prison Camp. Living in the city of Elmira for several years of my childhood, I can attest to the existence of traces of that sad period when the town, which was the last regular stop on the Underground Railroad, teemed with thousands of Southern soldiers kept in horrendous conditions. (In the 1970s, chains and shackles were still embedded in basement walls of older homes where Confederate officers were "fortunate" enough to be kept in the cellar during the frigid winters of upstate NY).
In any case, the Confederates, who include commanding officer Major Neal Benton (
Van Heflin)
and Captain Frank Dwyer (
Peter Graves
), both of whom have reason to be bitter toward the North, are motivated to escape out of a sense of duty as well as revenge for the wanton destruction of their family's homes by Northern troops and, in the case of Graves, the death of his wife during an attack. These men, hanging on to their self-discipline and sense of duty, convey a sense that their ragged but steely military restraint is laced with an underlying desire to inflict some of the pain that the Union Army and common citizens of the North have imposed on their fellow Southerners. Others in their number, particularly Lt. Keating, vividly played by
Lee Marvin
, have been brutalized by their experiences, and are no longer able to restrain their blood lust. The attitudes of these Confederates, while fictionalized, did reflect the reality of an increasingly desperate and embittered faction of the Southern forces by 1864. Battlefield losses, mounting casualties and growing food shortages were eating into Southern morale by that time, further radicalizing a segment of the South, who turned to a darker, more violent form of attack on those who would soon be "victors."
Hopeless but dead serious Confederate saboteurs conspired to engage in several activities that are still little known today. One of the real world events dramatized in
The Raid
(1954) was based on the robberies of three banks in St. Albans, Vt., which netted the Confederates $175,000 in gold, cash and securities. In their wake the set several fires in and around the area. These tactics did little to prolong the war or materially affect its outcome, though the attacks on civilian property and populations represented a new, dark and altogether different kind of guerrilla warfare.
The real life attack on the peaceful little Vermont burg of
St. Albans
near the Canadian border on October 19, 1864, when the Confederacy was pretty clearly doomed and became this fictionalized 20th Century Fox movie. The movie features a stolid yet somewhat morally conflicted
Van Heflin
, an effectively brooding
Richard Boone
, a very young, miscast
Anne Bancroft
, and
Lee Marvin
. Marvin is a lot of fun to watch in anything, especially at this stage of his career, when, just after he left his mark, (so to speak), on Gloria Grahame in
The Big Heat
, he was still just scraping by as 6th or 7th down in a cast, usually in a role that called on him to remain slack-jawed throughout.
The one glaring problem with the magnetic

Marvin

's casting in this role is that he plays it with such a Southern flair, that you wonder how dim these New Englanders could possibly be to let this man's presence pass unnoticed for more than a moment in their peaceful, very Yankee neighborhood.

Above: Van Heflin, Peter Graves and Lee Marvin as Southern rebels undercover in a Vermont town in The Raid (1954). Do they blend in well? Not really.

Other actors familiar from the period who fill out the cast are
Douglas Spencer

as a smug clergyman who is unaware of his un-Christian attitude toward Southern Americans ,

James Best

as (what else?) another rebel, and the splendid

Will Wright

as a suitably flinty banker.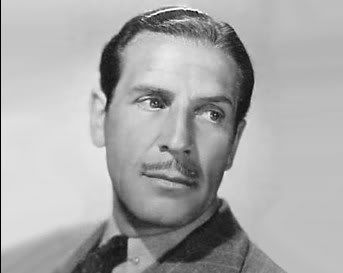 The cast also includes the familiar character actor

Paul Cavanagh

as an officer.
The durable

Cavanagh

, (seen at left) was a familiar presence on screen as everything from a gentleman thief (being debonair in

Champagne Charlie

), a victim of the nefarious Dr. Moriarty (in

The Woman in Green

) to a cuckold (married to Joan Crawford in

Humoresque

) to a judge (on fifties tv's

Highway Patrol

) from 1928 until the 1960. As his supporting career ground on, he seemed to dry out with every role, until he practically crackled when he moved on screen. Among the uncredited members of the cast is

Roy Glenn

, who plays the African-American butler who oversees the running of the home and boarding house maintained by the widow Katie Bishop (

Anne Bancroft

).

Glenn

has very few lines, but his expressions and the suspicion he seems to feel around

Van Heflin

's character seems to imply that he is not naive about the social structure in the North or the South.

Glenn

may be more familiar to film viewers who recall his disgruntled, sacrificing father to Sidney Poitier in

Guess Who's Coming to Dinner

(1967).


Above: Civil War widow Anne Bancroft (who did not look comfy in her hoop skirts), enjoying the company of a "loco parentis," Van Heflin, whose fatherly attention is craved by her emotionally needy son, played by Tommy Rettig.
Here's the real, if unbelievable tale told in

The Raid

(1954), with a few embellishments for dramatic purposes:

Believe it or not, leading a charge of 20 men, Confederate agent George Sanders (no, not that one), and Lieutenant Bennett Young, the rebels got $200k from three banks in the town, (most of which they dropped during their escape). Though they unsuccessfully tried to burn down the town on the way out, they made it to Montreal, where they were charged, tried but, ooops, never extradited back to Washington, D.C. by those stubborn Canadians. Lieutenant Young, who eventually rose to the rank of General, revisited Montreal in 1911, when, in a conciliatory mood, a group of St. Albans dignitaries paid him a courtesy call at the Ritz-Carlton Hotel.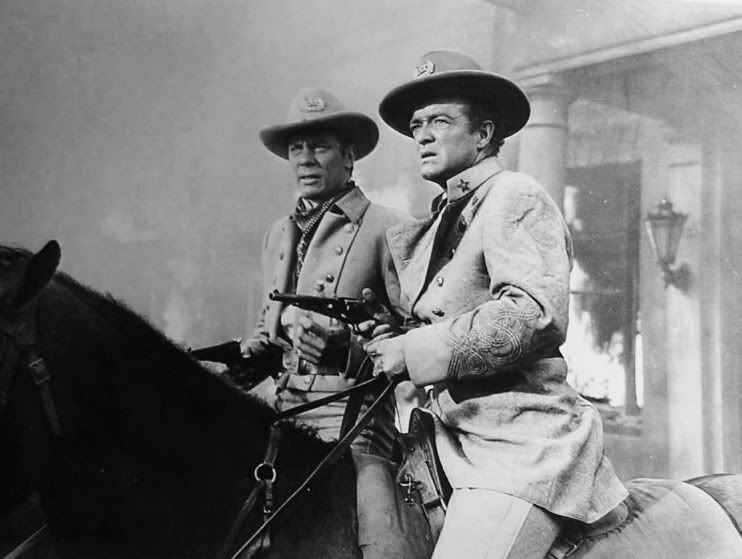 Above: Van Heflin and Peter Graves embark on their mission in St. Albans, dressed as Confederate gray.
The screenplay for
The Raid
is credited to Sydney Boehm and Francis Cockrell, based on the story, "Affair at St. Albans," which was written by the South Carolinian author, Herbert Ravenel Sass, who also wrote the female pirate tale that became the film
Anne of the Indies
(1951). Sass, who died in 1958, was one of several Southern authors whose careers were spent extolling the virtues of aristocratic values and memorializing a memory of the plantation aristocracy. In "Affair at St. Albans" the author seemed to be exploring the nobility and futility of the martial values of that culture, as well as highlighting a little known historical incident.

In the movie, the characters names have been changed, though

Heflin
as
Maj. Neal Benton, who adopts the name of Neal Swayze
when he enters the town of St. Albans in disguise as a businessman, does a good job of conveying his battle weariness, (a mood that the seemed to bring to almost all his film work from the early '50s on). He is assisted (sort of) by a wary, if dull
Peter Graves

as a committed Confederate consumed with his mission, and lacking in humanity as a result.
Both men, as they case the town and stew about the Northerners livin' high on the hog while the South crumbles, must ride herd on an increasingly rambunctious bunch of Southern yahoos led by
Marvin
and
James Best
.


Right: Richard Boone, early in his career, playing a physically and psychologically scarred veteran of the Civil War.
The acting blue ribbon probably should go, as usual, to
Richard Boone

, as a wounded Union veteran who mopes around "widder woman"
Anne Bancroft's boarding house, making cow eyes at her, and sending dagger eyes toward

Van

, who sweet talks his way into her good graces.
Boone's character, whose maimed arm has apparently embittered him, undergoes the most dramatic transformation of any one of the characters. Craggy, and using his gravely voice to full advantage, Boone carves out a niche for himself in this sometimes sketchy script, which does an adequate job of establishing a sense of place, but seems to rely on the actors to fill in the undeveloped portions of the story.
Mr.
Boone

'
s role as a Union officer is sadly underwritten, though he does have some nice, slightly over the top scenes. The movie makes it look as though the raiders burned the town to a crisp, but in reality, the hapless bunch only succeeded in incinerating a woodshed, (though some say they had conspired to burn down the governor's house in Montpelier as well). Overall, an interesting, meandering story, enlivened by the additional presence of
Tommy Rettig
as
Bancroft'
s fatherless lad who, big surprise, latches onto
Van Heflin
and suffers through what was probably the first of a lifetime of disillusionment.
Rettig
appears without Lassie to run for help.
The talented

Tommy

Rettig

(above, with Van Heflin), had a haunting face, with considerable yearning in his expressive face. Always a presence begging for the attention he never seemed to receive in movies from

Panic in the Streets

(1950) [Dad was too busy chasing down the plague] to the bullied piano student in the once terrifying (for me)

The 5,000 Fingers of Dr. T

(1953),

The Raid

was the fifteenth film in the 12 year old child's career.

Eventually growing out of the cute kid parts, Rettig reportedly said
once that "By the time I was 9, I'd done everything - movies, stage, radio, TV. Everybody thought it was real cute for a kid my age to be so sophisticated, but it was murder on my emotional development. More than anything else, I wanted to be normal. I wanted to have friends, go out on dates - just lead a normal life. But things were always going too fast. Then too, I was spoiled as a kid, and still am. I was an only child, and that was about 80 percent of the problem." Rettig's ability is evident in every scene in this film, and especially when he appears opposite Van Heflin, who grows more acutely aware of the needs of this child than the exigencies of war with every moment he spends in the boarding house of his widowed mother, played by Anne Bancroft.
One of the problems that I had dramatically with this film was that Bancroft's character is written as though the role was intended to be played by a calm, ladylike actress with a passive manner--think Phyllis Thaxter in
Thirty Seconds Over Tokyo
--and you'll know what I mean. Bancroft is too young, too urban and too fiercely and naturally forceful a woman to ever fit that tight a stereotype. Watching
The Raid
, you can almost feel her straining in the corseted stays of this part.
Now, if only someone would write a good, tragicomic version of the attempted conquest of Canada in the name of the hoped for Irish Free State by a bunch of Civil War vets who also happened to be
Fenians
that took place in 1866. Their staging area? The village green at St. Albans, Vt. Was there something in the water there, or was it just a darned convenient jumping off point for Canada?

Some commentators on this movie have noted that it was not until the 1950s and films such as John Huston's adaptation of
The Red Badge of Courage
that the Civil War battles began to receive detailed treatment on film, though

Birth of a Nation

and

GWTW

and
The Prisoner of Shark Island
are notably redolent with some pretty engaging if distorted and fanciful notions of the war. If any readers have an opinion regarding why the subject matter wasn't more popular among filmmakers, please let me know. Thank you.
Sources:
Hamilton, John D., The St. Albans Raid (PDF), The American Association of Arms Collectors.
Sears, Stephen, ed.,
The Civil War: The Best of American Heritage,
Houghton Mifflin, 1993.
Wills, Brian Steel,
Gone with the Glory: the Civil War in Cinema,
Rowman & Littlefield, 2007.