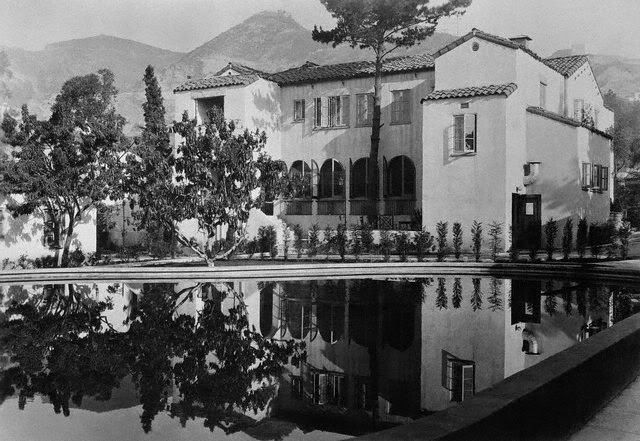 "I'll be damned if I'll believe anyone lives in a place called 'The Garden of Allah.'"--Thomas Wolfe, in a letter to F. Scott Fitzgerald, July 26, 1937.
Suppose the year is 1937.
Imagine that you are a writer of some note who has come to "the land where it is always afternoon", generally known as Hollywood. You reside in a small, rather dark, but cozy little bungalow, optimistically called a "villa" by the rather lenient management. Your abode is one of the twenty-five or so vaguely Spanish-Moorish stucco buildings at 8152 Sunset Boulevard, on about 3 ½ acres of property scattered around a swimming pool shaped like the Black Sea. You wake up, shuffle out of bed, find that there's no coffee in the small kitchen in your "villa", and so you begin to consume the dozen or so Coca-Colas that will comprise the only fluid that you will allow in your body that day.
Gathering your strength to face the day, you remind yourself that you are starting fresh. You were here when flush with your first, wild success in the twenties, and you even came a second time when times were tougher. You had a job back in 1931, working on that script for Metro for a movie called
Red-Headed Woman
—though not much of what you wrote ever made it onto the screen. Especially after that embarrassing slip-up at the Sunday brunch at the
Thalbergs'
house. But that was then—and you must remember to "never confuse a single defeat with a final defeat." You allow yourself to murmur the old cliché, wondering if "perhaps the third time here is the charm."
Time to get the mail. Good, only a few bills and a brightly colored postcard today. Smiling wistfully to yourself, you turn the postcard over and read the spidery hand that says:
"Dear Scott
How are you? Have been meaning to come in and see you.
I have living [sic] at the Garden of Allah.
Yours,
Scott Fitzgerald."
When
F. Scott Fitzgerald
first moved into the complex of furnished apartments that comprised
The Garden of Allah
in West Hollywood between Havenhurst & North Crescent Heights Avenue, he wrote this in jest to himself. Perhaps he also meant it as a reminder of his revised identity in his new surroundings, or maybe it was just a lonely man's attempt to receive something other than bills, like a plain girl sending herself flowers from an imaginary admirer.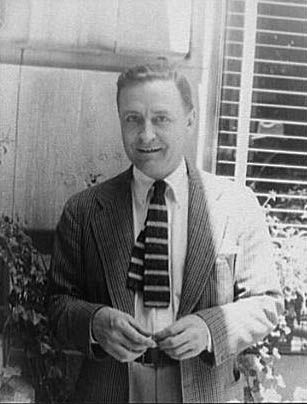 Above: Garden of Allah resident F. Scott Fitzgerald in the late '30s, already looking a bit ghostly.
Fitzgerald
would soon realize that he was not alone, though the fragile writer probably could not have chosen a less likely spot to stay sober and create a disciplined writing life for himself once again. Even fellow novelist
Thomas Wolfe
once expressed skepticism about Scott's choice of residence in a letter he wrote to him in July of '37 that said that "I'll be damned if I'll believe anyone lives in a place called "The Garden of Allah."
As unlikely as that seems to those across a continent and in another century, it was true. Though
Fitzgerald
would only live another 3 years, he would try, (and fail) to compose screenplays in ways that his employers wished, produce several of his Pat Hobby short stories, and write what many believe to be one of the best novels about the movie business, called "The Love of the Last Tycoon". This would be eventually published after his death as simply, "The Last Tycoon". Some of these last achievements would be accomplished at the
Garden of Allah
, which had been open for business for about ten years by then. It was the spot where those who were the intelligensia (or hoped to be mistaken for one of them) would lie low while raking in the filthy lucre Hollywood offered. The kind of life style that the habitués pursued may look like a death wish to those who live in this century, and perhaps they are correct. It's hard to tell if much was accomplished creatively by those who resided there--but there appears to have been a genuine camaraderie.
Many of Hollywood's most talented writers, actors and revelers were drawn to the former private residence turned hotel from the time of its opening to the public in 1927 to the day it faced the wrecking ball in 1959. Most observers say that the hotel's heyday was probably the period from 1927 to 1945.
Among those drawn to the place as if to an oasis—particularly as Hollywood lost its early raffish charm and became much more of a corporate town—would be most of the Marx Brothers, Robert Benchley, Arturo Toscanini, Dorothy Parker, Tallulah Bankhead, John Barrymore, Ernest Hemingway, Marlene Dietrich, Cole Porter, John Carradine, Sergei Rachmaninoff, Humphrey Bogart, Orson Welles, S.J. Perelman, Errol Flynn and Francis X. Bushman.
Mr.
Bushman
, who was called the "King of the Movies" before a Mr.
Gable
was shaving, was reportedly the only attendee at both the opening and closing parties for the hotel in 1927 and 1959. He is perhaps best recalled today for his appearance as "Massala" to Ramon Novarro's
Ben-Hur
in the 1926 silent classic.
Right: Francis X. Bushman in his prime
Many of these uprooted New Yorkers, émigrés, actors, members of the intelligentsia, and their hangers-on flocked here to avoid public scrutiny and, allegedly, find a quiet spot, off the beaten track—away from the studios and the philistines who ran them—in which to work, and play. Whether they accomplished much in terms of work is debatable, but many of them had a very good time pursuing their "muse" in the salubrious setting.
The somewhat ramshackle collection of buildings that comprised the Garden had started life as a mansion for one of the first movie stars,
Alla Nazimova
.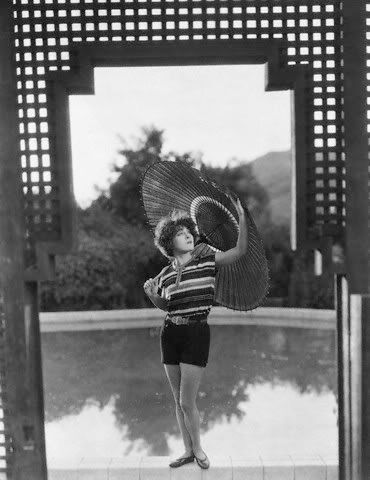 Above: Alla Nazimova, posing in front of her estate pool in 1926 (before finances compelled her to convert it all into a hotel).
The Crimean-bred star of stage and screen, born Mariam Leventon in 1879, is remembered today, if at all, for a handful of silents, such as
Camille
(1921) with Rudolph Valentino, and
Salome
(1923), and some good sound films that are likely to be remembered by TCM viewers along with some tales of her rather notorious private life.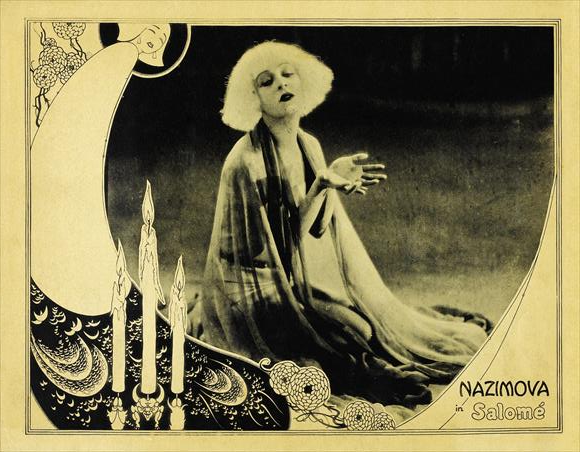 Among her appearances in these later movies—in which she's often billed by the appropriately dramatic single name of
Nazimova
—are
Escape
(1940) as
Robert Taylor
's mother,
Blood and Sand
(1941), as
Tyrone Power
's mother,
In Our Time
(1944), as
Paul Henried
's mother, and
Since You Went Away
(1944), which is showing on TCM today, Oct. 10th.
Nazimova
appears as the effusively grateful immigrant who befriends
Claudette Colbert
at the war plant in the latter movie, a role that would be her last.
Above: An older Nazimova adapts to a less glamorous world by playing Zofia Koslowska, the defense worker who is befriended by Claudette Colbert's American character in Since You Went Away (1944).
Completely forgotten, it seems, except in the yellowing clippings in theatrical archives, are her renowned friendships with
Anton Chekov, Maxim Gorky
, and
Konstantin Stanislavsky
, with whom she worked at the Moscow Art Theatre. Her interpretations of
Henrik Ibsen
's groundbreaking plays, most notably in "Hedda Gabler" and "A Doll House" solidified her professional reputation on both sides of the Atlantic. The popularity of her acting in this country led the Shuberts to establish a theatre in New York City in 1910 named after the star, called
Nazimova's Thirty-ninth Street Theatre
. Later, when stage fame waned and she moved west, it was renamed simply the Thirty-ninth St. Theatre and torn down in 1926. The fact that American audiences flocked to see this woman enacting these now classic roles in Russian is a testament to her charismatic power and ability to convey emotion.
Sadly, of her great Ibsen roles, only
A Doll's House
(1922) was transferred to film with her in the role of Nora and
Alan Hale
—of all people—assaying the part of Torvald. Like most silent films, this one appears to be lost. Given the fact that her professional life is now elusive at best, perhaps it's understandable that most people still latch onto her scandalous private life, which included numerous public affairs with members of both sexes.
Above: The interior of the hotel's dark, sparsely populated "Big House" where few wanted to stay--perhaps due to the atmosphere of a hacienda going rapidly to seed
In 1919, when
Nazimova
purchased the Spanish style mansion at what was then the rather rural address of 8080 Sunset Boulevard, she refurbished it to her liking and christened it The Garden of Alla (the "h" would come later). One of the improvements made during this heady time was the addition of a swimming pool in the shape of the Black Sea, according to some sources a gift from her then studio of Paramount, designed to remind the star of her birthplace in Yalta, seen below.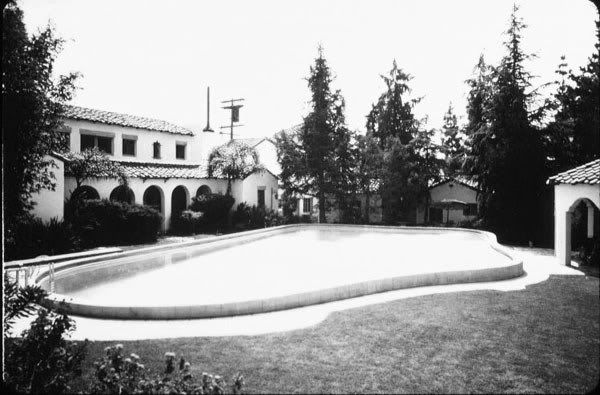 During this period the actress was at the height of her movie stardom, making an estimated $13k a week when the federal and state income tax rates was still pretty low. Other than dropping the "h" from "Allah" as a nod to herself when naming the building, her inspiration for the estate's title probably came from the
Robert S. Hichens
' novel of the same name.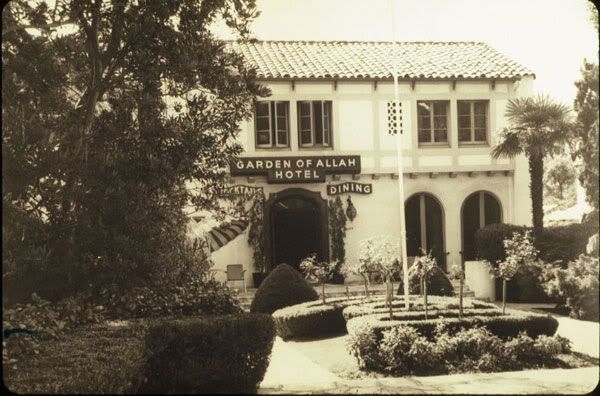 This very popular book had been adapted as a Broadway play that Nazimova appeared in around 1913, (and of course there were earlier film versions, and there was that "little" movie in the '30s with Dietrich and Boyer). In the '20s the actress entertained a parade of lovers, hangers on, and real notables on an extravagant scale, including opera star
Geraldine Farrar
,
Lillian Gish
,
Arturo Toscanini
,
Rudolph Valentino
and, allegedly, a somewhat understandably bewildered
Albert Einstein
during his 1921 visit to the states after winning the Nobel Prize.
As
Nazimova
's career waned, her advisers encouraged her had her add the bungalows in the hopes of providing the actress with an income for life.
The Garden of Allah
opened for business featuring bungalows, bar, restaurant, and that swimming pool in the shape of the Black Sea. Advertisements that mentioned the "atmosphere of exclusive refinement" at "California's Finest Summer Hotel in Hollywood" with "excellent cuisine", (though all and sundry visitors were agreed that the food at the Garden was dismal--though the bar was quite good—and would carry a tab, even during Prohibition). The opening reflected the extravagance of the owner, supposedly featuring wandering guitar-playing caballeros, costumed footmen with silver salvers heaped with caviar, and live chamber music. Within a year after the 1927 opening, however, the actress went bankrupt, and thereafter lived in a small apartment within the complex, between spells on the road with a play, until her death in 1945, occasionally giving small private parties that were a shadow of earlier revels.

The "exclusive refinement" mentioned in that earlier ad may have faded a bit by the time that columnist
Lucius Beebe
wrote that "Nothing interrupted the continual tumult that was life at the Garden of Allah. Now and then the men in white came with a van and took somebody away, or bankruptcy or divorce or even jail claimed a participant in its strictly unstately sarabands. Nobody paid any mind."
Left: Robert Benchley, feeling no pain.
Apparently few minded if the "it" girl,
Clara Bow
, pushed butlers off diving boards, or
Dietrich
took dips in the pool shaped like the Black Sea in the buff. Intercourse in the swimming pool was not encouraged, though it does seem to have been tolerated by a non-judgmental management. Author
George S. Kaufman
skipped out on the process servers hunting him in the name of
Mary Astor
's husband, and an inebriated
Robert Benchley
had himself moved between the villas' endless parties via wheelbarrow. When not mobile, Benchley kept loneliness at bay in his cubby hole in Villa 20--affectionately known as the Bear Trap--by talking all night with his friend,
Charlie Butterworth
.
Their intense philosophical discussions often centered on the weighty issues of their day, such as the plight of all the "sub-average men suffering from delusions of sub-mediocrity."
Right: When not so raffishly elegant as he appears here, legendary actor John Barrymore used the Garden of Allah as a playground.
Humphrey Bogart
dodged his wife
Mayo Methot
while trying to recuperate from one of their many titanic battles and later found the Garden a safe haven for himself and his love,
Lauren Bacall
. Some nights
John Barrymore
could be spotted bicycling between the bungalows, probably beating Mr.
Benchley
to some party before the booze ran out. Mr. Barrymore was probably pursuing the axiom he lived by. After observing the wasted life of a man who "neither drank, smoked, nor rode a bicycle. Living frugally, saving his money, he died early, surrounded by greedy relatives. It was a great lesson to me." Another occasional visitor was a famed British character actor, noted for the intensity of his commitment to his roles. While playing the very demanding part of Quasimodo in
The Hunchback of Notre Dame
(1939),
Charles Laughton
swam regularly in the pool--while wearing his hump as a flotation device.
Sometime resident and only occasionally a film star,
Tallulah Bankhead
stayed in a villa during one of her Hollywood sojourns, as did
Dietrich
and
Garbo
, both of whom allegedly swam in the buff (and avoided one another assiduously). The free-spirited
Bankhead
, no doubt opening her door with a throaty laugh, was said to greet telegram delivery boys while wearing nothing but a pet monkey casually draped on her shoulder. Posterity has recorded no word telling whether or not
Tallulah
was a good tipper.
Above: Tallulah Bankhead, sans monkey but with clothes
On another groggy evening, screen writer, playwright and publicist
Arthur Kober
(seen at left) reportedly stumbled home from a party, and tumbled into the first bed he could find, wearily hoping it might be his own. Soon,
Kober
heard a young lady's voice drawl sleepily, "Will you get me a glass of water, honey?" Getting up, and groggily returning with the water, he found that there was no one there. The girl had been next door and the walls were
that
thin.
Above: Writer Arthur Kober, a longtime resident at The Garden of Allah.
Kober
's sometime wife,
Lillian Hellman
, lived in a villa with her husband--until she met her longtime love,
Dashiell Hammett
.
Hammett
and
Hellman
would occasionally stay there again, maintaining civil relations with the remarkably understanding
Kober.
The former spouses even collaborated when
Hellman
's play
The Little Foxes
(1941) was
adapted to the screen.
Kobe
r
's additional dialogue and ideas for scenes, as well as the contributions of
Alan Campbell
and
Dorothy Parker
(both of whom were sometimes residents at the Garden), were believed to have helped to make William Wyler's film,
The Little Foxes,
both literate and dramatically more pictorial on the screen.
Members of the East Coast literati who used the villas as their Western perch included
John O'Hara, Dorothy Parker
and
George S. Kaufman
; with most of these authors forming an informal circle around the companionable
Robert Benchley
, who pursued his movie career in front of the camera, and wrote little while in Hollywood, while living at the Garden of Allah until his death in 1945.
companionable

Robert Benchley

, who had been a lynch pin of the storied Algonquin Round Table in New York in the '20s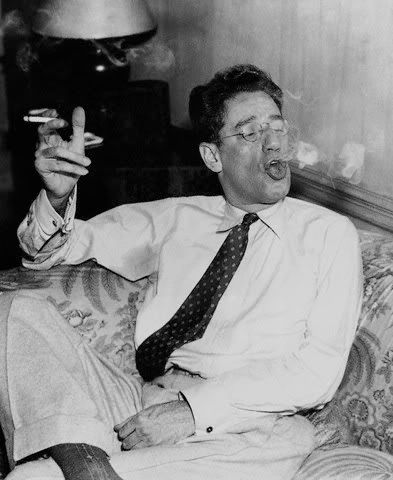 Above: George S. Kaufman, photographed after "escaping" from the Garden of Allah and the pesky subpoena servers.
During a 1936 custody battle in which
Kaufman
was implicated, the writer laid low in his villa at the Garden of Allah. Sensing trouble, he dodged a subpoena from actress
Mary Astor
's ex-husband, Dr. Franklyn Thorpe, hoping to avoid further publicity after
Astor
's angry former spouse published his wife's detailed diary, which included very complimentary if indiscreet remarks about an encounter with
Kaufman
. The playwright hid in a laundry truck as it left the hostelry, and managedto hop a train back to New York, putting 3,000 miles between himself and the long arm of justice. Kaufman admitted to a reporter that his escape from California "may have been undignified, but that he thought the public would be glad to get rid of him.
When
Ernest Hemingway
stayed at the Garden of Allah in the late '30s, some say that the last time that "frenemies"
F. Scott Fitzgerald
and
Hemingway
saw one another was in the kitchen of
Lillian Hellman
's villa, while others believe they saw one another at actor
Fredric March
's house for a screening of
Hemingway
's documentary,
The Spanish Earth
, about the tragedy and implications of the Spanish Civil War. Either way, they had little to say to each other by this time. As
Fitzgerald
was painfully aware, "I talk with the authority of failure--
Ernest
with the authority of success. We could never sit across the table again."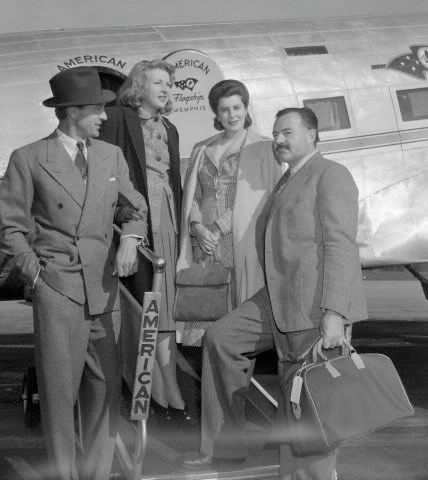 Above: Gary Cooper, Martha Gellhorn (then Mrs. Hemingway), "Rocky" Cooper. and Ernest Hemingway in the '40s. Cooper and Hemingway became lifetime friends after being introduced at the Garden of Allah.
The Garden of Allah was reportedly to have been the setting of the first meeting between the writer and the actor
Gary Cooper
there. Coop would become one of
Hemingway
's closest friends, pursuing game and good times with him in Sun Valley. On screen,
Cooper
was closely identified with the Hemingwayesque approach to life, bringing characters to life in
A Farewell to Arms
(1932) and in
For Whom the Bell Tolls
(1943). Occasional guest, humorist (and reluctant screenwriter)
S.J. Perelman
might be glimpsed engaged in convivial conversation with
Somerset Maugham
at a cocktail party. Politics sometimes reared its head among the residents.
Sheilah Grahame
, the gossip columnist, recalled long nights when she would listen to writers (and later HUAC targets) such as
John Howard Lawson
,
Donald Ogden Stewart,
Lillian Hellman, and
Frances
and
Albert Hackett
talk over their hopes for the formation of the Screen Writers Guild.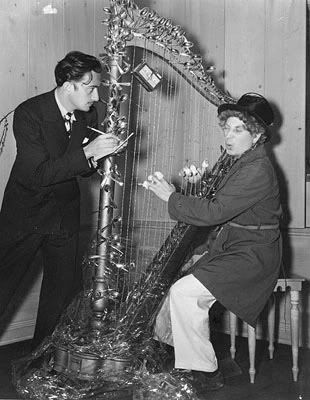 Above: Harpo Marx at his instrument with sometime visitor to the Garden of Allah, artist Salvador Dali, at his elbow.
Another time in the late '20s there was a notable incident when Harpo Marx took up residence in a particularly quiet part of the hotel to practice his harp. Mr. Marx was content until a new neighbor began to practice his instrument, in this case a large, highly resonant grand piano, all day and all night. Harpo pounded on the notoriously thin walls of his bungalow and complained to the indifferent management, but the fellow refused to terminate his playing. Finally, the frustrated Marx opened his French doors, aimed his formidable harp in the direction of his neighbor, and proceeded to play Rachmaninoff's "Prelude in C-sharp Minor" until his fingers almost bled.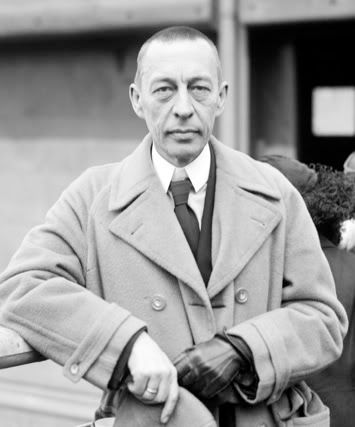 Above: A sleep-deprived Sergei Rachmaninoff
Some time later, this small, classical duel ceased and the boy next door, who it seems was Sergei
Rachmaninoff
himself, left rather hurriedly. As Harpo later recalled in his memoir,
Harpo Speaks
, it seems that the Russian composer "detested his Prelude in C-sharp Minor. He considered it a very Minor piece of work. [Rachmaninoff] was haunted by it everywhere he went, by students who butchered it and by audiences who clamored for it, and he wished he'd never written it. After playing the damn thing nonstop for two hours I knew exactly how he felt."


One myth about the less than luxurious hotel that has thrived seems to imply that the Garden of Allah was a bargain. While some might try to avoid paying rent on time, the cost of staying in a cozy, slightly seedy bungalow was never cheap. The Garden of Allah as an address implied that the guest--and his or her all important career--was doing quite well. When

Fitzgerald

stayed at the stylish complex he shared a villa with

Edwin Justus Mayer

(who would go on to write Lubitsch's

To Be or Not to Be

, among other screenplays), and their rent was $400 a month

Not all the residents were actors, writers and composers. Several gentlemen, well known in certain circles and attracted to the Coast by the money and opportunities, were known to stay there. Perhaps more likely to be found on wanted posters than on movie marquees,

Meyer Lansky

,

Frank Costello

,

Ben Siegel

and one

Longy Zwillman

(who was rumored to date Jean Harlow), all stayed for a time at the Moroccan-style inn in the '30s and '40s.

Other musicians who frequented the Garden of Allah included a new breed, such as

Artie Shaw

, the jazz clarinetist, composer and bandleader who relished the sometimes brilliant atmosphere of the hostelry. Making

Dancing Co-Ed

(1939) with a young

Lana Turner

at MGM, the highlight of his sojourn in Los Angeles at that time, (aside from his romance with and subsequent marriage to Turner) was the opportunity to meet

F. Scott Fitzgerald

, months before he died. Later, while trying to sort out his feelings after another brief and disastrous marriage to

Elizabeth Kern

, the daughter of composer

Jerome Kern

, Shaw again retreated to the Garden.
The tolerant atmosphere in the Garden seems to have infected the staff at times. Ben the Bell Hop was a fixture for years at the place. For some fifteen years, Ben "ran all the parties...determined which visitors should be admitted and which shouldn't...[and] acted as go-between in all business transactions with cleaning establishments, liquor stores, delicatessens and the like." Ben also had "an understanding" with all residents. When he arrived at a villa for an errand, he was to be tipped and receive an adult beverage. If a party failed to be on the premises when he arrived, he "knew" that the guest would expect him to help himself to the liquor cabinet, being careful to return "the good stuff" to an appropriate hiding place once he'd checked its worth. After worried residents spotted an addled Ben mumbling the phrase "ivory snow, ivory snow" repeatedly as he wandered the grounds one day became genuinely concerned that Ben's trolley had finally jumped its track. However, as resident, writer
John McClain
confessed, he had laced a hidden bottle of scotch with Ivory Snow flakes.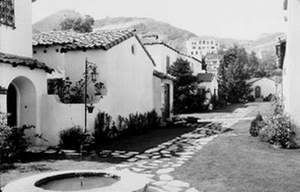 Above: a path with a fountain going toward the bungalows at the Garden of Allah.
Ben was a dog walker
par excellence
as well. Whenever he arrived to walk the two Scotties of one resident, he'd call "Come, doggie, Come doggie, doggie" and the pups would immediately shudder and hide under the bed. "They are just shy," Ben would say, claiming they were afraid of the cars. Others, who spotted the slightly buzzed Ben hauling the reluctant dogs around the grounds, eventually referred to them as "Ben's Seeing Eye dogs." One of Ben's more helpful efforts involved his eagerness to convey the latest nuggets of wisdom at his fingertips regarding anyone's career, marital status, income, weaknesses and future prospects. Comedian Joe E. Lewis once quipped after Ben had shared one of his insights with him that "I'd put you in your place, Ben--if there was a zoo handy."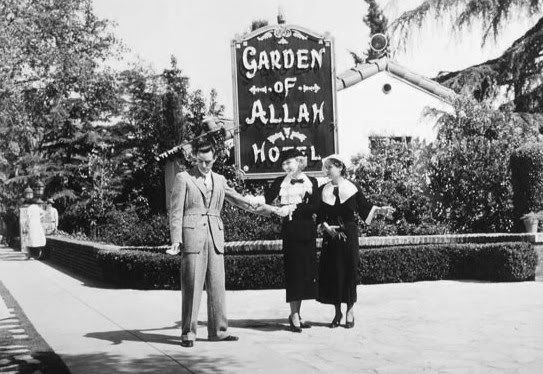 Above: Actress Gloria Stuart in the '30s is seen leading a rather reluctant guest into the Garden of Allah at the hotel's entrance. Stuart and her writer husband Arthur Sheekman were popular residents of the enclave, preparing generous gourmet and pot luck meals for many of their neighbors during their time there.
Other employees were equally colorful. At one stage, a telephone operator manned the switchboard who refused to connect callers if he disliked the tone of their voice, deeming their character as unworthy of assistance if their voice displeased him. Since guests were usually trying to
dodge
callers rather than receive them, this may have been looked on with bemusement. An enterprising waitress was eventually prosecuted for selling narcotics to her customers along with coffee and the restaurant's dismal cuisine. The front office was the target of armed robbers on more than one occasion, perhaps leading to the loss of some guests' loot from the office safe. In one truly unfortunate incident, it also led to the loss of a desk clerk's life.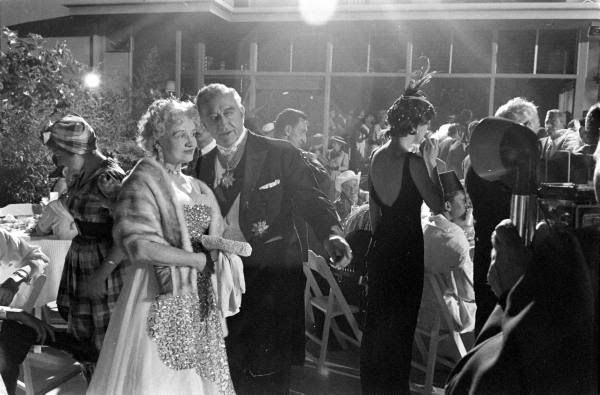 Above: Francis X. Bushman and his fourth wife, Iva Millicient Richardson attending the closing party of The Garden of Allah in July, 1959, looking a little lost. Both had been guests at the opening party of the hotel in 1927 as well. (Photo: Allan Grant)
In the last decade of the Garden of Allah's existence, session musician

Don Randi

, a classically trained pianist who fell in love with jazz, found his way to LA and a sadly diminished Garden. Still, as

Randi

recalls, "I came out from New York in
1954 and I caught the tail end of the Garden of Allah." Part of the appeal was that he could see great musicians near the hotel in the small and large clubs where musicians such as "Joe Loco, the great Latin piano player..." were on hand. Nearby on Crescent, Randi could hear

Eddie Cano

at PJ's. Cano, a Los Angeles-born artist whose
Afro-Cuban jazz introduced young Americans to a lyrical form of Latin jazz piano. While he appreciated the proximity of the Garden of Allah to the venues where the lively music scene was emerging,
Randi
's cherished memories as a young man included the sight of "the swashbuckler
Errol Flynn
coming out of [the Garden of Allah] many times with the greatest f**** chicks in the world." As a side note on this aspect of
Flynn
's adventures in the Garden, the day before the hotel was to be razed, fixtures and relics of the facility were auctioned off. The only item to return any money, according to some, was
Flynn
's favorite mattress.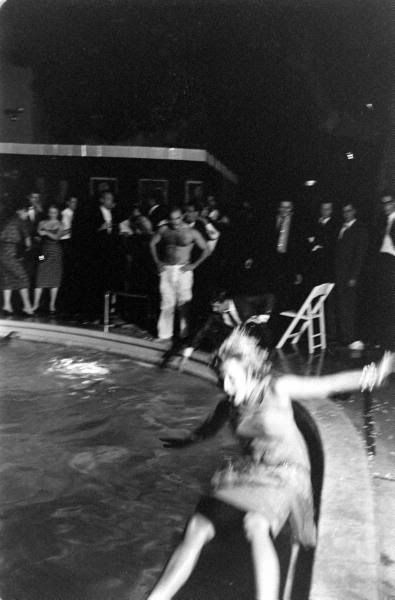 Above: For old-time sake, an anonymous roisterer is tossed into the swimming pool during the final bacchanalia for the decaying Garden of Allah in 1959.
Pasadena-born
Jack Larson
, an actor whose early work as Jimmy Olsen in the classic fifties television series,
The Adventures of Superman
has overshadowed his many accomplishments as a writer and producer, recalls visiting the Garden with his father when he was a boy. Told to stay outside of the bungalow and make noise if anyone approached, Larson's father experimented with the easily acquired and highly illegal opium he had tried when he was in the Navy. As a young man in the 1950s, he witnessed the growth of the artistically vibrant area around the Garden of Allah, even as the aging structure lost its increasingly ramshackle charm.
Attending the farewell party for the place in 1959,
Larson
found himself consoling the wife of a famous British actor. "I remember her practically crying and saying this unforgettable thing, 'Jack, they are closing the best whorehouse down the hill,' " Larson told
Harvey Kubernik, the author of the fascinating recent book,

Canyon of Dreams: The Magic and Music of Laurel Canyon
.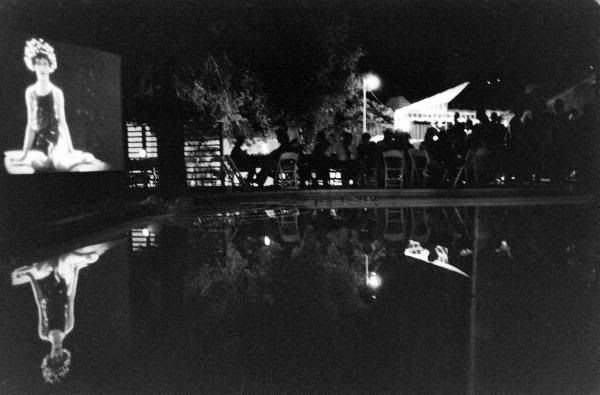 Above: Revelers at the last party for the Garden of Allah in 1959 seem oblivious to the ghostly image of Nazimova as Salome (1924) in the film projected on a screen poolside.
As Hollywood grew, the studio era began to wane and the city eventually surrounded the Garden of Allah. The real estate it was built on became more valuable as commercial property than the hotel itself. The hotel became seedier and the new stars, such as
Montgomery Clift
and
James Dean
, stayed at the nearby
Chateau Marmont
, which afforded more privacy and less chance of encounters with the less stylish transients who increasingly occupied the neglected villas at the
Garden of Allah
. Finally, in 1959, in an era when the thought of mentioning historic preservation was often looked on as truly eccentric, the owners decided to close the onetime hot spot and made way for a bank. Today the area has the ubiquitous MacDonalds, a bank is nearby, and a pizza joint has risen where the pool once cooled exhausted revelers after a hectic night of burning their candle at both ends.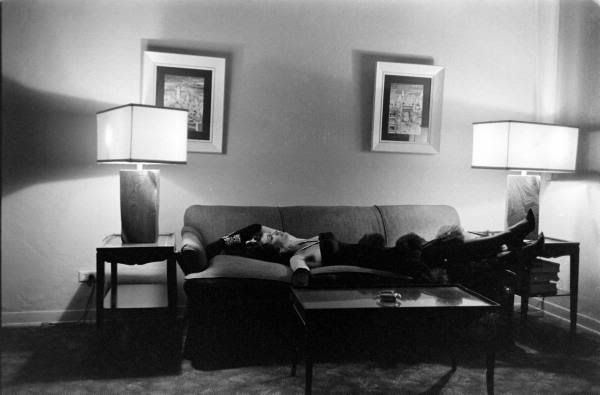 Above: An unidentified reveler at the last Garden of Allah party in '59 dreams of long ago as the fete winds down and the world moves on. (Photo: Allan Grant)
Still, maybe, just maybe, on one of the quieter summer nights, when the LA traffic and noise fade away around three in the morning, if you stand near where the Garden of Allah once was, you can almost hear the clink of ice in a cocktail glass, the sound of a distant piano plucking out an old tune, and half-heard, remembered laughter comes drifting by on a warm breeze. It may not be real, but isn't it nice to think so?
Above: The spot where the Garden of Allah once stood, as it looks today.
Portions of this blog were originally published by me at MovieMorlocks.com, Oct. 10, 2007. Reprinted here with the kind permission of Turner Classic Movies. Updated Sept. 12, 2010.
Sources:
Bruccoli, Matthew
,
Some Sort of Epic Grandeur: The Life of F. Scott Fitzgerald
,
Univ of South Carolina Press, 2002.
Goodrich, David L.,
The Real Nick and Nora: Frances Goodrich and Albert Hackett, Writers of Stage and Screen Classics
,
SIU Press, 2004.



Graham, Sheila

,

The Garden of Allah

,
Crown Publishers, 1970.
Kubernik, Harvey
,
Canyon of Dreams: The Magic and the Music of Laurel Canyon

,
Sterling Pub. Co., Inc., 2009
.
Marx, Harpo
,
Barber, Rowland
,
Harpo Speaks
,
Hal Leonard Corporation, 1985.
"Show Business: End of the House Party," Time Magazine, July 27, 1959.
Silvester, Christopher
, The Grove Book of Hollywood,
Grove Press, 2002.



Wallace, David

,

Lost Hollywood

,
Macmillan, 2002.



Recommended Online Sources:

The Garden of Allah.com

Hollywood Lost and Found.net

American Heritage.com
"Hollywood's Garden of Allah" by George Oppenheimer